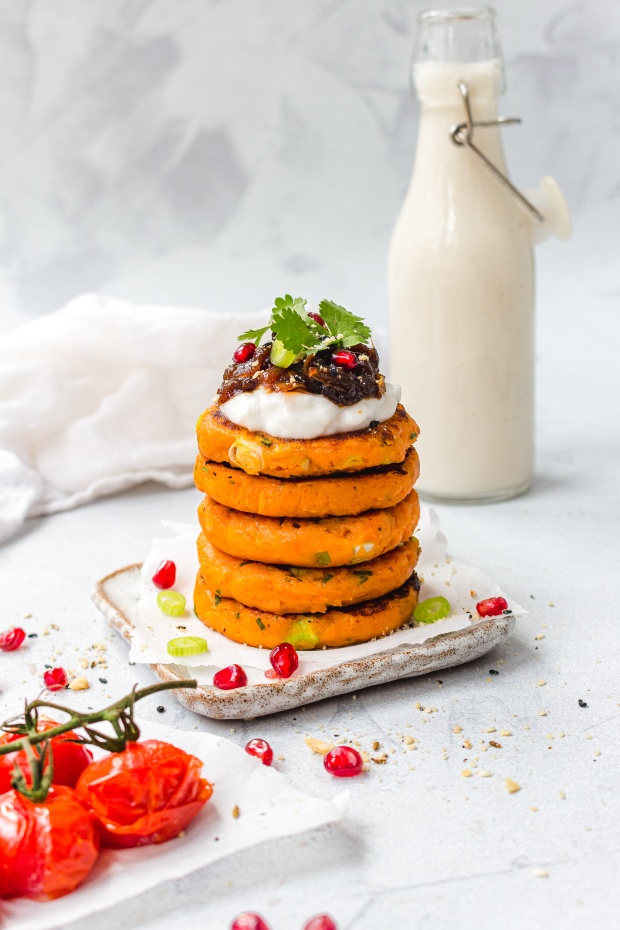 These Breakfast Potato Cakes with Chilli Jam are warmly spiced, tender and naturally sweet with a hearty, wholesome texture. Crisp on the outside and squidgy in the middle, these have so much flavour and goodness. I like to stack them high and top with some cooling coconut yoghurt and then lots of chilli jam. They're also great with some roasted tomatoes, mushrooms and herbs. Plus, serve them along with your favourite fry up essentials for a fancy twist on the classic breakfast.
Servings: 2 (makes 12-14 small cakes)
Time: 20 minutes plus roasting
Difficulty: easy
Soft, crispy and hearty breakfast patties made from sweet potato and warming spices. These are easy to make with simple ingredients and are a healthy, wholesome and vibrant meal at any time of day. They are naturally vegan and gluten-free, too.
Ingredients
500g potato or sweet potato (approx. 3 medium potatoes)
1 medium carrot (100g), grated
60g GF flour (or plain flour)
2 tsp cornstarch or arrowroot powder
½ tsp paprika
2 spring onions, chopped
1 bunch fresh chive, chopped
2 tbsp nutritional yeast or grated cheese, optional
Salt and pepper
Oil, for frying
2 tbsp coconut yoghurt
2 tbsp chilli jam
To serve: roasted tomatoes, mushrooms, herbs, pomegranate
Directions
If needed, roast or steam the sweet potato until tender – I like to roast them whole at 160Fan/180*C for 40-60 minutes until tender. Allow to cool and scoop out the flesh – weigh out 500g of potato flesh.
Add the cooled sweet potato to a bowl and mash with a fork. Stir in the grated carrot, flour, cornstarch, paprika, spring onion, chive, a good pinch of salt and pepper. Stir in the nutritional yeast or grated cheese, if using.
Heat a good drizzle of olive oil in a large frying pan and, once hot, add spoonfuls of the sweet potato mix and shape into rounds (about 50g each). Allow to cook for about 5 minutes on a medium-high heat, until firm underneath, then flip over and cook for another 5 minutes. The potato cakes will be firm and crisp on the outside but tender in the middle so handle carefully.
Continue to cook all the potato cakes, keep the others warm in the oven at the lowest setting, if desired.
Serve stacked with a dollop of coconut yoghurt, chilli jam and any other toppings. They are great with roasted tomatoes, fried mushrooms, herbs and pomegranate.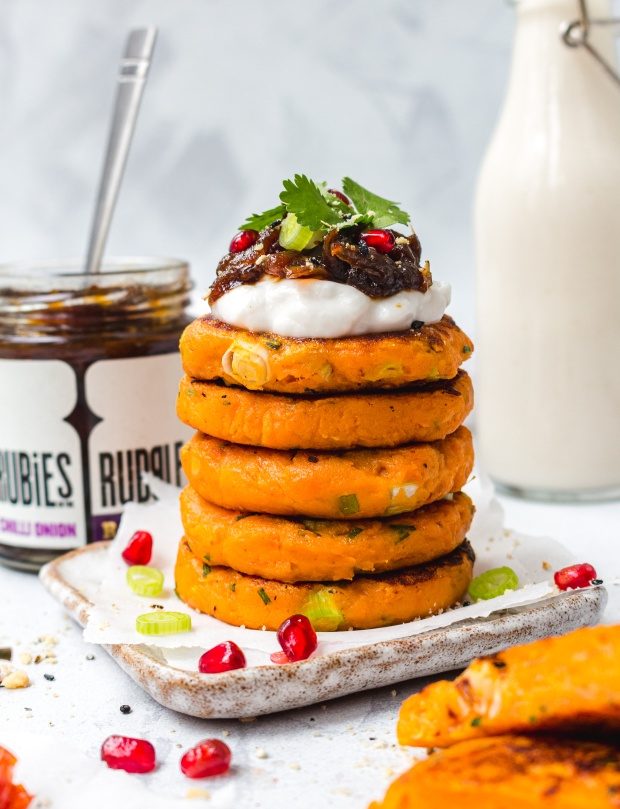 If you make these, please be sure to tag me @TiffanyNapper so I can drool over your creations!
—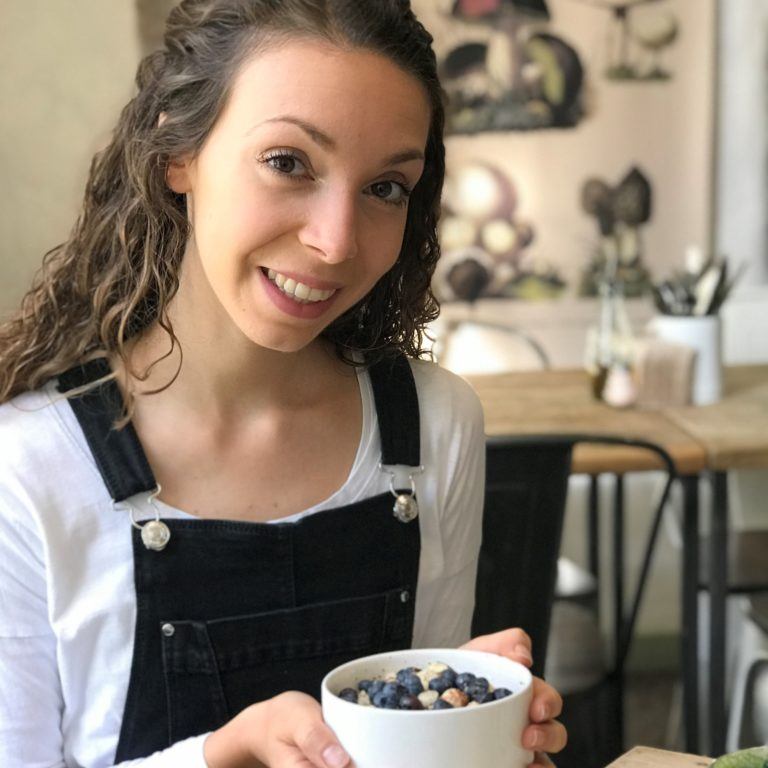 Hi, I'm Amy and I am a plant-based food blogger, recipe developer and content creator. I am passionate about all things health and wellness and about sharing delicious and easy vegan recipes, positive vibes and inspirational messages via my social media and my wesbite. Eating and living the Nourishing Amy way is to be in tune with your body's natural rhythm, to listen to its cravings and to treat each meal as a special occasion – to nourish you from the inside out.
Follow me on Instagram and my website.