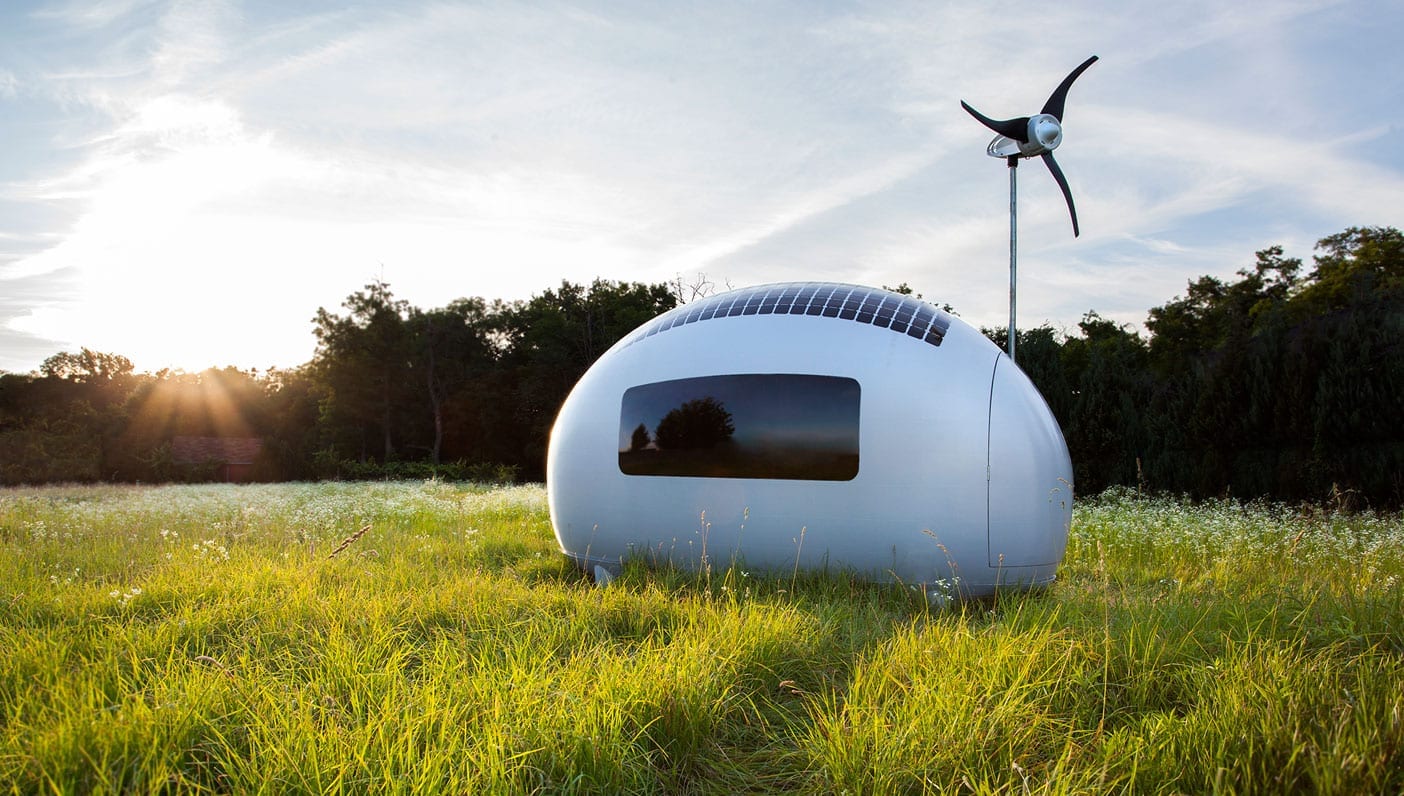 Photo Thomas Manina
Many of us dream of an unplugged life. We look at our schedules and closets, both equally cramped, and long for a breath of nature. Maybe we want a temporary escape to the quiet and peace that we typically reserve for yoga or vacation (or both).
Ecocapsule understands that hunger.
These eco-pods are environmentally friendly portable homes that allow explorers to dive headfirst into the wild. They can be attached to a trailer or shipped anywhere, allowing for a more intimate connection with mother nature, and they are changing the way we look at homes.
From The Limitless Self:
The egg-shaped Ecocapsules, designed by Slovakian design firm Nice Architects can house two people for a year off the grid, with the luxuries of a warm bed, running water and hot food.
Powered by 2.6m2 of solar panels and a 750w retractable wind turbine, the small pods are designed to capture and store rainwater, made drinkable by its built-in filter system. There is also a kitchenette, toilet and shower and work/dining area.
Essentially, the pods allow for victims of wanderlust to set up camp wherever their hearts desire. On Ecocapsule's website, the heading reads, "Dwelling with a Spirit of Freedom." With pictures of the pods atop mountains, alongside the ocean, and beneath the stars, it's easy to imagine this theme feeling real.
And it's sustainable, too. Ecocapsule's creators explain its functionality:
Despite its small form each Ecocapsule is fitted with all essentials necessary for a comfortable prolonged stay without a need to recharge or re-supply.
Ecocapsule is powered by a built-in wind turbine complemented with an array of solar cells. Dual power system and a high-capacity battery ensures that you will have enough power during periods of reduced solar or wind activity.
Spherical shape is optimized for the collection of rainwater and dew and the built-in water filters allow you to utilize any water source.
Nice Architects has finished the prototype, and they are currently in the production phase of the project. They plan to take orders in the last quarter of 2015, with delivery starting in the first half of 2016.
For more information on Ecocapsule, visit ecocapsule.sk.
—
Amanda Kohr is a 25-year-old writer and photographer with a penchant for yoga, food, and travel. She prefers to bathe in the moonlight rather than the sun, and enjoys living in a state of the three C's: cozy, creative, and curious. When she's not writing, you can find her driving her VW Bug, looking for the next roadside attraction or family diner. She also roams the Internet via her blog at cozycaravan.com.