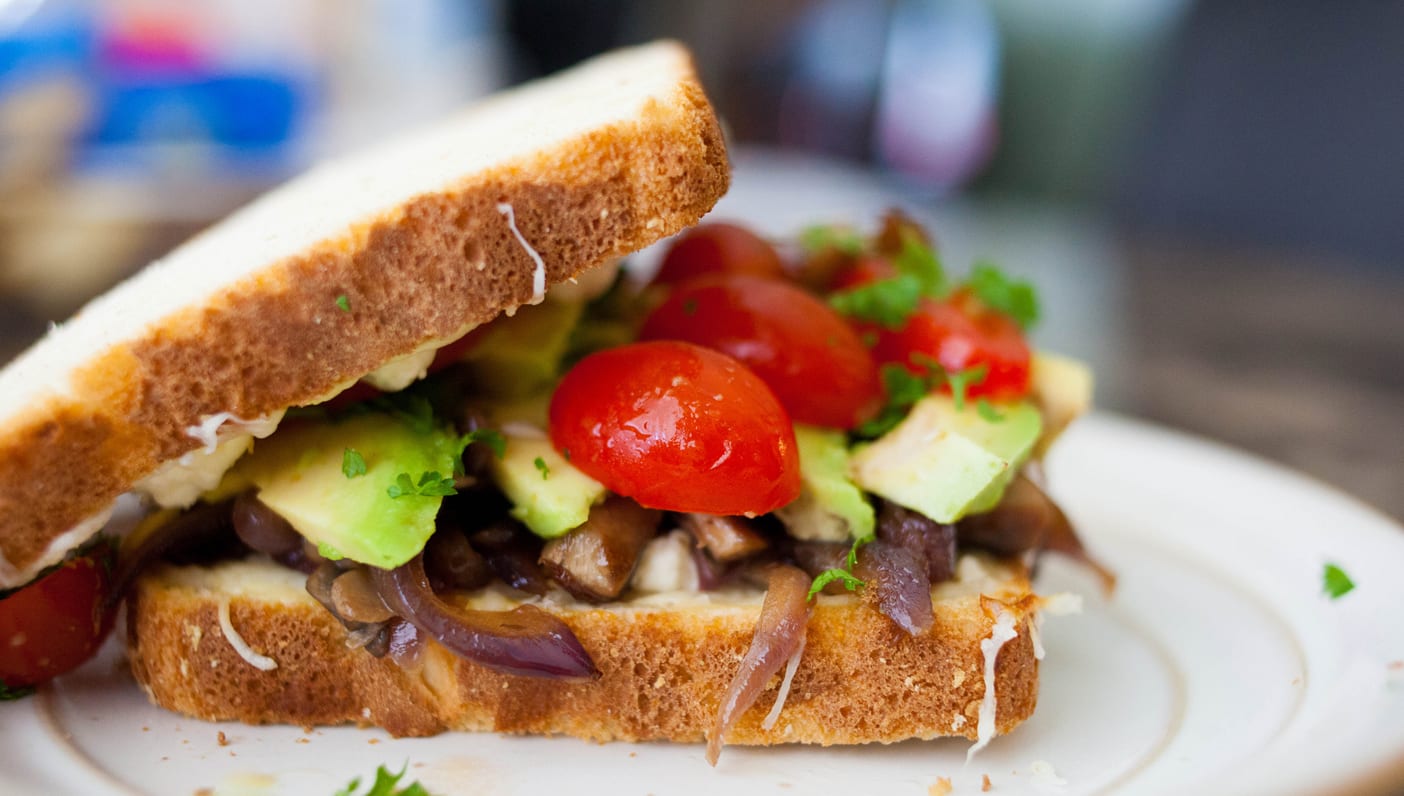 Photo by Sodanie Chea
It's National Sandwich Day, which means plates on plates of layered goodness. How are you ringing in this unique holiday? Cashew butter and jelly? Or maybe you started early, and went for a vegetarian breakfast sandwich with sprouts and avocado. Here at Wanderlust, we're channeling our inner Joeys ("Friends," anyone?) and drooling over these homemade recipes. Check them out to celebrate a healthier version of sandwich day with all the proper accoutrements.
Best Bread
Sprouted Wheat Bread from The Nourished Kitchen
Sprouted wheat bread may not always have the perfectly-engineered fluffiness of grocery store sandwich bread, but it is bursting with health benefits. This recipe combines the best of both worlds; sprouted wheat flour and honey come together to create a soft and mildly sweet bread that serves as the perfect platform of all sorts of sandwiches.
What makes sprouted wheat so awesome? Not only does sprouted wheat increase protein and fiber, but it also helps to reduce the anti-nutrients and enzyme inhibitors typically found in grain.
Best Salty Topping
Homemade Almond Butter from Detoxinista
How do you make homemade almond butter? According to Detoxinista, all you need is patience, a food processor, and, duh, almonds! Her detailed instructions provide everything you need to know for making your own almond butter.
This creamy spread makes for a stellar sandwich. Go classic and pair it with your favorite farmer's market jelly, or try it with a drizzle of agave to nourish your inner elementary schooler.
Best Savory Topping
Cherry Berry Chia Jam from Live Eat Learn
If you're anything like us, you love a classic jelly-on-toast-situation. Sadly, lots of grocery store jellies and jams are packed with gelatin, leaving vegans and vegetarians sad and without any fun fruit toppings. But fear not! Live Eat Learn has the ultimate recipe for a cherry berry chia jam that packs flavor and nutrition.
Perfect with the aforementioned almond butter, or all on its own, the jam tastes like the inside of a fruit pie. It's also great with some hazelnut spread, if you want to get crazy.
Best Lunch Sandwich
Smashed Chickpea Avocado Salad Sandwich with Cranberries and Lemon from Ambitious Kitchen
This is no "sad desk lunch" sandwich; this is a culinary masterpiece. Who knew that you could create such dynamic flavors using such simple ingredients? This recipe uses the creaminess of mashed chickpeas and avocado and the tang of cranberries and lemon to create a one-of-a-kind lunchtime treat.
Feel free to use your favorite bread (gluten-free, if that's for you), and top with salt, pepper, and any other desired toppings. Ambitious Kitchen recommends arugula, red onion, or spinach to contrast the brightness of the salad.
Best Dessert Sandwich
Vegan Banana Peanut Butter Ice Cream Sandwiches from Broccoli and Muffins
Do you remember licking your fingers after demolishing a summer camp ChipWich? Excellent, us too.
This vegan take on an ice cream sandwich comes together very quickly, and can be stored in the freezer for those spur-of-the-moment sweet cravings. (You know, in case you plan on celebrating sandwich day later in the week!) Feel free to get creative with the shape; you can use whatever cookie cutters best suit your mood.
—
Amanda Kohr is a 25-year-old writer and photographer with a penchant for yoga, food, and travel. She prefers to bathe in the moonlight rather than the sun, and enjoys living in a state of the three C's: cozy, creative, and curious. When she's not writing, you can find her driving her VW Bug, looking for the next roadside attraction or family diner. She also roams the Internet via her blog at cozycaravan.com.