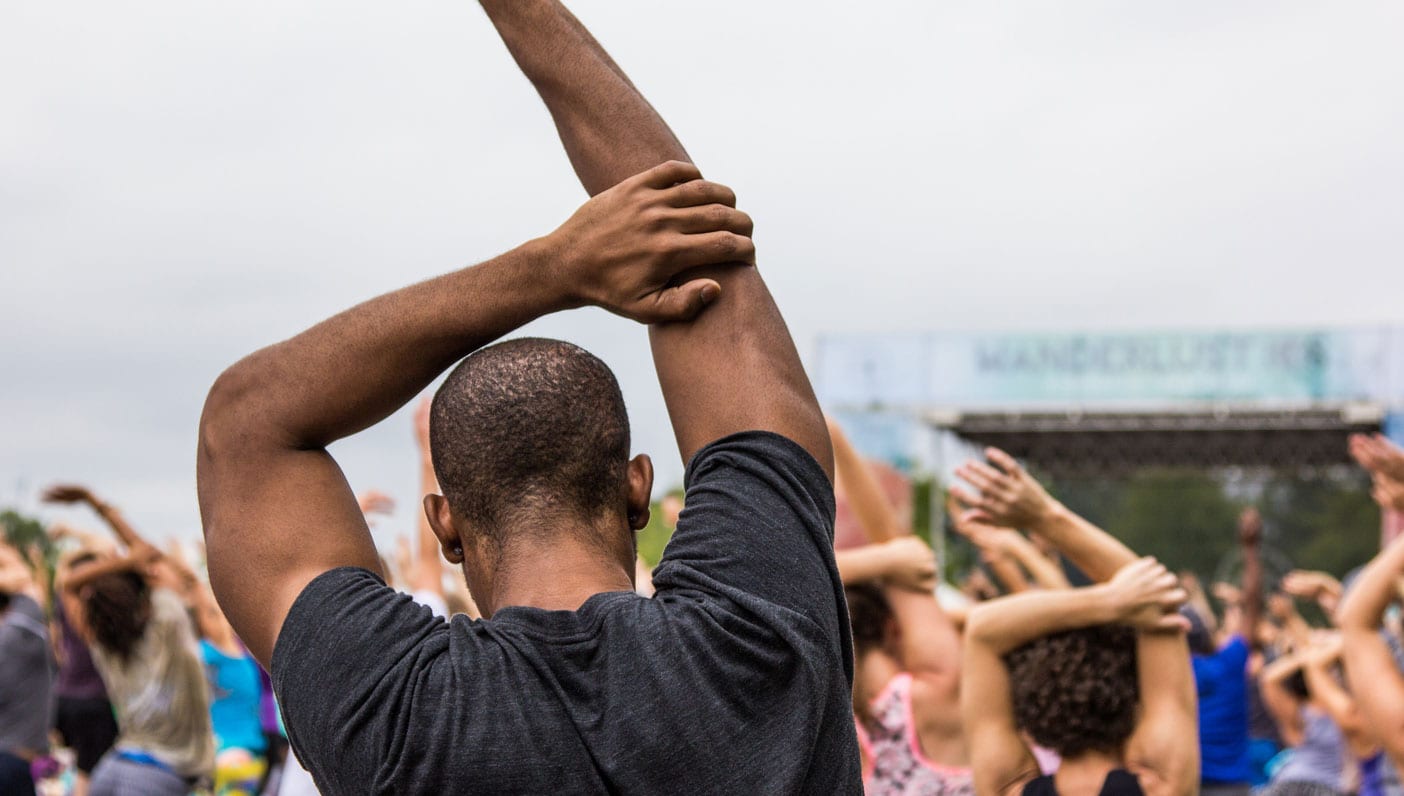 Photo by Jake Laub
This piece is from our partners at Fatherly. Want more like this? Sign up here.
---
You may recall a middle school P.E. instructor preaching the benefits of stretching while you and your tween buddies were busy giggling at his nuthuggers, but now that your days of spry flexibility have ground to halt, it's not so funny anymore, is it? Guys with kids need to take stretching seriously.
Nobody takes stretching more seriously than Chris Frankel, the head of training and education for home fitness system TRX. A speed, strength, and agility coach for 30 years and a soon-to-be Doctor of Exercise Physiology, Frankel has been reversing musculoskeletal stress on his body ever since he became a father 12 years ago at the age of 42. "At the end of the day, being able to be an engaged father means you're able to move comfortably without pain," he says.
The list of benefits from stretching include improved posture, mood, circulation, testosterone levels (so, your sex drive), cortisol levels (your ability to manage stress), and bowel movements. Any of that sound good to you? Good, now read on …
A Parent's Major Stress Areas
"Shoulders, arms, core, and hips probably take most of that work of lifting and carrying," Frankel says about the bundle of joy that's slowly taking years off your bones and joints. "Nine times out of 10 it comes down to being able to manage your back and take care of your core and your spine."
Newborns and younger babies — the ones you're constantly cradling, cuddling, hunching over, and holding at odd angles while praying they don't wake up and start screaming again — put persistent stress on your shoulders, arms, and spine. Toddlers — the ones whose favorite game is "Pick me up! Now put me down! Now pick me up!"—shift that stress more toward your hips and core.
Think of your body as a coil that's slowly curling forward all day, because the kid is almost always in front of you (unless, you know, you're carrying them right). The means the muscles in the front of your body are constantly contracting, so the following stretches will counteract that.
Core and Spine Stretches
The core and spine stretches are the most important for maintaining good posture. Frankel recommends "the 2 great moves" every parent should practice: the cobra, and the cat and camel pose.
Cobra
Lie down face first with legs together and palms facing down beneath your shoulders
Keeping thighs and the top of your feet on the ground, arch your back without pressing with the hands
Keep your elbows in, chin up, and shoulders low and back as if to shoot a beam from your chest to the ceiling
Use your hands to press further back but only as far as is comfortable
Breath slowly for 5 to 20 breaths before slowly lowering back to the floor
The Cat and Camel 
Get on your hands and knees.
Curve your back like Quasimodo (or a camel) and hold for 3 seconds.
Then arch your back (like a cat?) and hold for 3 seconds.
Repeat 5 times.
Hip Flexor Stretches
Opening your hips can alleviate lower back pain, which is a self-fulfilling prophecy. When your lower back hurts, you lift your kid wrong to compensate, and lifting your kid wrong creates more back pain. Open hips also make you better in the sack, so that's twice the motivation.
The Half Kneel 
Kneel upright with one knee and one foot on the ground as if you're listening to Coach Nuthugger's epic halftime speech and place hands on hips.
Create 2 90-degree angles: between your hip and the elevated knee, and between the foot on the ground and its ankle.
Gently rock your hips back and forth (a.k.a. air sex) for a moment to feel where the stretch will happen
Flex your ass and abs at the same time to get a slight posterior pelvic tilt (a.k.a. forward thrust) You should feel the stretch in the anterior thigh, near the magic zone
Switch legs and repeat.
Frog Stretch
Get on your knees and elbows.
Gradually spread knees out wider than your hips with toes facing out.
Lower by pushing your pelvis toward the ground while simultaneously (A) spreading your feet wider than your knees and (B) pulling your hips back.
Make sure nobody is videotaping, because you look ridiculous.
Shoulders, Chest, and Arms Stretch
To release tension or pain in the shoulders, chest, and arms, and to improve posture, all you need is a doorway.
The Doorway Stretch
Stand in a doorway.
Stretch arms straight out in a Vitruvian Man pose, place hands on the outside of the door frame, and lean in.
Take 5 to 8 deep breaths and stretch a little farther with every exhale.
Relax your chest and shoulders.
Adjust your arms up and down the frame and shift your position forward and backward in the frame to target different areas of the muscles.
Key Stretching Rules
Frankel starts every morning with 10 to 12 minutes of these stretches to undo whatever damage was done the night before and get the juices flowing. "Ideally you'd like to stretch 2 or 3 times during the day for short bursts, but especially right when you get up in the morning," he says.
Relax. "The trick is to take it nice and easy," Frankel says. "A lot of times, men and women, especially men, try to turn a stretch into a strengthening exercise."
Breath deeply and extend all stretches during exhales.
Stay hydrated. Drink a glass of water before and after bed every night to instill the habit.
Now that you've got a routine to get all those front muscles stretched out, you should probably deal with stage 2 of the Kid Carrying Fitness regime: your back. All that contracting in the front means the your back muscles have to lengthen, so they don't need stretching — they need strengthening. As for how you go about that, you could ask the head of education and training at TRX, but his answer seems predictable.
—
This article was originally published on Fatherly. If you enjoyed this article, check out these other stories:
7 Rigs That Take Family Car Camping To The Next Level
A Stanford Neurologist On How Wireless Tech Affects Your Kid's Brain
The Link Between Gut Bacteria And Your Kid's Behavior Just Got Stronger

Fatherly is a parenting resource for men who understand that embracing what they've become doesn't mean giving up who they are. Men who want to be great fathers without turning into cliches. Men who spent their formative years laughing at blogs about dads in short shorts, but who will never, ever wear short shorts themselves. We're committed to making the parenting process easier, whether it's offering a spot-on recommendation or a shameless laugh to help you focus on spending more quality time with your kid and less time freaking out.