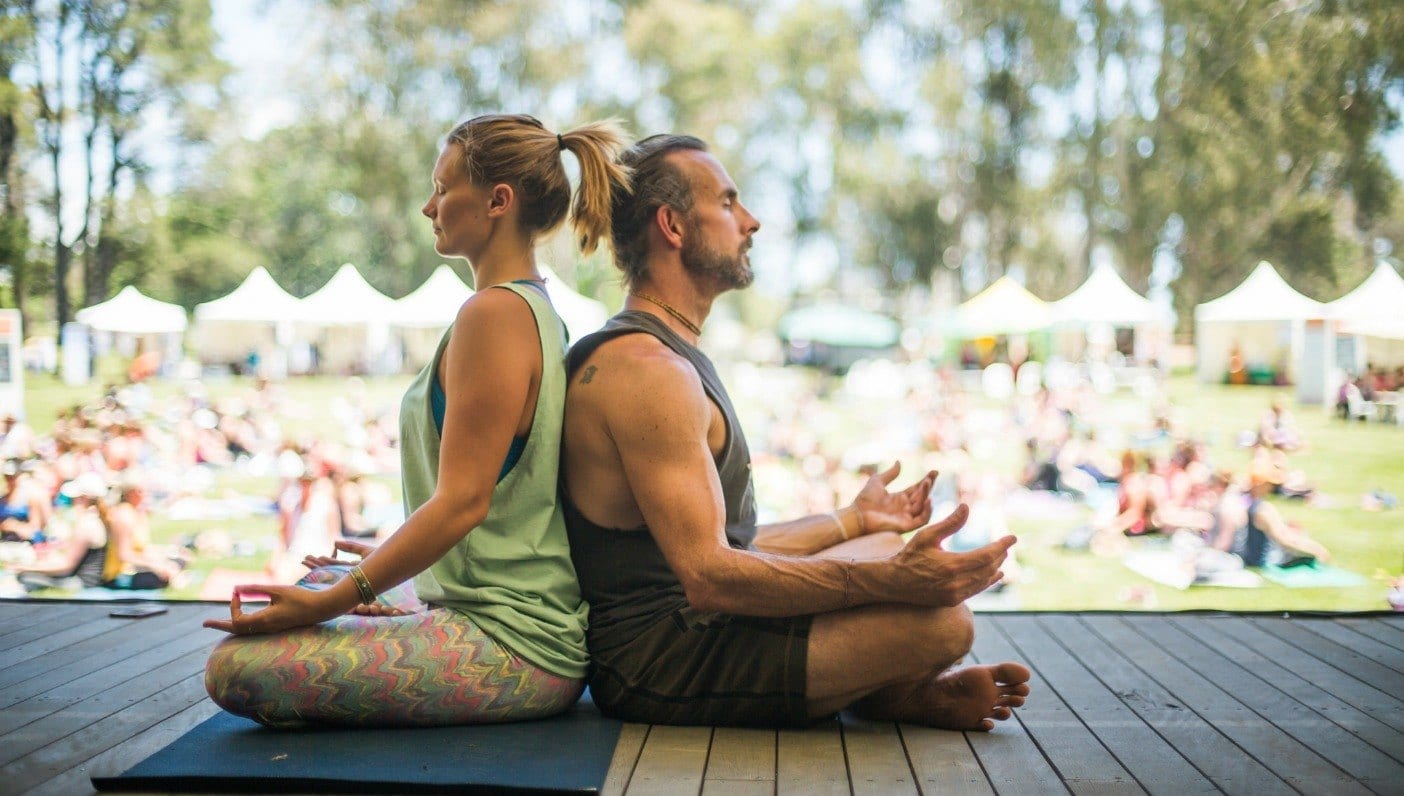 Looking for more ways to celebrate National Yoga Month?  Check out Season 3 of the Wanderlust Speakeasy Podcast, available for free through iTunes or wherever you get your podcasts. 
---
Many yogis will agree, yoga is so much more than just a physical practice. The lessons we learn on the mat spill over into our daily lives, positively impacting our lifestyle. So to celebrate National Yoga Month we're taking yoga on and off the mat with these 10 yogi-inspired practices.
1. Take your practice somewhere new.
The beauty of yoga? You can do it anywhere—like, even the bathroom on an airplane when you need a quick stretch. For the month of September try taking your yoga practice somewhere new. This could be as simple as trying out your BFF's yoga studio instead of your own, or heading "outside the box."
Nature offers some pretty spectacular backdrops for your yoga practice. Try putting down your mat at the beach, in a field, or—with fall fast approaching—in a pumpkin patch. Check out a Wanderlust 108 and practice in one of your favorite parks. Enjoy the new sights, smells, and sounds of nature as you ground down to the earth and practice in a new space.
2. Give the gift of yoga.
Have a friend that hasn't yet tapped into his or her inner yogi? What better time to give the gift of yoga than National Yoga Month? Invite your bud to your studio, or head to a yoga festival together. This time of year is also prime for outdoor yoga, so see if your community offers any opportunities to get outside and stretch.
If your friend is a novice—and maybe a little apprehensive about heading straight to the studio—have a class at home! Check Wanderlust's online videos for inspiration. Feeling creative and ambitious? Create your own custom sequence for you and your new yoga partner to enjoy.
3. Challenge yourself.
At times we fall into our routines and get really comfortable there. Some of us are creatures of habit, and we enjoy the constant, expected flow of things. For the month of September, try challenging yourself to step outside of that routine, and just outside of your comfort zone. That's not to say you should quit your job and go gallivanting through the mountains—though, we're not saying not to do that either.
Instead, try starting small. If you've never been to an aerial yoga class, maybe now is the perfect time. Know a strong yogi that's looking to try something new, too? Give partner yoga or acro-yoga a try.
4. Surround yourself with your yogis.
For some, our fellow yogis are our lifeline. They're more than just studio acquaintances and mat-neighbors. Supportive, inspiring, and motivating, they can sometimes be the best part of class (next to practice, of course!). Celebrate your yogis, and the practice that brought you all together, outside of the studio. Gather for a potluck farm-to-table style dinner party and express your gratitude for one another. Revel in the good vibes, and good food.
5. Take a mindful minute.
The day-to-day can get pretty hectic; it's important to take the time to turn inward, refocus, and calm our racing minds. When we're not on our mats, finding the time to take a mindful minute isn't always easy.
If you're short on time, try turning to your daily commute as a means to find peace. There are countless apps available to guide us through a meditation while we're on the go. Next time you're stuck in traffic, or on the train headed to work plug in those headphones and get into your head. Take note of how the rest of your morning goes after incorporating this into your routine.
6. Write it out.
On that note—of taking a mindful minute—journaling can also be a great way of calming our minds. Sometimes, getting your thoughts out on paper can be really cathartic. On nights when your mind is racing and you can't sleep, reach for a journal instead of your phone. Write about your day, what your grateful for, and your goals for tomorrow.
7. Fuel your body.
In order to get the most out of National Yoga Month your body is going to need to stay fueled up and healthy! Get creative in the kitchen and try out new recipes to keep that yoga glow all month long. From teas and tonics to smoothie bowls and super foods, the possibilities are endless.
Make it a point to keep things delicious, nutritious, and clean for the month of September and take note of how your body feels. Incorporate nutrient-rich foods into your diet, or maybe create a plant-based menu for the month. Enjoy trying new things, and new recipes—the new Wanderlust Find Your True Fork cookbook is a great place to start.
8. Go green.
In celebrating National Yoga Month we celebrate all of the principles of yoga. As we said earlier, yoga is so much more than just a physical practice. No two days of practice are ever the same, and we gain a new perspective each and every time we come to the mat. We cultivate our awareness—of self, and of our impact on others, and the environment, too.
Throughout the month of September make a concerted effort to impact the earth positively. While it may sound like a loaded task, there are simple changes that you can make in your daily routine that can improve your effect on the environment. Go zero-waste for a week (or the month!). Learn how to compost. Replace that plastic bottle with a reusable stainless steel or glass one—it's better for the environment, and you, too. Go forth and go green!
9. A little less buy, a little more DIY.
Sometimes you just need to treat yo'self. Some of the best treats, however, are ones that are handmade. A hand-knit scarf from grandma will always be superior to one bought from a store. Those natural, hand-made soaps sold at your local farmers market? Better than anything you can find in your local drug store—and they're gentle on the skin, too.
So, for National Yoga Month, tune into your inner creative genius and give some DIY projects a go. From beauty products to accessories, the DIY possibilities are seemingly endless. An added perk? Getting crafty can have health benefits, too. Some DIY hobbies, like knitting, can actually offer benefits similar to those you'd get from meditation.
10. Spread love.
You know those people that say "Hi" or smile as they walk by? Those are my favorite people. They make me happy. Be someone who makes others smile. Practice kindness. Go out of your way to hold the door open for others. Smile at strangers, and say hi. Dole out compliments, and spread love wherever you go. You may not realize (or get to see) its effect, but you could be responsible for turning quite a few days around with just a smile and a kind word.
—
Maggie Peikon is a New York native, writer, and sufferer of insatiable wanderlust. An avid endorphin seeker she has a constant need to be moving, seeking adventure in all she does. She is a lover of travel, daydreaming, fitness, thunderstorms, and her dog, Finley. Despite the fact that she has to take medication daily due to a thyroidectomy, Maggie still believes that laughter will always be the best medicine. Follow her musings on Instagram and Twitter.