Eddie Stern is an internationally acclaimed, New York-raised yoga instructor who studied Astanga Yoga, chanting, philosophy, and ritual under Sri K. Pattabhi Jois from 1991–2009. He is the co-founder of Ashtanga Yoga New York, the Brooklyn Yoga Club, and the Brooklyn Ganesha Temple. Dr. Marshall Hagins is a celebrated physical therapist, professor at Long Island University in Brooklyn, and the house PT for the Mark Morris Dance Group for over 25 years. 
---
What do yoga and science have in common?
Renowned yoga teacher Eddie Stern and celebrated physical therapist Dr. Marshall Hagins may consider this a trick question. "We don't see these as two separate sciences," says Marshall. "We think yoga is a science, and we think Western science is a science. The thing about these two sciences is they both are based on the same thing: That observation experimentation leads you to the truth."
When we come to the mat we observe our body through breath—which allows us to uncover deep truths about our expectations, limitations, and reactions, and how these affect our general wellbeing. "In the past 50 years or so, as yoga's become more popular in America, different segments of society have seen the value of yoga," says Eddie. This plays out as 'prescriptions' for yoga in traditional healthcare, for example, or in mindfulness programs incorporated into public school curriculum.
As yoga is popularized, new populations are seeing the benefits of practice. "Maybe we noticed that 'I'm a little happier, or my back pain has gone away, or I'm sleeping better, or my digestion is better'," says Eddie. "Little by little, science has begun investigating what exactly it is about yoga that makes it work."
To examine this relationship, Eddie and Marshall hosted their third-annual Yoga + Science Conference at the New York University Tandon School of Engineering. Featuring cutting-edge speakers—both yogis and scientists—from around the world, the conference explored the relationship of this ancient science and modern medicine, and posited how both can help the other better understand the human experience. "Practical application is one area of focus, and also we're trying to make sure that all the science happens at a very accessible level," says Marshall.
Watch these videos to get a better sense of how the science of yoga and Western Science intersect.
—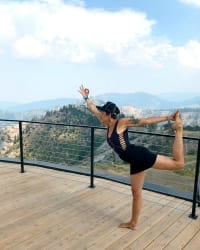 Lisette Cheresson is a writer, storyteller, yoga teacher, and filmmaker who is an avid vagabond, dancer, dirt-collector, and dreamer. She was Wanderlust's Director of Content for several years. She received her Level II Reiki Attunement and attended a 4-day intensive discourse with the Dalai Lama in India, and received her RYT200 in Brooklyn. Catch her teaching @dayayogastudio, or find her on Instagram @lisetteileen.