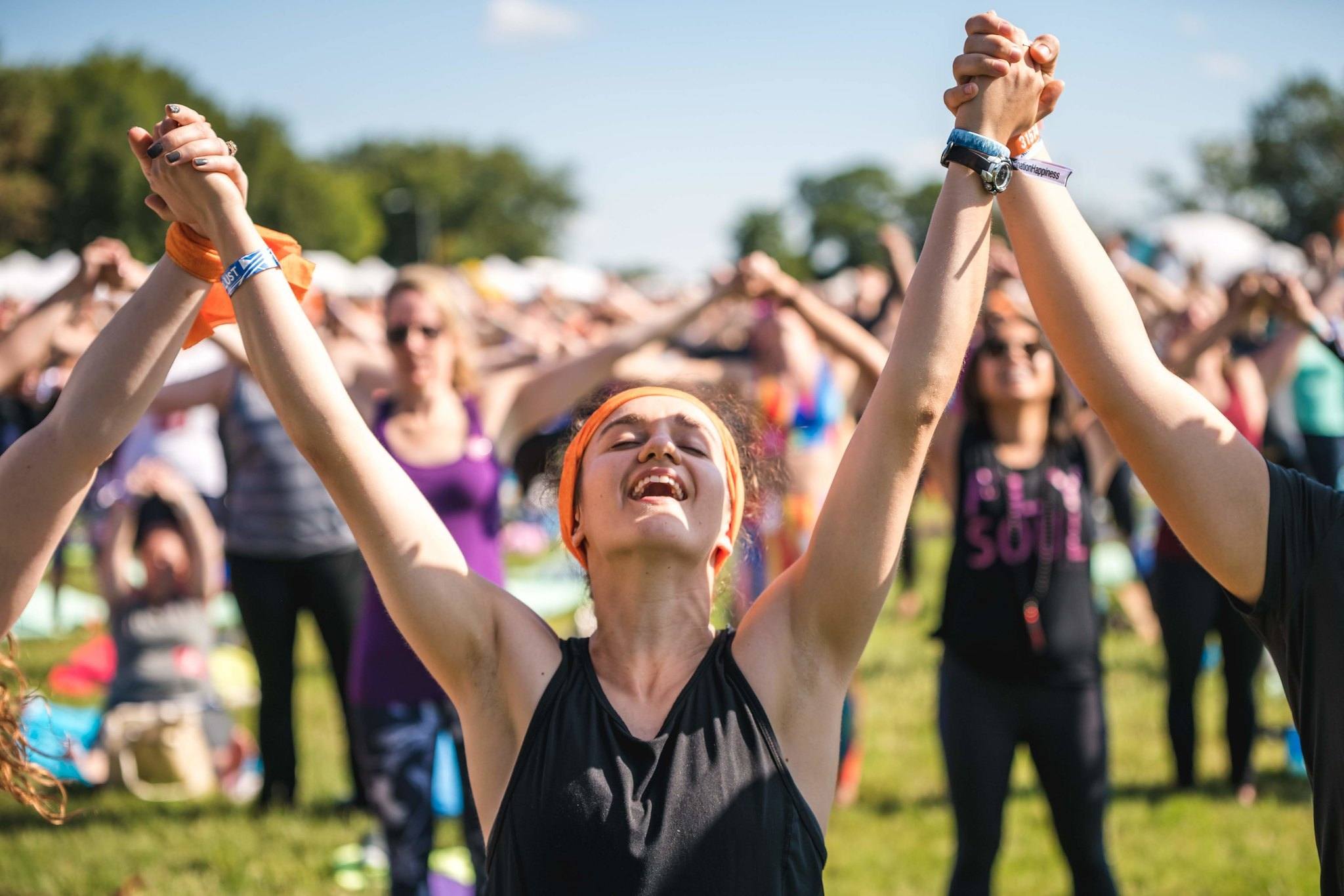 Photo by Thurston Willis
Want to attend a Wanderlust 108 in your city? Click here tickets, locations, and information. 
---
The spectacular monuments and historic American buildings are the obvious to-dos in Washington, D.C. But locals and in-the-know tourists have discovered that there's much more to this town than politics. The nation's capital is not only home to incredible food and a vibrant art and music scene, it also has some of the most breathtakingly gorgeous trails and parks, along with ample studio opportunities for you to score some time on the mat.
If you find yourself in D.C. this fall, be sure to check out some of our favorite yogi hotspots:
What to Eat
Table
903 N St. NW, (202) 588-5200
Everything at this modern French bistro in Shaw is stunning—the space, the locally sourced food, the attention to detail. Take your time with the thought-provoking, seasonally inspired menu, and do not under any circumstances skip dessert.
Little Red Fox
5053 Connecticut Ave. NW, (202) 248-6346
This adorable café-market hybrid is the perfect sunny place to enjoy a sandwich and a cup of locally roasted coffee—or locally brewed kombucha or beer depending on the time of day. Before you leave, check out the carefully curated selection of groceries either made in-house or by small, local producers. (Dolcezza Gelato and Running Byrd Tea to name a few!)
Union Market
1309 5th St. NE, (301)-347-3998
This bright and shiny year-round indoor market is a one-stop-shop for some of D.C.'s most eclectic food offerings. Bring your appetite—the food hall houses some 40 local restaurants and food artisans.
Still hungry? Grab a picnic lunch because it's takeout only at Sweetgreen's first location on M street in Georgetown.
Where to Sweat
Yoga Noma
1200 First St. NE, (202) 430-6876
Physical therapist and yoga teacher Dr. Ariele Foster—a Wanderlust favorite—sometimes teaches at this cozy little studio. The space and interior design were donated by area businesses—which means fees for yoga and meditation classes are generally low.
Embrace Yoga
1650 Columbia Rd. NW 2nd Floor, (202) 525-1083
Yogis love this intimate studio for its positive energy and strong sense of community. Wanderlust Presenter and Owner Faith Hunter is known for her spiritual and soulful approach to the practice of yoga, particularly her signature Sunday vinyasa class, "Spiritually Fly Flow."
Yoga District
1910 14th St NW, (202) 265-9642
This laid-back local cooperative of yoga studios gets heaps of positive reviews, and the hype is well-deserved. The classes are welcoming and affordable, the teachers are trained in a wide variety of styles, and there are multiple locations—what more could you ask for?
Where to Shop
Follain
Union Market DC. 1309 5th St. NE
Finding safe beauty products that are also effective used to be a challenge. Follain makes it easy with an impressive selection of healthy skincare, hair care, and cosmetic products from more than 40 U.S. brands.
Rosies and Rockers Boutique
2001 13th St. NW, (202) 328-7625
D.C. may be a town of suits and pencil skirts, but the success of this retail space specializing in rockabilly and pinup-style clothing proves residents aren't afraid of edgy style. Events are as creative as the apparel: The boutique hosts shows—like an open-mic night and burlesque—that showcase up-and-coming artists.
Where to Spend Time Outdoors
Kenilworth Park and Aquatic Gardens
1550 Anacostia Ave., NE, (202) 692-6080
This series of ponds in Northeast D.C. is one of the best spots in the city for viewing wildlife (turtle, herons, and butterflies) as well as gorgeous water lilies and locusts. Take a picnic lunch and enjoy the peace and quiet.
Yogi Hot Spot
Freed Bodyworks
1337 Pennsylvania Ave. SE, (202) 321-9715
This holistic wellness center gets rave reviews for its intentional inclusion of clients with non-conforming bodies, identities, and lifestyles (think body positive expandable massage tables and gender neutral bathrooms). Regulars appreciate the positive, welcoming vibe; quality therapeutic services; and yoga classes.
Have a Good Time
Bluejacket
300 Tingey St. SE, (202) 524-4862
Housed in a open, airy 1919 building that was once a Navy boiler factory, this brewery, restaurant, and bar offers 20 house-brewed drafts and five cask ales—all truly unique and made with quality ingredients found all over the world. Current offerings include a Berliner Weisse spiced with local lilacs and blueberries and a mole-inspired sweet stout called "Mexican Radio."
Mr. Henry's
601 Pennsylvania Ave. SE, (202) 546-8412
This legendary restaurant and jazz venue in Capitol Hill has recently been restored and revitalized. New owners upgraded the menu and space, while still managing to keep the familiar old world ambiance the place was known for in the 1960s. It's a cool, authentic spot to hear some live jazz, especially on Saturday nights when groups led by female jazz vocalists perform.
Traveling this fall? Check out our complete list of Wanderlust city guides.