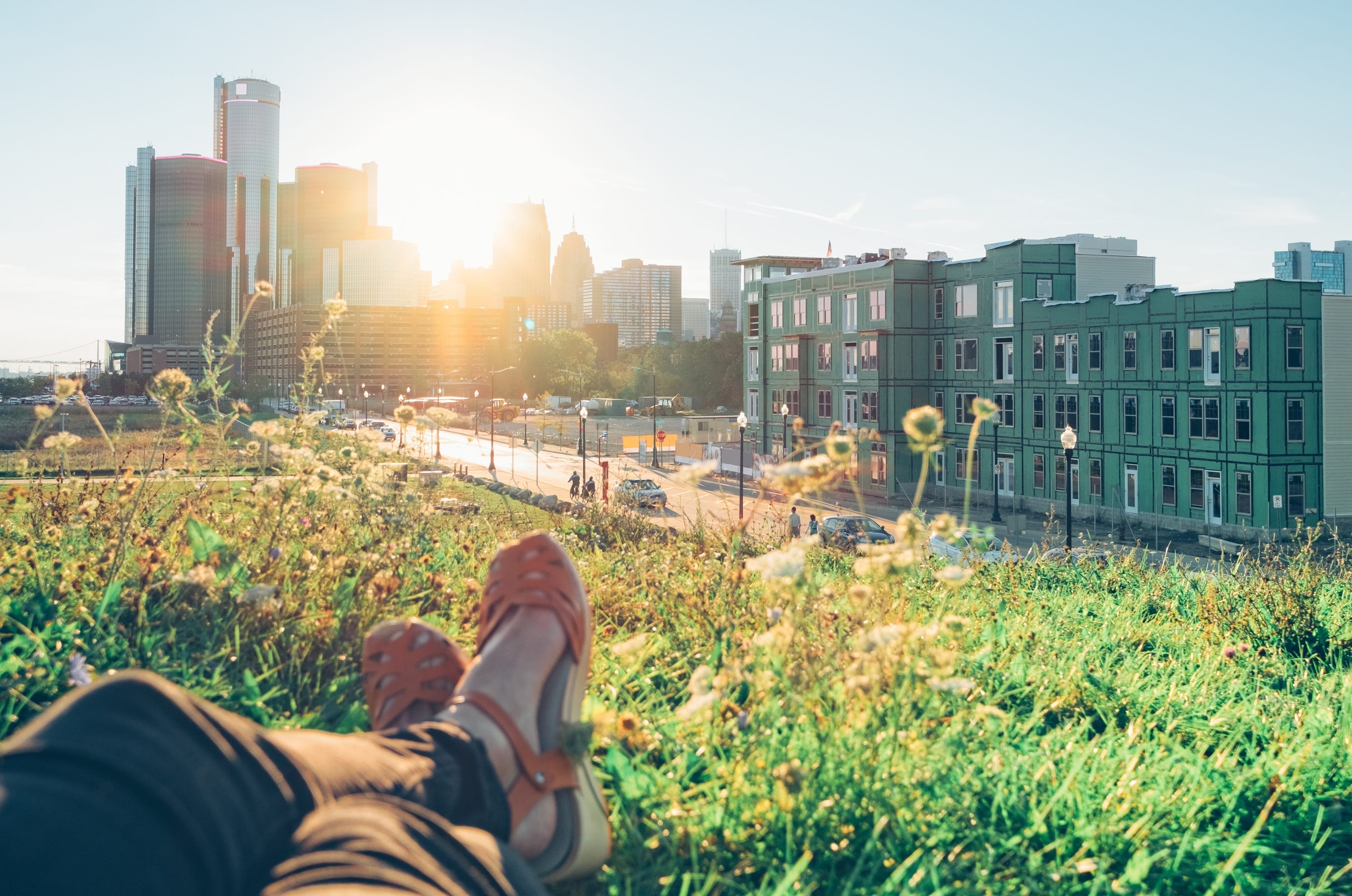 Want to attend a Wanderlust 108 in your city? Click here tickets, locations, and information. 
---
Detroit is the largest city in the state of Michigan, laying nestled between the Great Lakes of Huron and Erie. Described as "America's Great Comeback City," Detroit is dramatically evolving with its dynamic creative arts scene, hip new restaurants, and designer shops. Evidence of renovation is everywhere and visitors will find a plethora of things to see and do in the diverse neighborhoods that make up the city. In other words, this up-and-coming hotspot is just waiting to be explored. 
Where to Eat
Detroit Vegan Soul 
8029 Agnes St., (313) 649-2759
With a mission to help people live healthier lives, Detroit Vegan Soul works with local food providers to produce fresh, seasonal, mostly organic, and completely plant-based meals. The menu is free of GMOs, additives, preservatives, dairy, eggs and animal products, but full of love and soul. Get a taste of multiple menu items by ordering the soul platter, a main course that includes; gluten free mac-n-cheese, maple-glazed yams, smoked collards garnished with shiitake mushroom and a cornbread muffin to top it off.
Greenspace Cafe
215 W Nine Mile Rd., (248) 206 – 7510
Health and community meet at this plant-based, physician-owned restaurant. This cafe is a popular spot with vegans as well as omnivores thanks to it's unique menu options and beautiful open aired space. The farmers board is a must order for cheese lovers (the cheese is vegan/nut cheese) and their bowls are large enough for two people to share. If you fancy a drink, sip on a "conscious cocktail" which aims to capture the therapeutic benefits of various botanicals and fruits.

Where to Sweat
Citizen Yoga
1224 Library St., (313) 502-5450
The goal of Citizen Yoga is to empower individuals through safe, alignment-based yoga classes. Instructors are welcoming, knowledgeable and provide thoughtful, creative classes like R&R (restore and relax) the Slow Burn (no definition needed!) and Blend (combination of flow and slow burn). Additional conveniences include free parking, showers, and changing rooms.
Detroit Yoga Lab
69 W Forest Ave., (313) 831-9642
From heated vinyasa to candlelit yin, Detroit Yoga Lab is nothing short of variety. There are an average of five classes per day, with the styles and intensity running the gamut. The studio also prides itself on a sense of community, and it's easy to understand why. In addition to the plethora of classes, Detroit Yoga Lab offers fun workshops, including a Chatarunga lab and yogi clothing swap.
Where to Shop
Eastern Market
2934 Russell St., (313) 833-9300
One of the oldest and largest year-round markets in the US is right here in Detroit! Open every Saturday, the market offers fresh produce, meats, baked goods, flowers and local art. Check their events listing for special happenings like adult cooking classes and walking tours. Pro Tip: Browse different vendors before making a purchase to compare prices, and be sure to bring cash with you!
Where to Spend Time Outdoors
Cricket Fields, Belle Isle
Casino Way
Just a short distance from downtown, Belle Isle can be accessed by walking over a pedestrian bridge. This 2.5-mile-long, 982-acre island park, is located in the international waters of the Detroit River and was created to provide an urban oasis in the city. It's also the location of the Wanderlust 108 on Sunday, October 1! Join us and your community in a mindful triathlon as we complete a 5k and move through a yoga practice and guided meditation outside.
Campus Martius 
800 Woodward Ave.
Have you ever been to a beach in the middle of the city? Well now is your chance! In the center of Downtown Detroit lies 400,000 pounds of sand and lounge chairs to relax in a beach-like setting during warm days. Campus Martius Park is also home to special monuments (like the The Michigan Soldiers and Sailors Monument), a skating rink, free events, classes and several dining options. Stop by Detroit's Gathering Space to enjoy serenity or mix in with the locals.
Yogi Hot Spot

DROUGHT
719 Griswold St. #110, (248) 850-7522
With six retail locations in the metro-Detroit area and national expansion on the horizon, DROUGHT is the leading certified USDA organic juice brand in the Midwest. The owners and operators are four sisters, whose mission is to help others live thoughtfully and well. Their company is supported by locally-grown produce and local suppliers and vendors. Whether you purchase a cold pressed juice or a cold brew, you're in for a delicious drink.
Have a Good Time
Museum of Contemporary Art
4454 Woodward Ave., (313) 832-4944
Founded in 2006, MOCAD's mission is to present art at the forefront of contemporary culture by showcasing the best in visual, music, performing arts, and literary music. As a non-collecting institution, MOCAD is responsive to present cultural content, and aims to be a space that fuels dialogue, public engagement, and collaboration. Cafe 78 sits in the middle of the space and serves coffee, pastries, and lunch. Admission is free but a $5 donation is suggested.
Traveling this fall? Check out our complete list of Wanderlust city guides.
.