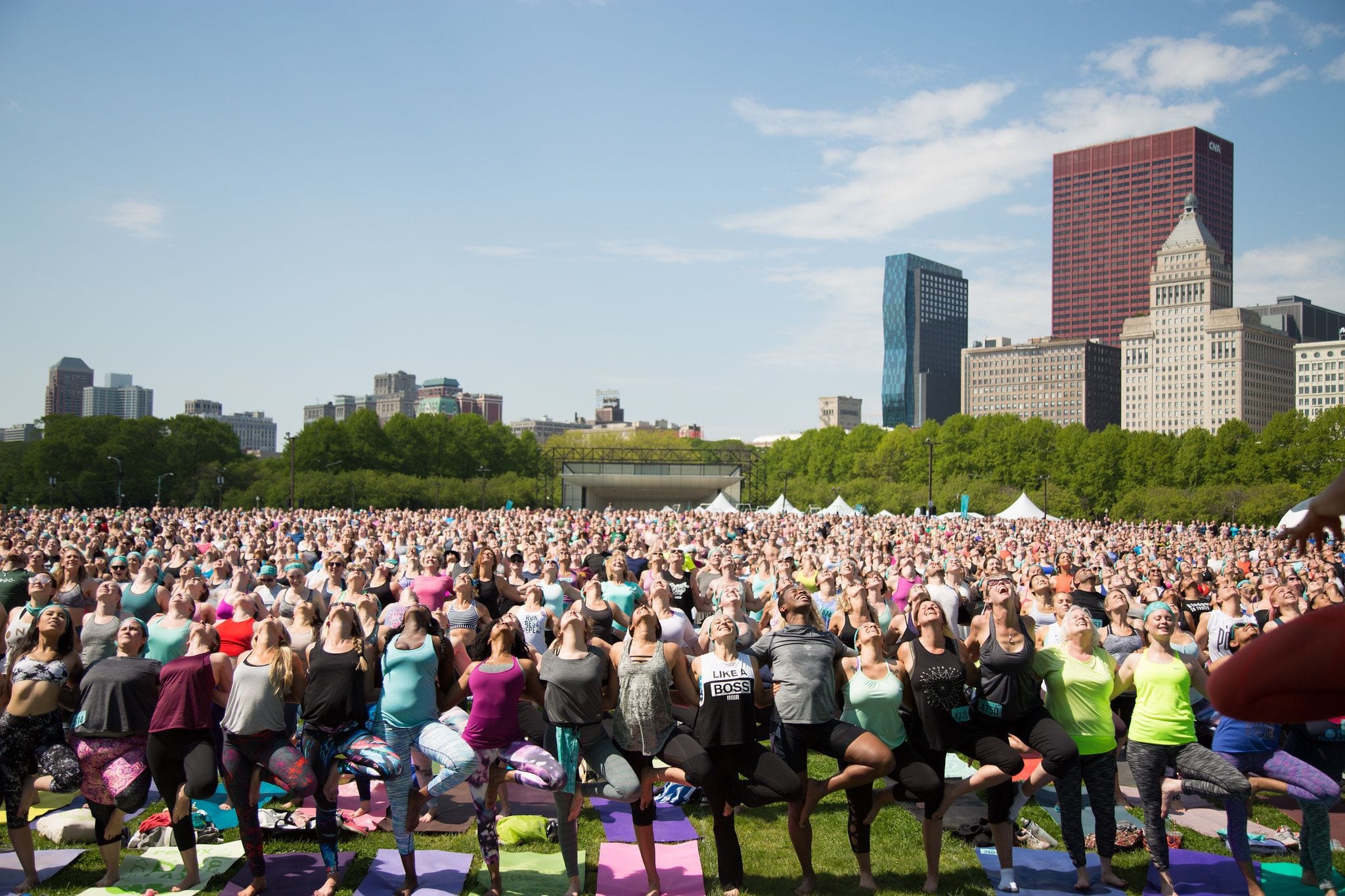 Want to attend a Wanderlust 108 in your city? Click here tickets, locations, and information. 
---
Famous for deep-dish pizza, Wrigley Field, and a thriving art scene, Chicago is a city that caters to people with all sorts of interests.
It's a cultural gold mine, offering some of the country's best restaurants, world-renowned architecture (be sure to check out Frank Lloyd Wright's stained glass Robie House), and around 200 spring and summer festivals.
As if that wasn't enough, the city is practically overflowing with good vibes. In Chicago you get the warm welcome of the Midwest combined with a food and art scene that rivals that of LA and NYC. And there's more to the city than hot dogs and baseball; yogis will adore the plethora of studios, farmers markets, and healthy eats.
Where to Eat
Loving Heart
838 W Montrose Ave., (773) 561-5399
If you're Uptown, be sure to venture over to Loving Heart, where you can find hummus-based nachos, tasty veggie burgers, spicy kimchi soup, and flavorful smoothies. Even non-vegans rave about the food, and everyone adores the abstract and subtly spiritual artwork that dons the walls. The price is great, and the extensive menu makes it an ideal spot for quick lunch or dinner. If you've got a sweet tooth, be sure to end with a frosted cookie!
TWO 
1132 W Grand Ave., (312) 624-8363
Looking for a solid farm-to-table experience on your travels? Welcome to TWO, a restaurant and bar focused on using fresh ingredients to create modern twists on Midwest classics. Using ingredients sourced from local butchers, farms, and fisheries, executive chef Kevin Cuddihee brings forth innovative dishes such as homemade sourdough bread, Alaskan halibut with pickled ramps, and even a culinary take on puppy chow, "just like mom made it."
Where to Sweat
Tula Yoga Studio 
2827 W Belden Ave., (773) 620-9945
Located in the trendy and upcoming Logan Square, Tula Yoga has quickly become a neighborhood favorite. Upbeat yogis and encouraging instructors create a community-vibe, encouraging practitioners of every level to swing by. Bonus point: Free mat rentals!
The Lab
159 N Racine Ave., (312) 526-3467
For those who prefer yoga studios that mix it up, you'll love The Lab. The teachers are truly dedicated to helping their students improve, and members of the community report that they take yogis through new and exciting poses in every class. The sessions also include a meditative component, so you'll be exercising your brain as well.
Zen Yoga Garage
1845 N Milwaukee Ave., (773) 227-7748
Diverse and inviting, Zen Yoga Garage offers a plethora of classes for all types of yogis. You'll find barre and yoga combo classes, as well as hot yoga with weights, Vinyasa flow, and hot Yin. Be sure to check out the schedule for workshops; they often offer meditation and even "Bob Marley" flow opportunities.
Where to Shop
Kokorokoko 
1323 N Milwaukee Ave., (773) 252-6996
Even if you can't say the name, you must stop by Kokorokoko to satisfy your vintage shopping bug. The store is loaded with everything from crop tops to funky sweaters to spandex jumpsuits. Whether you're shopping for a party or Burning Man, you're sure to find a perfect and fierce addition for your wardrobe.
Green City Market
1817 N Clark St., (773) 880-1266
Veggie-filled quiches? Beet ketchup? Gluten-free crepes with raspberry?! Say no more and meet us over at Green City Market, one of the most beloved farmers markets in Chicago. Located in bustling Lincoln Park, Green City Market is a great place for an alternative-tourist experience or to grab some fresh ingredients for an impromptu dinner party. Bonus: Dogs are welcome!
Epic Ways to Spend a Saturday
Grant Park 
331 Randolph St., (312) 742-7648
Nestled alongside Lake Michigan with killer views of the city skyline, Grant Park is a must-visit for those looking for Chicago culture. In just one location you'll find The Art Institute of Chicago, outdoor sculptures, massive green spaces, and sporting areas.
Lagunitas Brewing Company
2607 W 17th St., (773) 522-1308
With Charlie and the Chocolate Factory-inspired hallways and a taproom overlooking the brewing facility, Lagunitas is a pretty unique brewery worth a visit. They try to make things fun, offering live music, food, and games in addition to an arsenal of craft beer. Stop by mid-afternoon or early in the evening for a beer flight, tour, or some good conversation over tasty brews.
Favorite Outdoor Hang
Millennium Park 
201 E Randolph St., (312) 742-1168
Millennium Park is your go-to place for pictures with the Chicago classics. Here you'll find the Cloud Gate sculpture (often referred to as "the Bean"), as well as a handful of places to stroll and unwind. Admire the colors and scents of the Lurie Garden, or spread out a blanket for some quiet time across the Great Lawn—or a free fitness class. In the summer you can also enjoy some free classical music at the Jay Pritzker Pavilion (designed by Frank Gehry). A sunny day only enhances the experience.
Night Out on the Town
The Second City
1616 N Wells St., (312) 337-3992
It's no secret that Chicago is one of America's comedy hot spots—the city is bursting with ample opportunity for laughter. And with alumni such as Tina Fey, Rachel Dratch, and Stephen Colbert, The Second City has earned itself the reputation of being one of the funniest theaters and best improv training centers in the country. Stop by for a show and witness some of the city's up-and-coming talent—as well as local legends—and leave mindfully laughing your tush off.
Traveling this fall? Check out our complete list of Wanderlust city guides.