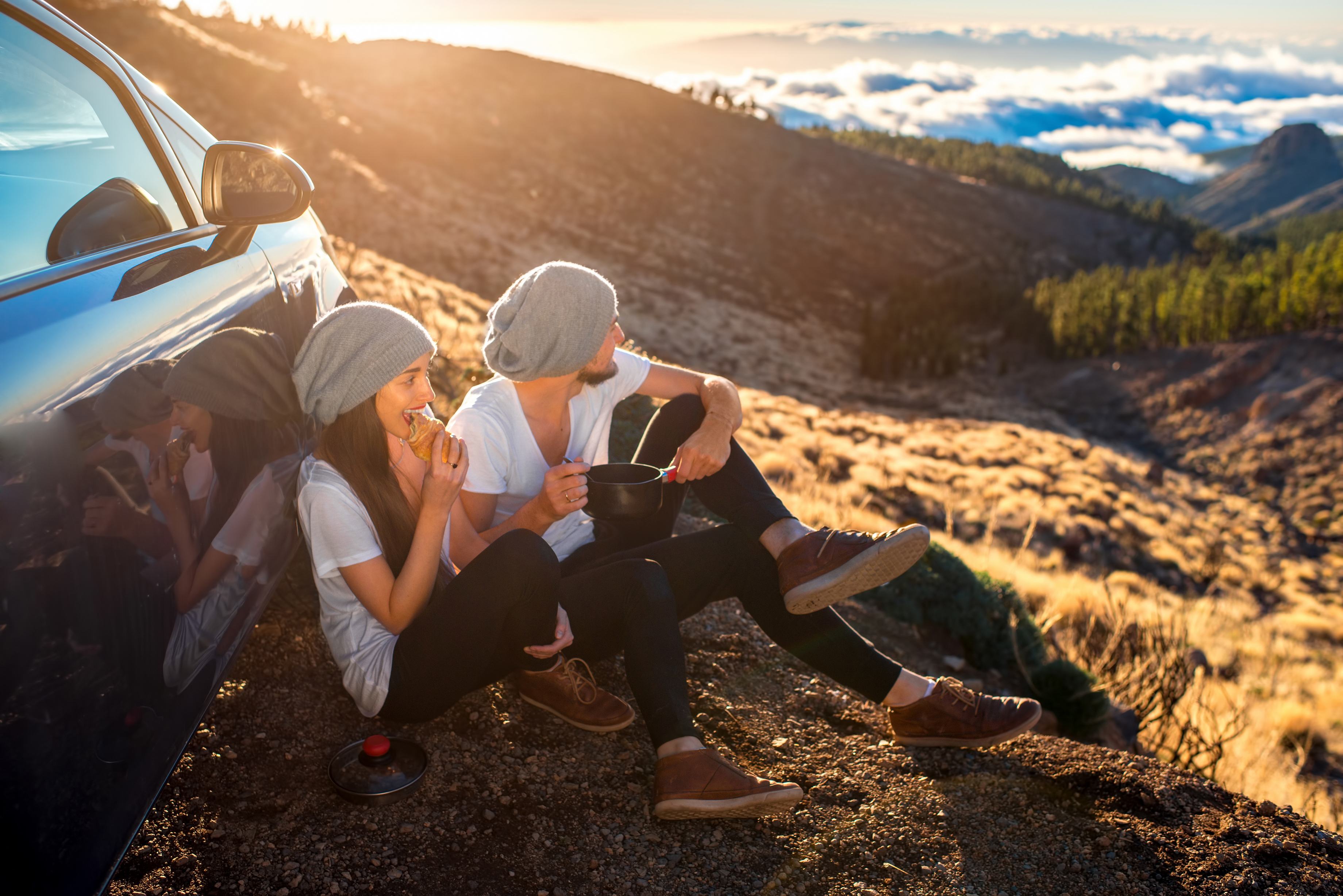 Want more ideas for healthy foods and nourishing recipes? Check out the Wanderlust Find Your True Fork cookbook, available now for pre-order. 
---
If you're anything like us, you're counting down the days until your next road trip. There's something so exhilarating about hitting the open highway, whether you're heading to a summer festival or a secluded mountain cabin.
Regardless of your destination, it's important to savor the journey. Road trips aren't just about getting there; they exist to inspire deep conversations, encourage the discovery of exciting landmarks, and allow for the exploration new places. It's important to prepare as much as possible, which means stocking up on essentials. We're thinking good friends, good music, and good snacks.
It can become too easy to rely on gas stations and fast food joints to supply your road trip fuel, but let's be honest: you want something a little more nourishing. To keep your heart and tummy satisfied, we've assembled some eating-on-the road advice, as well as some  of our favorite road trip treats to keep your journey fun, delicious, and carefree.
General Tips to Keep In Mind
Pack a cooler. There will come many times when you'll be relieved to have one. If you're short on time but craving something fresh, you can use a cooler to store any fresh fruits or veggies, juices, and salads. Many grocery stores offer these staples, and so you can constantly stock up when on the road.
Stay organized. Nothing is worse than having your car suffer from an explosion of crumbs and wrappers. Keeping things organized provides peace of mind, and allows you to prevent unnecessary stress from digging through piles to look for your pack of almonds.
Diversity is your friend. It's easy to suffer from food burnout if you spend too much time eating the exact same thing. While you may love those protein bars now, eat them everyday and you'll find yourself getting sick over the idea of keeping them around. Having a diverse selection of food not only allows you to get as many nutrients as possible, but also keeps your on-the-road menu from getting too monotonous.
Consider your waste. When on the road, it can be hard to remember to recycle and limit your single-use products. Plan ahead by packing things in a mason jar or tupperware container, and keep reusable utensils on hand. (You can wash them in gas stations, by the campfire, or at hotels.) Also be sure to have your thermos and water bottle for when you discovery that small town café.
Homemade Travel Friendly Snacks
Flavorful, simple, and easy-to-eat, popcorn is an all-star choice for road trip eats. You can pop a huge batch and keep it in a large tupperware container or mason jar, and it's easy to eat while driving. It will also give you that salty fix without added bloat, which can be super annoying when you're sitting in the car for a few hours. The cheesy kale flavor is an added bonus, and makes you feel like you're getting your daily dose of greens.
With the gas station protein selection limited to things like hard-boiled eggs and beef jerky, it can be hard to get some filling food without stopping for a sit-down meal. Chickpeas are the answer. These flavorful little bites can be made in advance, and then stored for a satisfying, on-the-road snack. (And you're more than welcome to get crazy with the seasoning.)
Peanut Butter Muffins with Chia Seeds and Chocolate
For quick and cozy breakfast, we recommend a solid muffin recipe. Muffins are comforting (necessary when far from home) and can easily be stored for travel. This recipe is easily made vegan or gluten-free, making it a safe option for all of your friend's dietary restrictions. Not to mention the Omega-3 fats, protein, and fiber-filled chia seeds, which add a delicious crunch to the winning combination of chocolate and peanut butter.
Versatile No-Bake Energy Bites
Energy bites seem to have been made for road trips. They're incredibly versatile, making them adaptable and easy for all palettes and nutrition needs, easy to store, and taste  (almost) like candy. There are tons of recipes out there, but these basic instructions will teach you the fundamentals of energy bites so that you can create your dream concoction. Possible ingredients include oats, quinoa, cocoa powder, coconut oil, avocado, dried fruits, chocolate chips, various spices, and more.
Granola is a good thing when you're in the car for a while. It's sweet, crunchy, and accessible from the driver's seat. And since most store-bought granolas are full of artificial sweeteners and added preservatives, it makes sense to whip up your granola and pack it for the highway. This grain-free recipe calls for an epic number of power-packed foods, including chia seeds, blueberries, coconut oil, and more. Granola is also super diverse, so you can get creative when planning additional ingredients.
Grocery Store and Gas Station Go-Tos
While it's hard to beat a solid stash of homemade goodies, you can't plan for cravings. If you do stop for some extra snacks, here are some tasty go-tos that won't tragically disrupt the ride with tummy-aches and sugar crashes. 
Fresh fruit, such as grapes, apples, cherries, bananas, and berries

Chocolate covered almonds

Raw veggies and hummus

Store bought popcorn

Pretzels or veggie chips

Sustainably-sourced beef jerky

Black olives

Mixed nuts, including macadamia, brazil, almonds, and walnuts

Almond butter

Coconut water
Happy trails, and happy eats.
For more delicious treats, visit Play With Your Food and From the Wanderlust Kitchen, located on Wanderlust TV. 
—
Amanda Kohr is the editor at Wanderlust. You can find her exploring new highways, drinking diner coffee, and on Instagram.