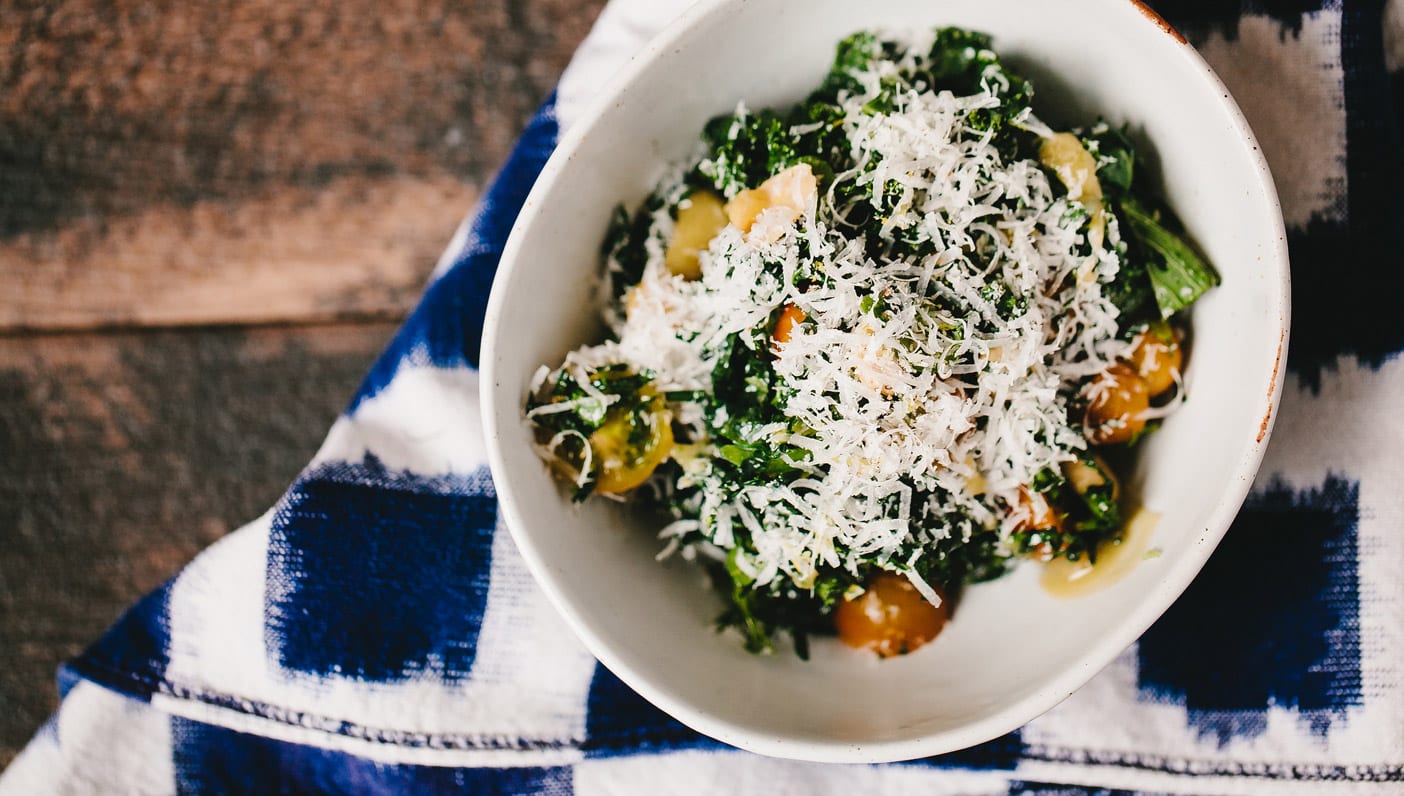 This recipe is part of a new series, From the Wanderlust Kitchen, celebrating real, good food. Receive a digital cookbook of this season's recipes by signing up here.
•••
Sure, you've probably had a kale Caesar salad before. But you haven't had this kale Caesar. It has the namesake greens as a base, but adds in a whole lot more to keep it interesting.
"We all know that kale is good for us," says Wanderlust Hollywood executive chef Seamus Mullen, "but it can get a little boring just eating kale. The zing of the chiles, the richness of the avocado, and bright, umami-rich vinaigrette with anchovies makes this a terrific modern-day Caesar salad."
And if you have any doubt about anchovies, be assured: using the fresh, high-quality fish Seamus does in this recipe is nothing like the tin-can version from your hometown pizza joint. Give it a try, you may be surprised by just how much you like the flavor.
Spicy Kale Caesar with Anchovy-Citrus Vinaigrette
Are you trying this recipe at home? Let us know with #WanderlustKitchen.
INGREDIENTS
2 packed cups, minced black kale
1/4 avocado, diced into 1/2" pieces
1/4 Serrano chile, thinly sliced on the bias
6 sun gold tomatoes, cut in half
Dill
Basil
Mint
Parmesan, microplaned
1 oz Anchovy-citrus vinaigrette (recipe below)
For the anchovy-citrus vinaigrette:
2 anchovy filets
1/2 clove garlic
1 tsp Dijon mustard
1 tsp honey
1/3 cup white wine vinegar
2/3 cup extra virgin olive oil
Salt and pepper to taste
DIRECTIONS
For the salad: Combine all ingredients except Parmesan and vinaigrette. Season with salt and pepper, then toss with the vinaigrette and plate in an oval bowl. Finish with generous grating of Parmesan.
For the vinaigrette: Combine all ingredients except extra virgin olive oil in blender. Process until smooth then drizzle in olive oil.
Makes 1 serving 
Photo by Melissa Ryan
•••
Hungry for more from the Wanderlust Kitchen?
Sign up for seasonal recipes, digital cookbooks, and inspiring interviews.