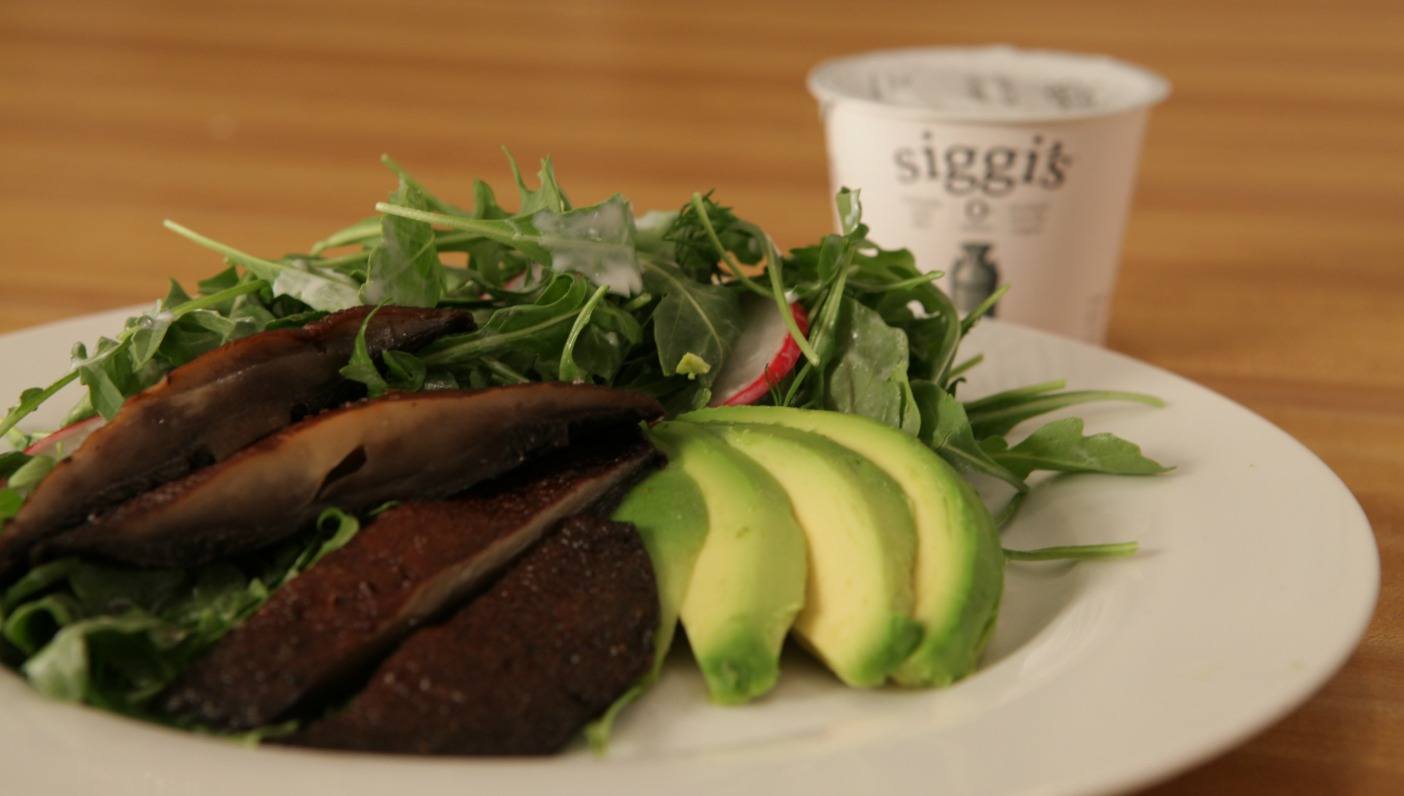 With the warm outdoor weather upon us, it's always great to have a savory salad in your arsenal of healthy recipes. And what better way to celebrate spring than with fresh veggies from your local farmers market?
This recipe combines some of the best spring produce, all topped with a homemade lemon and a dill and yogurt-based dressing. The creamy tang of siggi's plain yogurt paired with citrus and fresh herbs makes an excellent companion to warm portobellos, all together creating an earth-inspired meal that will nourish both mind and body.
Hungry for more? Find more recipes from the Wanderlust Kitchen on Wanderlust TV.
Roasted Portobello and Mixed Green Salad with Radishes and Yogurt-Dill Dressing
INGREDIENTS
Salad
1 tbsp extra virgin olive oil
2 portobello mushroom caps
1 tbsp balsamic vinegar
Pinch of sea salt
Pinch of pepper
3 handfuls arugula or other salad greens, washed and dried
2 watermelon radishes, thinly sliced
1 avocado, sliced in half, skin removed, cut into slices
Dressing
1/2 cup plain plain yogurt (siggi's plain yogurt recommended)
1 small clove garlic, minced
1 teaspoon lemon zest
Juice of 1 lemon
2 tsp fresh dill, chopped
Salt to taste
Pepper to taste
2 tbsp extra virgin olive oil
DIRECTIONS
Preheat the oven to 400 degrees. Line a baking sheet with parchment paper. Brush the olive oil and balsamic vinegar onto the mushrooms. Sprinkle with salt and pepper. Lay the mushrooms on the baking sheet, gills down. Bake for 15 minutes.
While the mushrooms are baking, prepare the low-sugar yogurt-dill dressing. Combine siggi's plain yogurt, garlic, lemon zest, lemon juice, dill, salt, and pepper in a small bowl. Add the olive oil and whisk it until smooth. If it's too thick, add a little more lemon juice and/or olive oil until you have reached the desired consistency. 
Add the greens together to a bowl and top with radishes and dressing. Toss to coat. Remove the portobellos from the oven and place them on top of the salad. Top with avocado and serve.
This recipe taken from Summer's new book, SugarDetoxMe. For more information and to purchase, click here.
In partnership with siggi's
At siggi's we make yogurts with simple ingredients and not a lot of sugar. Our products are based on Scandinavian dairy traditions, such as skyr, the traditional Icelandic yogurt. Our products don't contain any of those dreadful artificial sweeteners. We only use milk from family farms who do not use growth hormones like rBST.