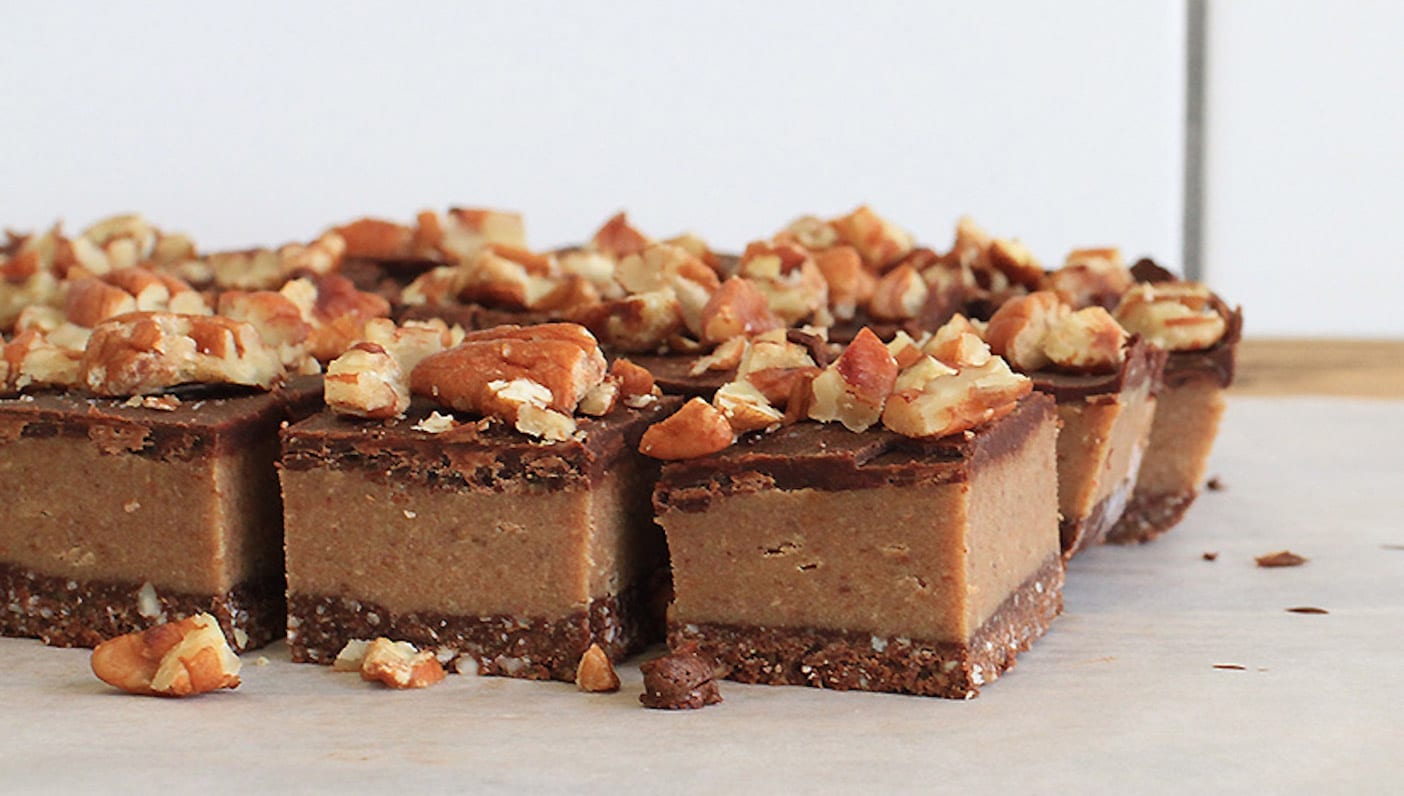 We might be biased, but this raw pecan caramel slice (aka dessert bar) rivals any traditional caramel slice! The test is easy: Make this and see if your friends and family even realize that it is a healthier version of the "oh-so-naughty" caramel slice.
Raw Pecan Caramel Slice
INGREDIENTS
BASE
1/2 cup almonds
1/2 cup medjool dates (pitted)
2 tbsp coconut oil
3 tbsp raw cacao
2 tbsp raw honey
CARAMEL PECAN LAYER
1 cup medjool dates (pitted)
1/2 cup coconut oil
3 tbsp tahini
1 tsp vanilla
2 tbsp raw honey
1/4 cup chopped pecans
TOP CHOCOLATE LAYER
1/4 cup coconut oil
1/4 cup maple syrup
1/4 cup raw cacao
1/4 cup chopped pecans
DIRECTIONS
To make the base first, pulse dates, almonds, coconut oil, raw cacao, and honey in a food processor into a crumble. Press this mixture into a lined slice tin, pressing down until smooth. Place in the freezer while you create the middle layer.
To make the caramel-pecan layer, place dates, coconut oil, tahini, vanilla, and raw honey in the food processor. Process until smooth. Add in the chopped pecans and pulse lightly—you want the nuts to be throughout the mix.
Pour the caramel-pecan layer on top of the base, smooth this layer, and return to freezer to set.
Mix together the melted coconut oil, raw cacao, and sweetener until smooth.
Once the caramel-pecan layer is fully set, top with the chocolate layer and chopped nuts. Return to the freezer.
To serve, remove from freezer and slice while still frozen.
Join Wanderlust and Food Matters to gain a more creative and healthy diet before Wanderlust Sunshine Coast. Plus enter to win two 4-day tickets to Wanderlust Sunshine Coast, including flights, accommodation, and a Food Matters Superfood pack! Package valued around $2,200! Find out more here. 
Photo courtesy of Food Matters 
—
This post is presented by Food Matters. Find more recipes here.