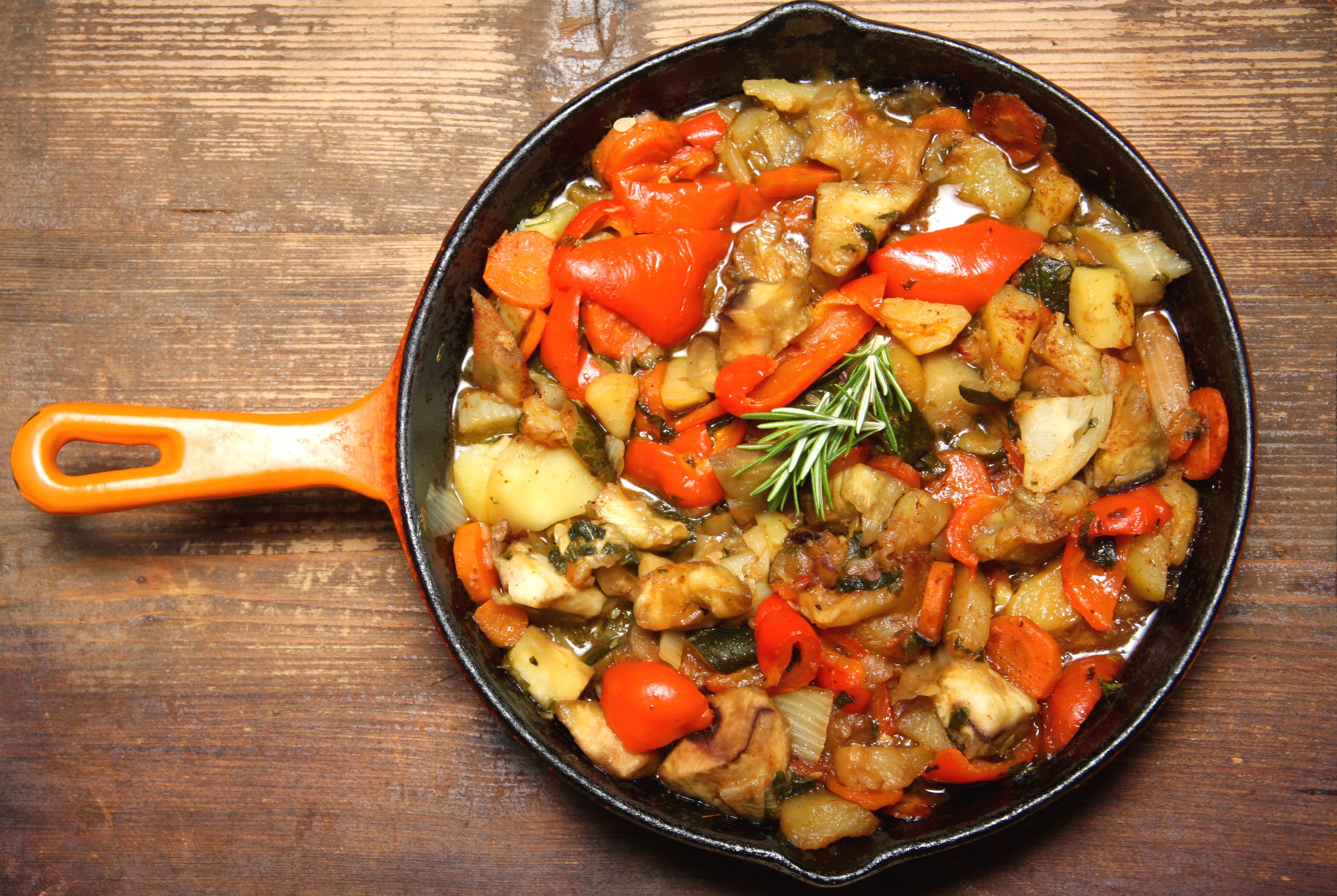 Creating healthy meals using fresh produce is an essential part of summer.
Ratatouille is a traditional French dish. It's incredibly versatile and goes with almost anything. This is a huge plus, because you can make a nice big batch of it and serve it with a different main course each night of the week—it lasts for about seven days in the fridge. Also, ratatouille is a pretty impressive dish to serve guests. Simply whip this up and and suddenly everyone thinks you are some sort of secret Parisian culinary master.
In addition being practical, ratatouille is also incredibly healthy. It has a million vegetables in it, but the nutritional powerhouses here are the Vitamin-C and B6 loaded zucchini, the fresh parsley which boasts five times the recommended daily does of Vitamin-K (plus it contains cleansing and purifying properties), and the olive oil which is full of healthy fats and has been shown to prevent cancer, heart disease, obesity, and arthritis. It's time to get cooking. (And chopping. There's a lot of chopping involved here, but it's totally worth it.)
Summer Ratatouille
INGREDIENTS
1 cup of olive oil
3 small eggplants—peeled and cut into chunks
1 red onion, peeled and chopped
8 cloves of garlic, chopped
2 zucchini, sliced into rounds
1 yellow squash, sliced into rounds
1 green pepper, chopped
1 red pepper, chopped
1/2 cup fresh Italian parsley, chopped – plus more for garnish
1/4 cup fresh dill, chopped
1 tbsp dried basil
1 tbsp  dried oregano
Dash of: cayenne, nutmeg, paprika to taste
16 oz diced tomatoes (try to buy in a box, not a can to avoid BPAs)
2 tbsp tomato paste
2 tbsp sea salt
Fresh ground black pepper to taste
INSTRUCTIONS
Place eggplant in a colander and liberally salt. After 20 minutes, you should see "sweat" on the eggplant, dab it off with a paper towel.
Preheat the oven to 400 degrees
Line a baking sheet with aluminum foil, add eggplant, and toss with olive oil
Cover the pan tightly with foil and bake 35 – 40 minutes, uncover and set aside
Meanwhile, heat olive oil in a large sauté pan over medium heat. Sauté onion, zucchini, squash, garlic, red and green peppers, approx. 20 minutes.
Add tomatoes, tomato paste, parsley, dill, cayenne, nutmeg, paprika and cook for 10 more minutes
Gently fold in the eggplant, check for seasoning and add salt and pepper accordingly.
Serve hot or at room temperature – it actually tastes better the next day. Goes great over quinoa, eggs, with grilled meats, or on it's own.
—

Michaela is a certified holistic health + lifestyle coach through the Institute of Integrative Nutrition, and a registered yoga teacher. She lives in Los Angeles, CA, where she works as a part of Wanderlust Media. In addition to her dedicated yoga practice, Michaela loves music, travel, cooking + eating healthy food (of course), and spending time with her family and friends.