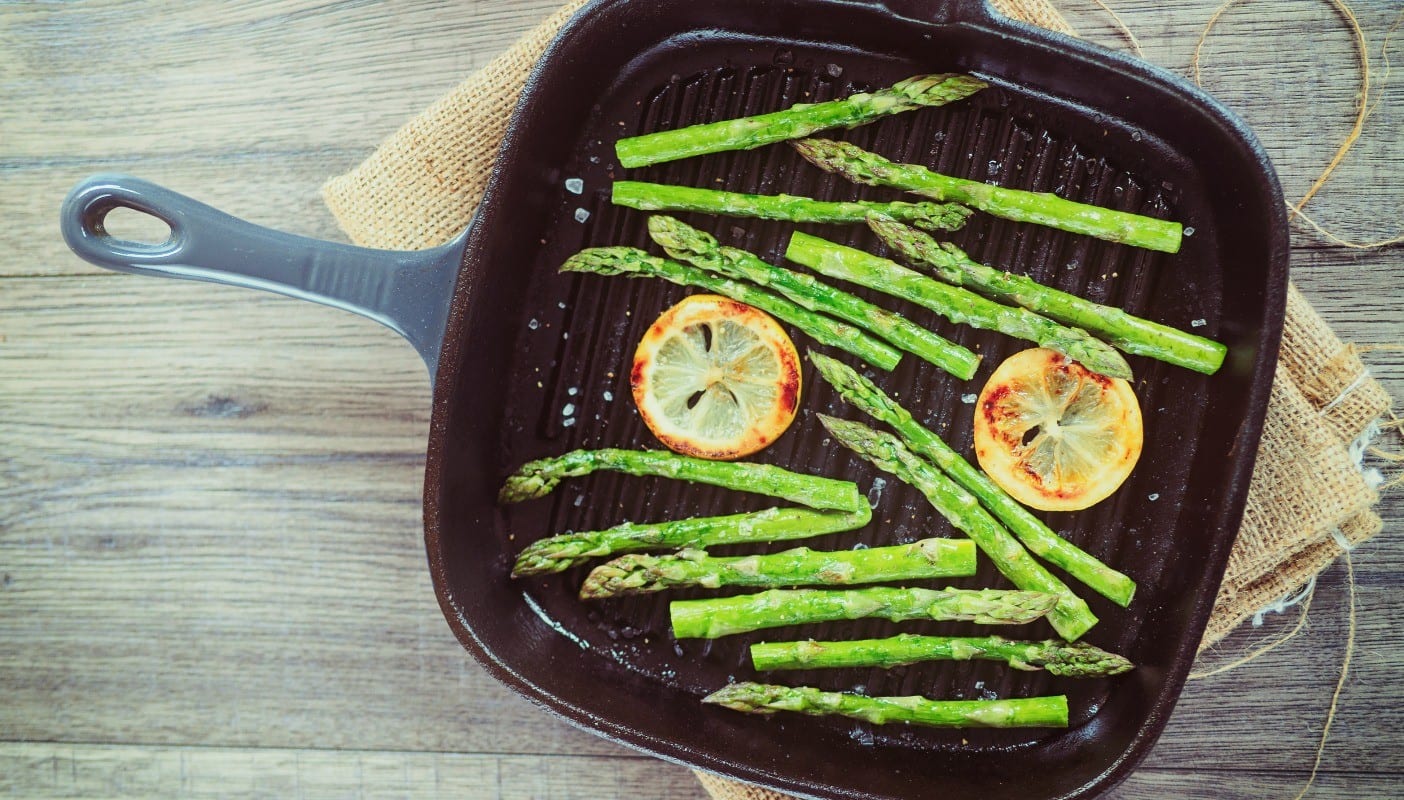 For more delicious recipes, visit Play With Your Food and From The Wanderlust Kitchen, located on Wanderlust TV. 
---
Spring has sprung, and the proof is the new abundance of veggies.
One of our favorite dishes for this time of year is a simple batch of roasted asparagus. While there's a time and a place for sautéed asparagus, I find that I save myself a step (and a dirty dish) with roasting. With this method, the veggies can be made ahead of time and served in the same pan used for cooking. The lemon zest, parmesan, and red pepper work well with any protein, and it makes for a nice alternative to carbs or salad. And busy bees can take comfort in making this during a hectic work week–the presentation is impressive but the execution is easy.
Asparagus is a good source of Vitamins A, C, E, and K, and is loaded with healthy antioxidants. It's also packed with folate, which helps prevent cognitive decline, and is naturally detoxifying—perfect for Spring! You will get plenty of healthy fats from the olive oil in this recipe, along with cardiovascular benefits from the garlic.
Simple Roasted Asparagus
Serves 2-4
INGREDIENTS
1 bunch of thin asparagus, ends trimmed
3 cloves garlic, chopped
1 tsp grated lemon zest
2 tbsp olive oil
1/2 tsp red pepper flakes
2 tbsp shaved parmesan (optional)
Salt and pepper to taste
INSTRUCTIONS
Preheat oven to 400 degrees. Spread asparagus out on a baking dish and toss with garlic and olive oil. Bake for 10 minutes.
Remove from oven, top with parmesan, red pepper flakes, and lemon zest.
Add salt and fresh ground pepper to taste, serve.
Want more food from Wanderlust? Tickets are on sale for our six-series Find Your True Fork dinner. Buy your tickets today. 
—

Michaela is a certified holistic health + lifestyle coach through the Institute of Integrative Nutrition, and a registered yoga teacher. She lives in Los Angeles, CA, where she works as a part of Wanderlust Media. In addition to her dedicated yoga practice, Michaela loves music, travel, cooking + eating healthy food (of course), and spending time with her family and friends.