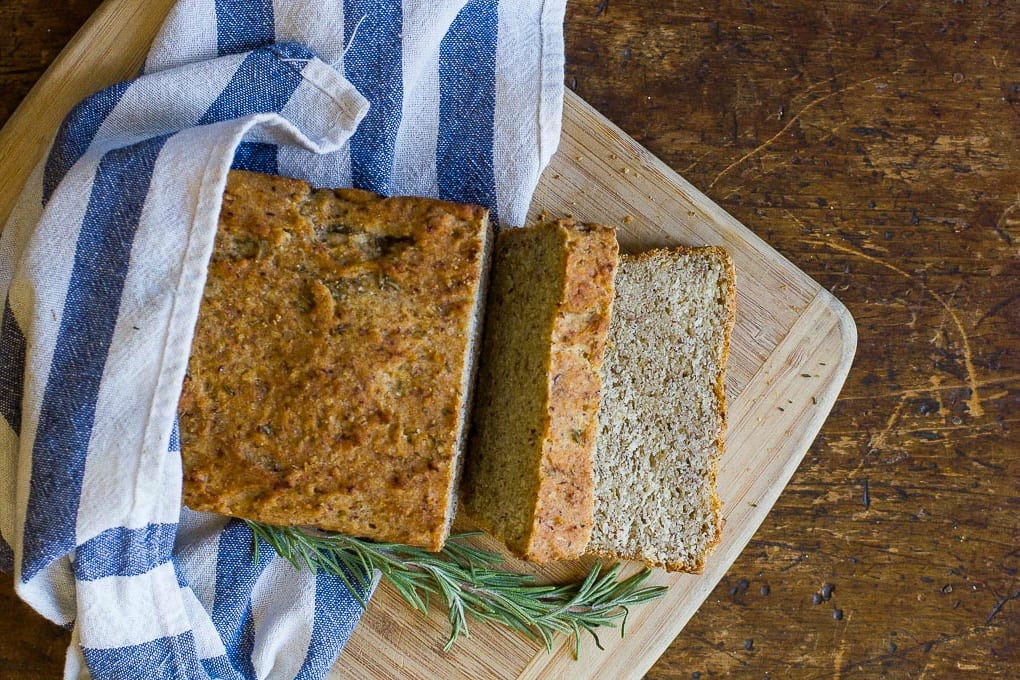 Photos by Rachel Carr
---
If you're anything like us, you struggle to find a solid homemade, gluten-free bread recipe. You may stare longingly out the window on a rainy day and wonder, "Now that I'm gluten-free, are my bread days over for me?" Luckily, that's not at all the case.
Gluten-free baked goods are known for their fussiness—not this recipe. So long as you follow the instructions, it works every time, yielding a stand-out, flavorful bread. It's also got great crumb, holds together beautifully (whether sliced thick or thin), and toasts like a gem. One top of that, it's one hundred percent vegan. And with a simple, easy-to-follow recipe, it's a great way to cut your teeth on vegan, gluten-free baking.
You can change it up by adding:
Sun-dried tomato
Olives
Other oils-walnut oil, sesame oil, coconut oil
Nuts and seeds (either mixed in or sprinkled on top)
The Only Gluten-Free and Vegan Bread You'll Ever Need

Prep time: 45 minutes
Cook time: 30 minutes
Total time: 1 hour and 15 minutes
Makes one loaf
INGREDIENTS
For the dry mix:
2 cups brown rice flour
1 cup potato starch
1 cup almond meal
4 cloves garlic, minced
2 tbsp rosemary
1 tbsp and 1 tsp xantham gum
1 tbsp sea salt
For the yeast mix:
2 cups warm water
1 tbsp active dry yeast
1 tbsp coconut sugar or agave
3 tbsp ground flax
For the wet mix:
1/2 cup olive oil
2 tbsp agave
INSTRUCTIONS
Mix the dry ingredients together and set aside.
For the yeast mixture, mix all the ingredients together in a bowl and stir well. Allow to sit for 10-15 minutes so the yeast can bloom.
After the yeast has bloomed, add to the dry mix and then add the additional olive oil and agave. Mix well with a wooden spoon until everything is well incorporated. The dough will be a little sticky.
Pour the dough into a greased bread pan and cover with a damp towel or saran wrap. Place in a warm spot in your kitchen for 30 minutes to proof. The dough should almost double in size, or fill the bread pan 3/4 full.
Preheat your oven to 375 degrees.
When the dough is done proofing, bake uncovered in the oven for 25-30 minutes. Remove from oven and allow to cool before removing from the bread pan.
To serve, this bread is best if it's warmed slightly in the oven or microwave. Tip: Wrap your loaf in aluminum foil and place in the oven for 10 minutes at 325-350 F. Gluten free breads do get harder and more brittle when they are refrigerated, but they soften right up with a little time in the oven.
For more mindfully-inspired recipes, check out the Wanderlust Find Your True Fork cookbook, available online and through all major book retailers. 
—
Rachel has been preparing raw food/vegetarian/vegan cuisine for over 11 years. Previously, Rachel, was the Head Chef and Manager of a raw food cuisine restaurant, Six Main, which she co-owned in Chester, CT. Rachel has also worked as a Chef in a number of top rated raw food, vegetarian restaurants in the Los Angeles area such as Cru, and by Chole.