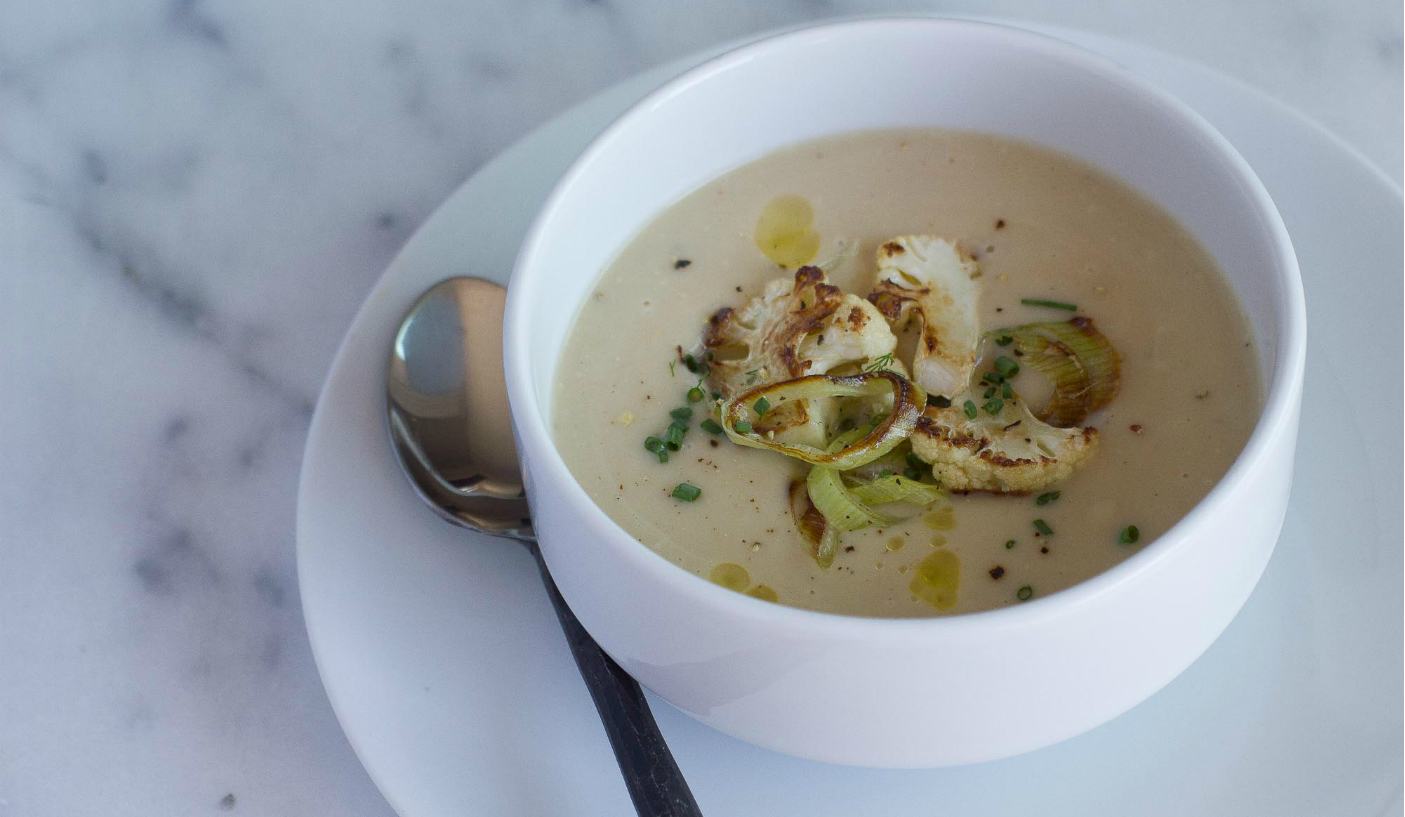 Photos by Rachel Carr
---
It's the holiday season, which means it's time to curl up, get cozy, and whip up something warm and nourishing. One of our favorite recipes? This easy and elegant vegan cauliflower leek soup.
Readily available anytime of year, cauliflower is an incredibly satisfying and healthy addition to a plant-based diet. We love it because:
It's a member of the cancer-fighting cruciferous family of vegetables.

It's anti-inflammatory and antioxidant-rich, and may boost both your heart and brain health.

It provides your body with impressive amounts of vitamin C, vitamin k, beta-carotene, and more, all while supporting healthy digestion and detoxification.

It's great source of healthy fiber, which helps stabilize your blood sugar.
This soup is incredibly easy and has an elegant creamy texture—despite the fact there are zero animal milk products involved. It has a texture and flavor similar to potato-leek soup, but without all those starchy carbohydrates.
You can play with the flavor and try adding curry powder, blanched spinach or kale, turmeric, or even lemon zest. Serve with crusty bread and salad for a healthy lunch or light dinner.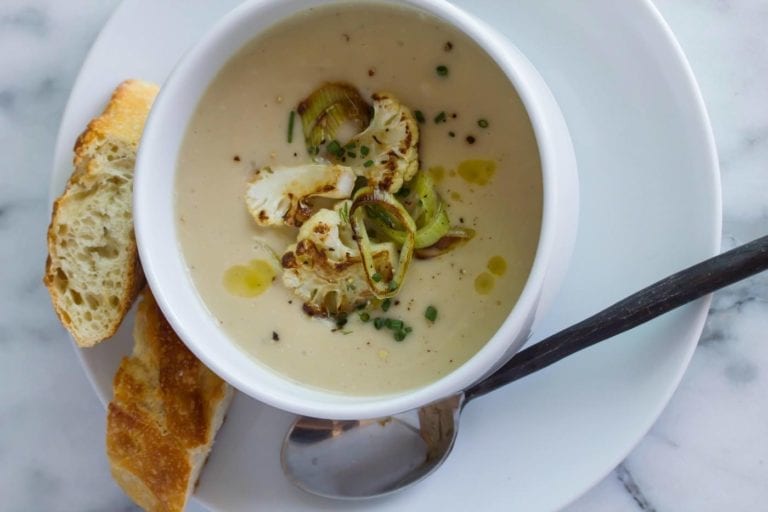 Easy and Elegant Vegan Cauliflower Leek Soup
Prep time: 10 minutes
Cook time: 20 minutes
Total time: 30 minutes
Makes four servings
INGREDIENTS
1 head cauliflower, leaves and stem discarded, and then the florets roughly chopped
2 cloves garlic, minced
2 leeks, sliced
2 stems thyme
1 tbsp olive oil
2 cups water
2 cups unsweetened almond milk
1/4 tsp smoked paprika
Salt and pepper to taste
INSTRUCTIONS
In a medium stock pot, add the cauliflower, garlic, leeks, thyme and olive oil. Heat to medium and cook for about 5 minutes until the leeks are golden brown.
Add the water and cover. Bring to a simmer and cook for about 15-20 minutes until the cauliflower is tender.
Transfer to a blender and add the unsweetened almond milk, and paprika.
Season with salt and pepper to taste. Add water as if you prefer a thinner soup. Garnish with a few pieces of sautéed cauliflower, leek, and a drizzle of olive oil.
This post originally appeared on rachelcarr.com.  For of Rachel's recipes, click here. 
For more mindfully-inspired recipes, check out the Wanderlust Find Your True Fork cookbook, available online and through all major book retailers.
—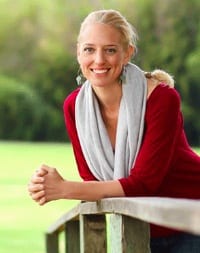 Rachel has been preparing raw food/vegetarian/vegan cuisine for over 11 years, and served as Chef and Culinary Manger at Wanderlust Hollywood. Previously, Rachel, was the Head Chef and Manager of a raw food cuisine restaurant, Six Main, which she co-owned in Chester, CT. Rachel has also worked as a Chef in a number of top rated raw food, vegetarian restaurants in the Los Angeles area such as Cru and Chloe.