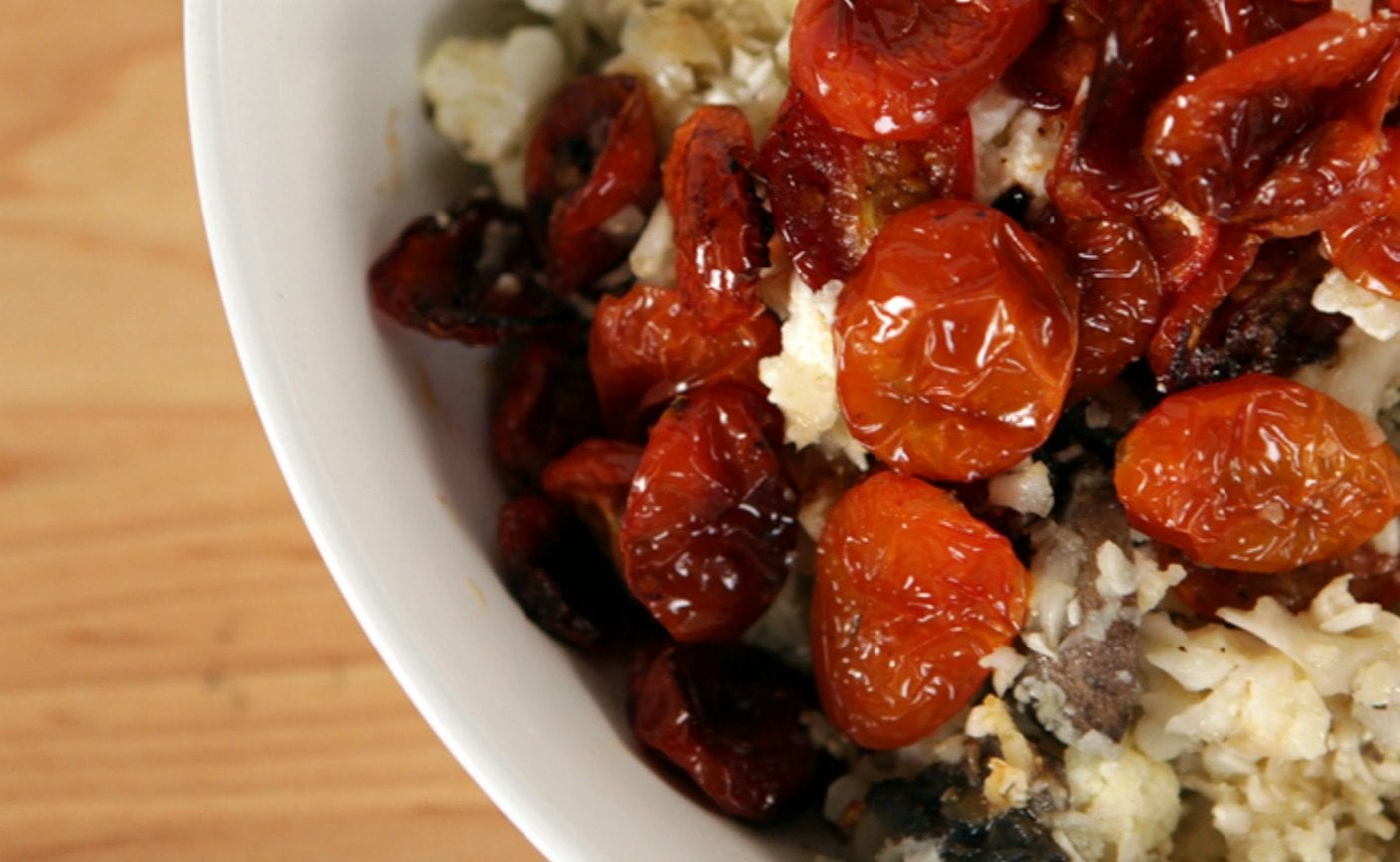 Food should be celebrated. And what better way to celebrate than with a little mindful indulgence? This season of our Play With Your Food video series, we're bringing you six ooey-gooey, crazy good recipes that will have your mouth watering. Up this week: Mindful Cauliflower "Risotto," a low-carb spin on a famous Italian comfort food. Combining cherry tomatoes, baby portobellos, garlic, and herbs, this risotto serves as an ideal meal for your spring and summer suppers.

For more great recipes that keep cooking fun, check out Play With Your Food on Wanderlust TV! 
Recipe: Mindful Cauliflower "Risotto"
INGREDIENTS
1 1/2 cups organic cherry tomatoes, halved
3 tbsp organic olive oil
1/4 tsp salt, divided
1 hefty pinch of pepper
1/4 tsp garlic powder, divided
2 cups of organic baby portobello mushrooms, stems removed and sliced
2 organic shallots, diced
5 organic garlic cloves, finely sliced
1/2 tbsp dried organic thyme
1 head of organic cauliflower, finely grated
3 tbsp organic goat cheese
1/2 tbsp organic truffle oil
DIRECTIONS
Preheat oven to 450 degrees. Place halved cherry tomatoes to a bowl and add 1 tbsp olive oil, salt, pepper, and garlic powder. Mix and spread evenly onto a baking sheet. Bake for 45 minutes or until tomatoes are caramelized. Remove from heat and set aside.
In a large wok, add olive oil, shallots, and another pinch of salt and cook for 10 minutes or until softened. Add garlic, mushrooms, another pinch of salt, thyme, and another hefty pinch of garlic powder and cook for ten more minutes or until the mushrooms begin to brown.
Push mixtures to the side of the pan and add another tbsp of olive oil along with the grated cauliflower. Cook for 15-20 minutes or until the cauliflower is cooked. Season with more salt and pepper if needed. Remove from heat.
Place a few spoonfuls of cauliflower "risotto" in a serving bowl and top with crumbled goat cheese, the roasted tomatoes from step one and a drizzle of the truffle oil.
—
MacKenzie is an ex-Brooklynite currently living in Florida with a masters degree from Columbia University. She is the creator of GrilledCheeseSocial.com and functions as the executive chef at Black Dolphin Inn, the sandwich expert for about.com, and as a social media marketing manager for multiple foodie companies. She works in many aspects of the food industry including food styling + photography, social media content creation, recipe development + writing, catering, branding and media consultation.