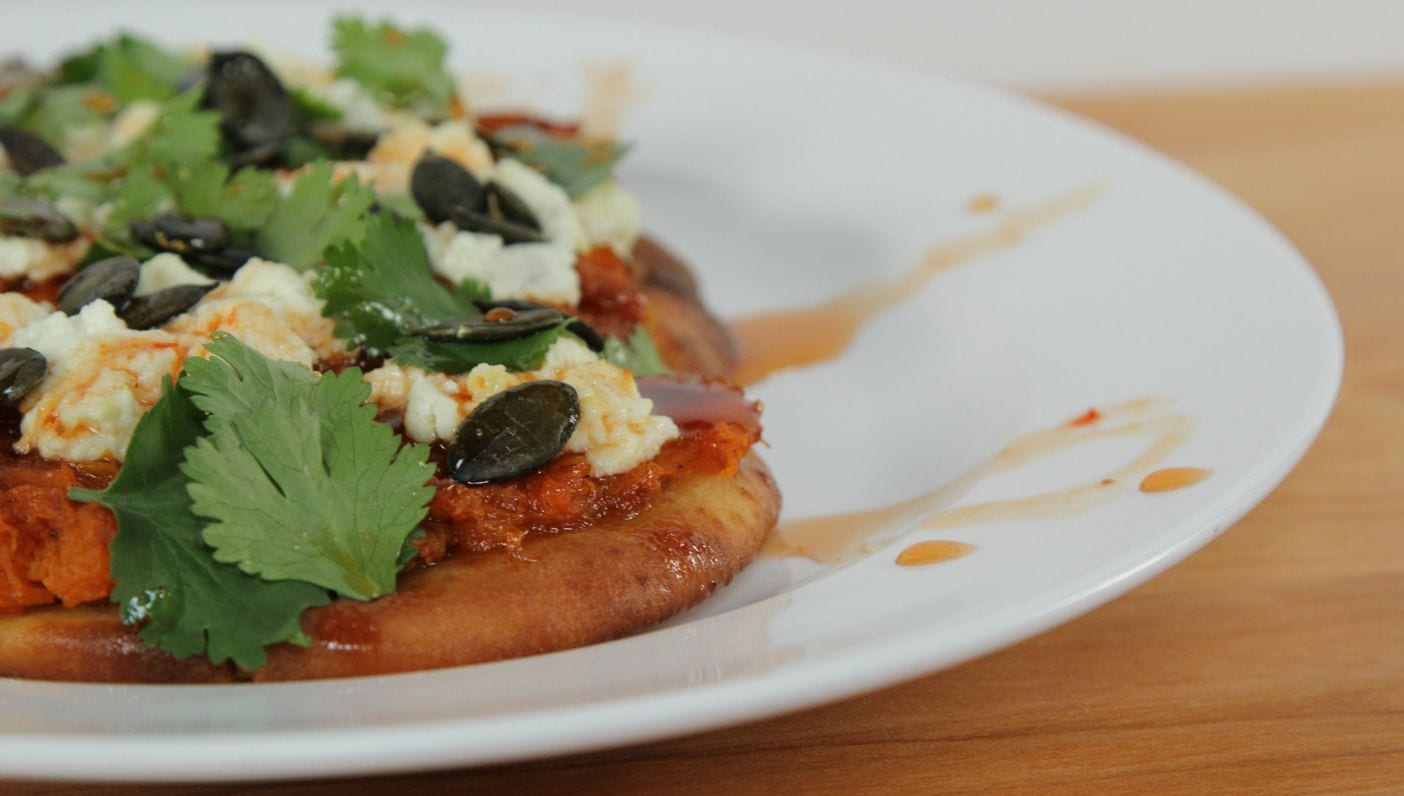 Food should be celebrated. And what better way to celebrate than with a little mindful indulgence? This season of our Play With Your Food video series, we're bringing you six ooey-gooey, crazy good recipes that will have your mouth watering. Up this week: Butternut squash and goat cheese pizza. Take your boring pizza night to the next level with this healthy and tasty treat.
INGREDIENTS
4 tbsp organic honey, divided
1 tbsp organic hot sauce
2 cups organic butternut squash, chopped into cubes
1 1/2 tbsp olive oil
2 pinches cayenne
3 pinches cinnamon
1/4 tsp salt
3 tbsp goat cheese
1 tbsp chopped cilantro leaves
1 tbsp toasted pumpkin seeds
DIRECTIONS

Combine 3 tbsp honey with 1 tbsp hot sauce and stir until incorporated. Set aside.
Preheat oven to 400 degrees. Toss chopped butternut squash with olive oil, honey, cayenne and cinnamon. Lay squash cubes on a baking sheet and bake for 45 minutes or until soft and cooked through. Place cooked squash in a bowl and mash until chunky and spreadable.
On a separate baking sheet, add naan and top with 1/3 cup of the mashed butternut squash and sprinkle on all of the goat cheese. Bake for about 10 minutes until naan is crispy and cheese has softened. Remove from heat and place pizza on a serving plate.
Finish by sprinkling on chopped cilantro, toasted pumpkin seeds, and a drizzle of the hot honey from step 1. Serve immediately.
—
MacKenzie is an ex-Brooklynite currently living in Florida with a masters degree from Columbia University. She is the creator of GrilledCheeseSocial.com and functions as the executive chef at Black Dolphin Inn, the sandwich expert for about.com, and as a social media marketing manager for multiple foodie companies. She works in many aspects of the food industry including food styling + photography, social media content creation, recipe development + writing, catering, branding and media consultation.