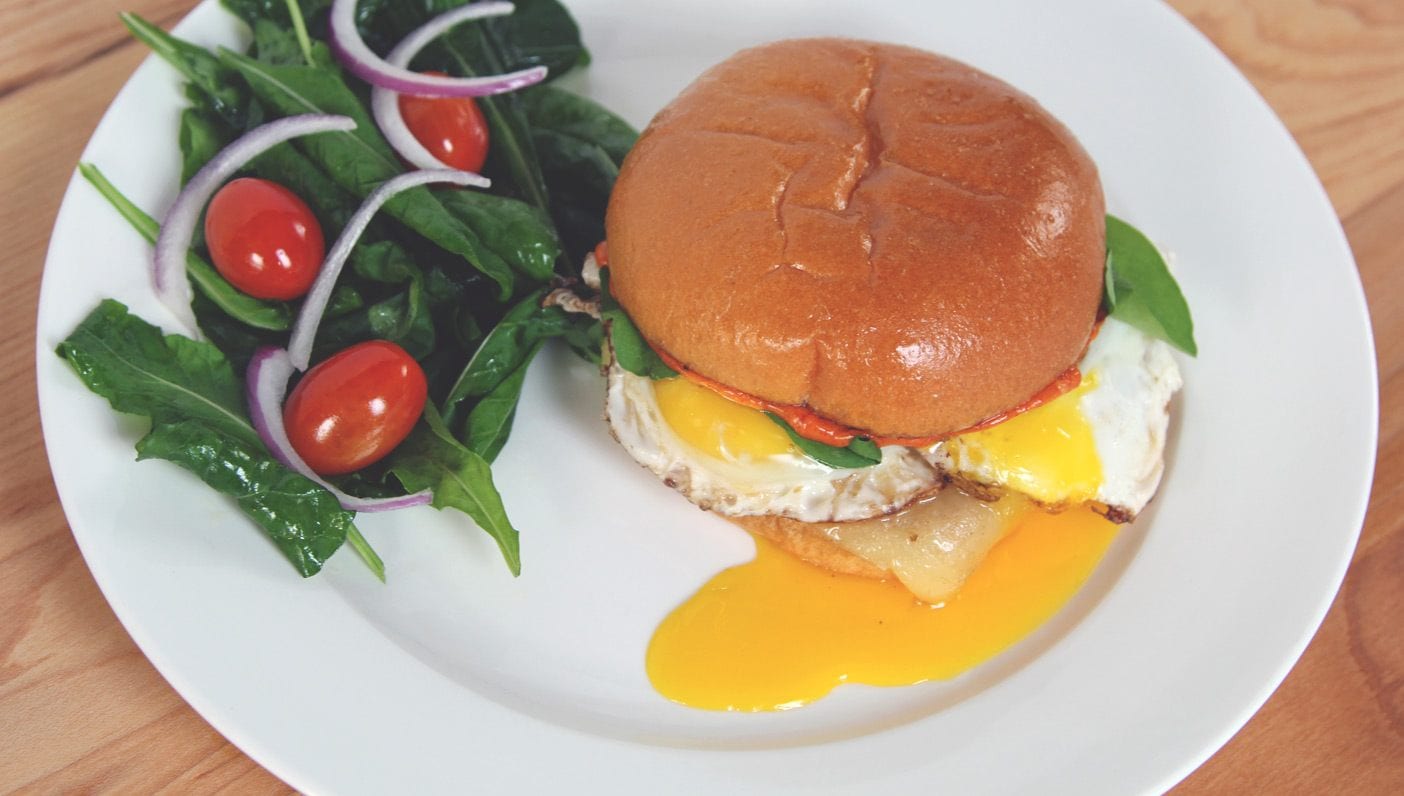 Photo by Meg Kettell
Food should be celebrated. And what better way to celebrate than with a little mindful indulgence? This season of our Play With Your Food video series, we're bringing you six ooey-gooey, crazy good recipes that will have your mouth watering. First up: The Enlightened Egg Sammy, a savory composition of eggs, cheese, greens, and an oh-so-fantastic smoked paprika aioli, all on a perfectly toasted brioche bun. If that doesn't get you out of bed, we don't know what will.
For more great recipes that keep cooking fun, check out Play With Your Food on Wanderlust TV! 
Recipe: The Enlightened Egg Sammy
INGREDIENTS
1 organic brioche bun*
2 tbsp organic mayo*
1 tsp Sriracha
1/2 tsp smoked paprika
1 tbsp salted grass-fed butter*
2 organic, cage-free eggs*
1 slice organic Muenster cheese*
1 small handful organic arugula*
*organic and grass-fed optional
DIRECTIONS
Combine mayo, Sriracha, and smoked paprika in a small bowl and mix until everything is combined to make smoked paprika aioli.
Add 1/2 tbsp butter to a cast iron pan and toast the insides of the brioche bun for about 30 seconds, or until golden and crisp. Remove from heat and set aside.
In the same cast iron, add the remaining butter and fry the eggs, sunny side up, until the whites are cooked through and the yolks are still soft. Remove from heat and set aside.
Smear half of the smoked paprika aioli on the bottom bun and top it with the Muenster cheese slice. Add the sunny side eggs and top with the arugula. Smear the top half of the bun with more of the smoked paprika aioli and place on top of the sandwich. Serve immediately and enjoy!
—
MacKenzie is an ex-Brooklynite currently living in Florida with a masters degree from Columbia University. She is the creator of GrilledCheeseSocial.com and functions as the executive chef at Black Dolphin Inn, the sandwich expert for about.com, and as a social media marketing manager for multiple foodie companies. She works in many aspects of the food industry including food styling + photography, social media content creation, recipe development + writing, catering, branding and media consultation.