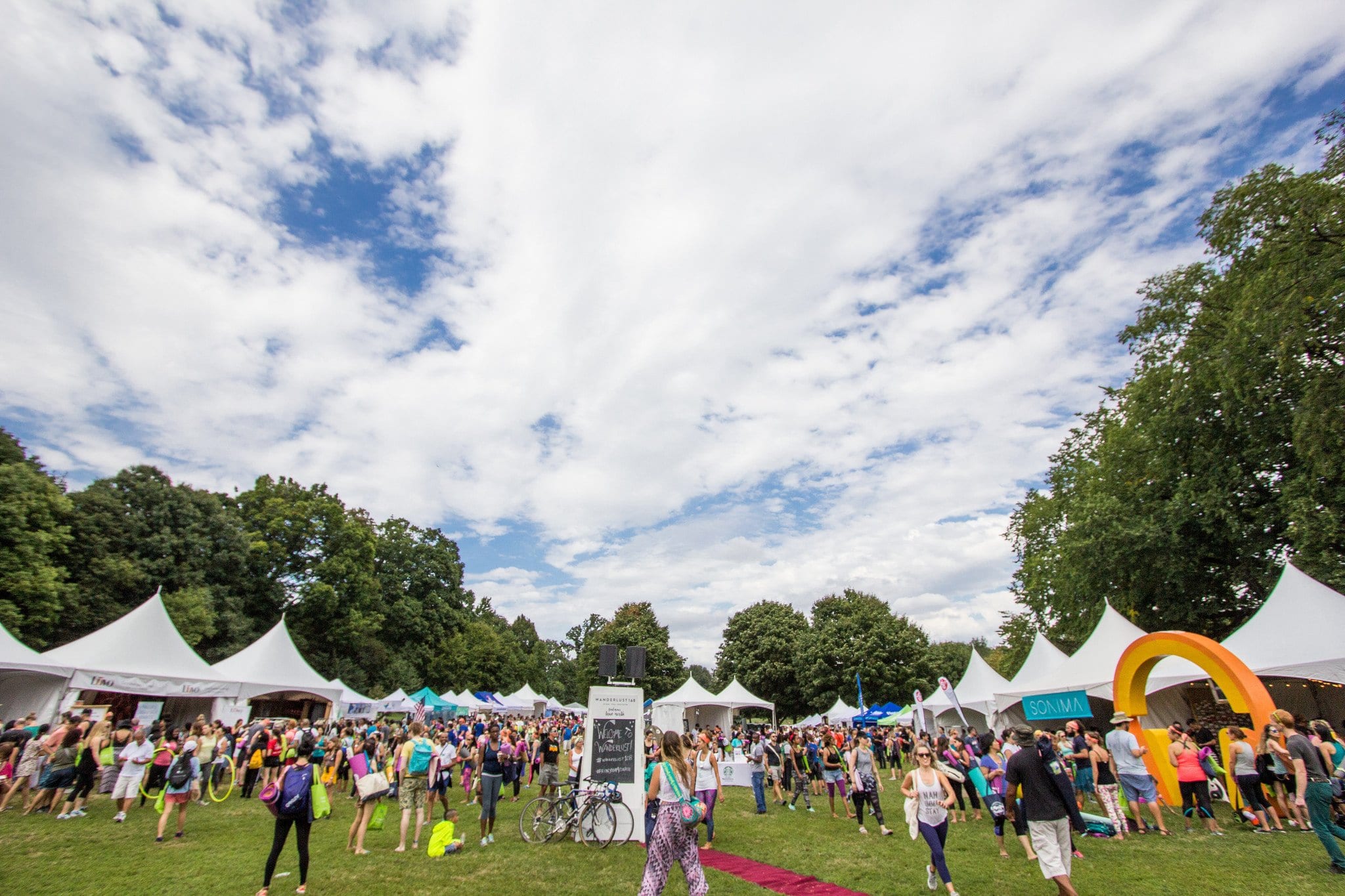 Are you as excited as we are for next weekend? As you're getting ready to #ComeTogether with us, check out these great vendors who will be joining us at the Bicentennial Capitol Mall State Park. We can't wait to see you there. Still need a ticket? It's not too late! 
---
adidas and Wanderlust share a vision of holistic, high-touch experiences that create community around sport and mindful living. Wanderlust, in partnership with adidas, brings an entirely new level of everyday engagement to the fitness and healthy-lifestyle enthusiast. Check out the adidas x Wanderlust Store on-site for great deals on our co-branded apparel line!
Ford Motor Company aims to deliver great products, a strong business and a better world. From our factories to our dealerships and into the communities in which we serve, our purpose is to Go Further so all people can move freely about the world. Ford is proud to be the Official Vehicle of Wanderlust. Event attendees can stop by the Ford display for exclusive activities, to learn more about our full line-up of vehicles and to take home some incredible giveaways.
With real fruit, whole nuts and dark chocolate in bite-sized portions, goodnessknows® tastes delicious and takes the guesswork out of eating well. As a brand, goodnessknows® helps you be good to yourself so you can be your best self. Its mission is to encourage and celebrate little actions towards a better you – starting with the food you eat.
KRAVE is an all natural jerky. We are gluten free, nitrate free and MSG free! We will be offering our jerky, along with our new KRAVE Bars and KRAVE Sticks. We will also be offering sales – so please bring a credit card! We're excited to spread #jerkylove at Wanderlust!
At Wasa® we believe that only the best, most simple ingredients belong in our food. That's why we bake with all-natural 100% Whole Grain rye flour, making Wasa® a crunchy snack to help you feel full and stay satisfied longer. Wasa crispbread is delicious on its own or with your favorite toppings. Snack Smart, Snack Wasa®. Wasa crispbreads are non-GMO and all-natural. Look for the Non-GMO Project Verified Seal.
d.stil is a line of bottles purposed-built to weave fashion and function together. Developed by Chef'n, a Seattle-based company with more than 30 years of product design experience, each highly functional bottle has curated combination of colors, materials, and finishes. With d.still, you can look good, feel good, and give back with every sip (to Water.org).
We make authentic Detroit apparel that does just that. It makes an impact. It's a universal message that expresses what is it to be active and aware in the community, right now. And, every purchase puts money directly back into the community through our partnerships with select Detroit-based charities. Detroit is more than a place. It lives, it feels, it breathes. And there's no place like it in the world.
The journey of Hottie started when a dreamy girl on a yoga mat took the road less traveled. Our vision at Hottie has always been to create a mindful brand from the heart. We strive to create clothing designs that will make you feel beautiful and cause no harm. We use luxurious, eco-friendly fabrics, and low impact printing techniques in our impeccable fitting garments. Our collection is a labor of love and is proudly made in the U.S.A. Our quest at Hottie is to stay genuine, authentic, and always one-of-a-kind!
Inspirational jewelry and apparel for the active and spiritual. Created from a deep rooted love of Eastern religions, travel, and mythology.
Malabella Jewels blossomed from a burning desire to create, spread love, and chase dreams. Founder Hannah Skedsvold came to yoga in 2013 in search of a healing mechanism for her anxiety, depression, and a feeling of being stuck. As she delved deeper into her practice, she came across these magical strings of gemstones known as Mala Beads. A young entrepreneur and new yogi, Hannah taught herself how to handcraft Mala Beads. Malabella now ships Mala Beads, bracelets, and stacks to yogis and gem lovers from around the world.
My Mat My Mantra was born in downdog in 2013. We are based in Chattanooga, TN, and we are honored to support our community with our locally produced products. We have a passion for presence and we created MantraSpots, yoga mat stickers, to bring focus and inspiration during your yoga practice and beyond. Our intention is to share the positivity that the practice of yoga has infused into our lives. Our brand has grown to include not only MantraSpots, but also apparel, magnets, and notepads. May you share our journey of finding a meaningful moment on your mat and a joyful life out in the world!
At the helm of our essential oil activation, Stinky Yogi was founded in 2012 by Yoga Teacher Stacey Orr, a west coast native now based in Ithaca, NY. She is currently on an epic road trip in her Stinky Subaru with her pug Gibson, teaching and vending with Wanderlust Festival at cities nationwide through the end of 2017. Stinky's mission is simple and genuine: to help people feel elevated through the magic of essential oils. We are a small, woman/yogi owned and operated company. Our products are made by hand in small batches by our team of yogis in PA and NY. We love our tribe and believe deeply in the power of community, connection, and being part of the mindful movement.
Deanna Saracino created La Clé to bring to life her ideas of creating products that people can wear as a reminder to stay positive. Her goal to create a line of "action-based" accessories and apparel was developed. As she continues to develop her brand the products she designs are to be worn and interacted with as a healthy reminder to consciously focus on the positives in yourself and the people around you.
Bali Malas was created in  2006, and is proud to have been the first company to bring awareness of these sacred beads to the West. Our predominantly female workforce in Bali receives living wages, and benefits, we are bringing a new paradigm to the workers of Bali! Our designs are lovingly handmade with fair-trade, authentic beads and all are traditionally blessed before leaving this "island of the Gods".
Thairine Tiwari, founder of IOGA Activewear, has been an avid yogi since her earliest years. She found that it was difficult to find yoga pants that were light enough and breathable enough to endure an entire hot yoga class. During a trip back home to Brazil, Thairine came across some yoga pants made with polyamide and soon discovered that these were the only pants she could enjoy hot yoga in. In 2016, Thairine had the idea to bring this sought after product to the US and has been consistently growing her business every since.
Local artist, Sandy Rueve has been creating millefiori clay beads for over 20 years. Over the years, she has married her passion for beadmaking with her knowledge of astrology. Each bead is hand-rolled from raw clay during powerful astrological transits to create a unique talisman. By capturing the energy present, Intention Beads help you realize a desire, prayer or intention.