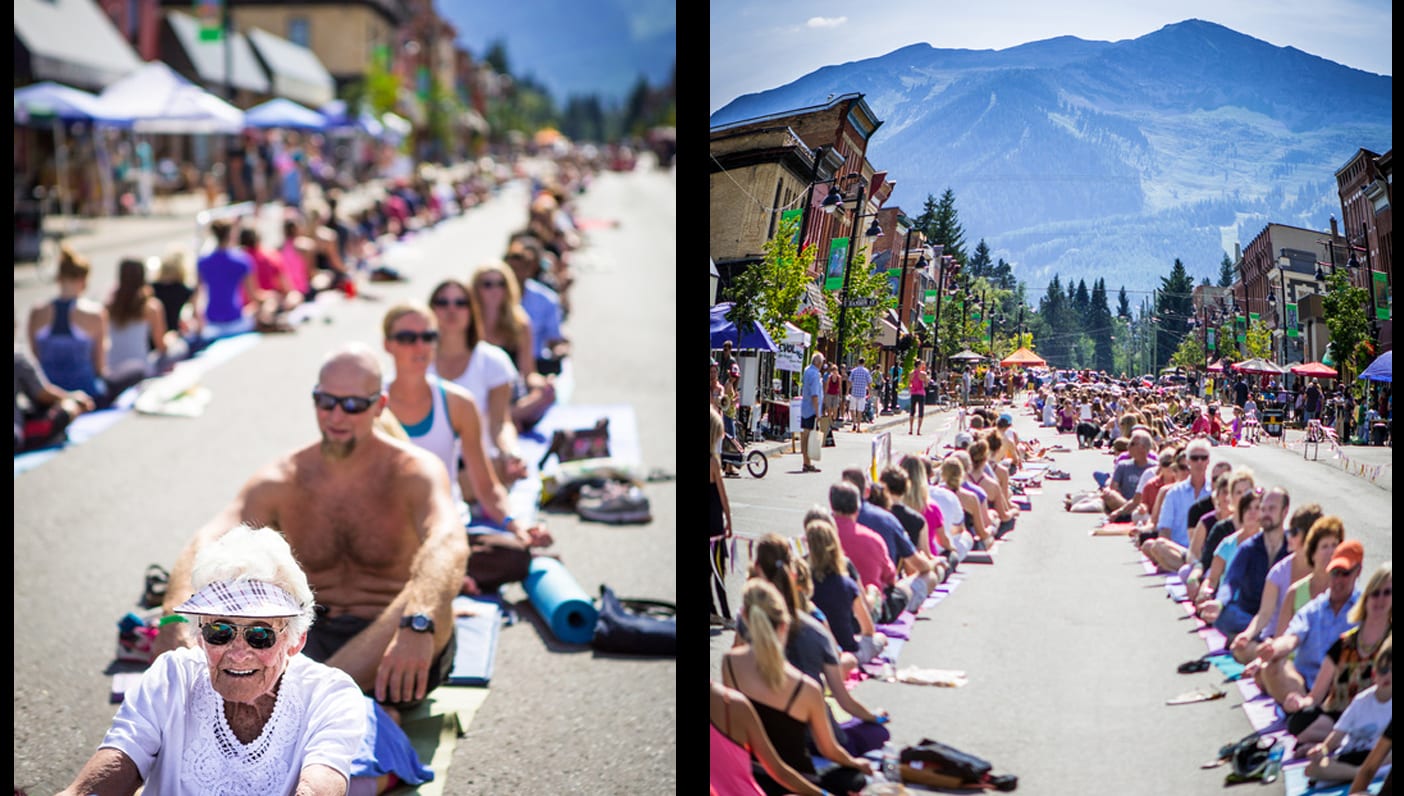 Fernie, British Colombia is a vibrant Canadian Rocky Mountain town. Nearly half its 5,000 residents rely on pay checks from a coal corporation—for over a century, we have extracted metallurgical coal from our beautiful, generous mountains. At the mercy of world demand for coal, our town suffers when needs are low, just like all small towns whose economy is dependent on mining and industry. This constant ebb and flow of economic health has created a community eager to identify itself with a diverse culture independent of its industrial roots.
A number of artists and writers have recently joined the ranks of Fernie residents, and the whisper of yoga is beginning to drift through the conversation of our town. You wouldn't think that a bunch of coal miners could get down with downward-facing dog. I didn't. But just as the world's demand for coal is shifting, so to is Fernie's awareness of yoga.
Cheryl is a spiritual trailblazer, inspired by the community Rishikesh, India. Advocating health, wellness and sustainable living, Cheryl is determined to promote yoga and the yogic lifestyle in our town. She endeavors to create a rich and diverse community, while supporting a balanced relationship with our industrial dependence. And it's working.
It started when Cheryl assembled a group of fellow visionaries and yoga leaders, and planned a spectacular event showcasing yoga and conscious living. Going for the gold, we staged a world record attempt for the longest yoga chain in historic downtown Fernie. We called it The Feel Good Fernie Yoga & Wellness Festival. But leading up to the event it didn't feel all good—I remember Cheryl confiding in me her fear that no one would attend, that no one in the town cared, and that we were struggling to promote the message of yoga for naught. I struggled to find words of consolation. At the same time, I began to question yoga's place beside our coal mountains.
But like the doubtful, exhausted pioneers who discovered our valley and its riches, we refused to give up and continued on our journey. We had no idea that our efforts and positive thinking alone were beginning to carve the spirit of yoga into the cracks of our majestic mountain community.
When the Feel Good Fernie festival day arrived, we were disappointed that only 100 people had showed up a half hour before our world record attempt. Musicians were serenading attendees, and it was perhaps their sweet songs that drew more people in. It felt like no time at all before I realized there were over 600 yoga mats, towels, and blankets covering the dusty street.
Cheryl was dumbfounded and elated. Miners and corporate leaders, artists and adventure-seekers, the young and the old, all connected mats in a colorful patchwork quilt. For a small coal town struggling for economic validity in the face of a changing world, it was this quilt of yoga mats that wove together our strength and solidarity. This silent demonstration celebrated our diversity, embraced our connection to one another, and saluted the planet, with its raw beauty and power to overcome the hardships we—especially in a coal town—have inflicted on it. This silent demonstration urged us as a community to do the same.
The world record was not broken that day, but we did break the assumptions and stereotypes of yoga. Cheryl's spiritual intervention proved that yoga can extend beyond the walls of a studio to create bonds between people. This simple practice united us and proved that our most valuable commodity is not coal, but the people connected by it. These are bonds that can withstand the inevitable storms and cycles of economic change.
This experience was the seed that grew into the Castle Movement at the Castle on First, a community collaboration dedicated toward wellness and mindful living. Who says you can't teach an old town new tricks? Yoga did for Fernie. Our story is an illustration to other small towns—both in Canada and around the world—that from where we derive our economy does not define our people. Ours is a message that mindfulness, wellness, and yogic lifestyle truly can change mindsets. We hope that through the Castle Movement this message continues to resonate.
Photos courtesy of Marlene Vale
—
Marlene is the Movement Facilitator at the Castle on First, a Fernie Yoga warrior, a Kinesiologist, and lover of life. She specializes in body rehab through movement, and is currently working on her first book entitled A Castle without a King or Queen.