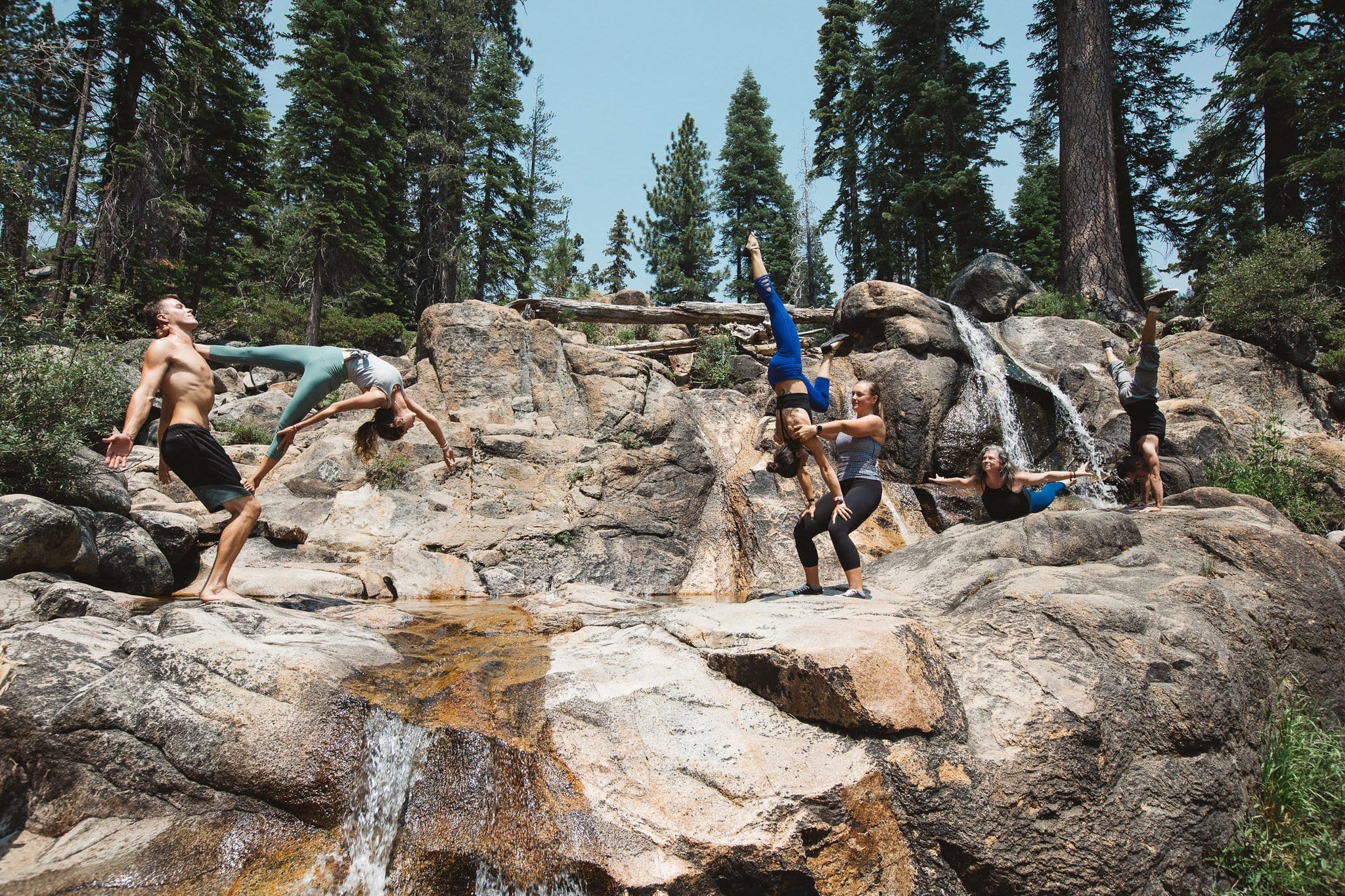 Photo by Chris Eckert
High elevations and even higher vibes are ready and awaiting you at Wanderlust Tahoe. Whether you are a seasoned veteran with a growing collection of wristbands or a Wanderlust newbie eagerly anticipating your first festival, get ready for four days of transformation, community, connection and celebration. The best part is, you just have to show up; though a little pre-festival preparation can go a long way and will help elevate your entire experience (which is sure to soar higher than every mountain you summit). Read on for tips to prepare for Wanderlust Tahoe.
Plan Your Schedule
Research the various classes, activities, hikes, teachers and speakers, and create a diverse schedule. Flow, yin, meditation, speakeasy lectures… there are so many opportunities! (And, if we're being honest, who wants to do a million Chaturangas anyway? You likely have those down pat.) Book activities that align with where you are now, but—most importantly—leave space for possibility. You'll have access to world-class instructors, sharing from deep wells of passion and knowledge; take advantage. Keep in mind that a huge part of this long weekend is about nudging yourself out of your norm. Nudge and go. There is magic in the unknown.
Pro tip: Check out this advice from a Wanderlust staffer about building a schedule! 
Make Time For Music
If you're a yogi at heart, we get it. Your day is likely jam-packed with classes you're eager to attend, and early bedtime means waking up for a sunrise practice. But please, for your sake, don't miss out on the music. Wanderlust Tahoe is a fully immersive experience and these beats offer a one-of-a-kind transformation not found on the mat. To prep, take a look at the lyrical line-up. If you haven't heard of a DJ or band, do a little recon'. Scope them out on Spotify and see what grabs you. It's easy to get tired amidst a full day of asana, but don't miss out on the great musical performances. Even if it's just for a few songs.
Our 2019 headliner? THIEVERY CORPORATION. Yep. You read that right. Included in the price of your ticket!
Nourish Your Body
Throughout the festival, honor your body on and off the mat. Even the most well-intentioned planners can still overdo it on vigorous vinyasa classes. Take naps between your scheduled events, hydrate, and snack on nutritious foods throughout the day. If you have back-to-back heat-building classes, consider packing protein powders you can put in a shaker; mix with water and enjoy on the go. Another consideration is lost electrolytes. Toss a packet in your water bottle to give you a boost when you're feeling depleted. Your body may not be accustomed to practicing at high-elevation, so make sure you give adequate time for snacking, resting and refueling.
Pro-tip: You can snag TONS of freebie samples and goodies from the Kula Marketplace from our partners. Discover your new fave snack while keeping your bod healthy.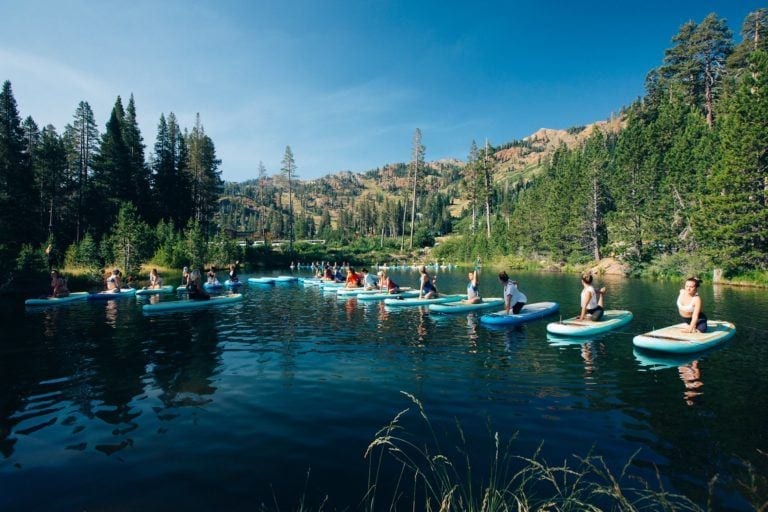 Get Outside
This particular festival resides in the Sierras for a reason, as these majestic mountains are deeply moving in their own right. Do yourself a favor and don't miss out on the stunning scenery. Join in on a hike, run and/or outdoor meditation. Afterwards, immerse (submerge?) yourself in the pool party festivities. Regarding the latter, did we mention it's only a gondola ride away? There are beats and epic views. Dive in.
Packing Essentials
Your packing list may be fairly straightforward (i.e. a yoga mat and heaps of yoga clothes) but don't forget these other essentials: hiking shoes and sunscreen, a swimsuit, reusable water bottle, hat and journal. Also, unless you're an Ashtanga yogi through and through, don't forget your yoga props. A block is a great tool for practice and meditation, and can double as a seat if need-be.
Sneak in Some Journaling
Capture what are likely to be some of your most significant downloads by making time to journal. Over the weekend there is limitless space for transformation; so much so that soaking it all in, moment-to-moment, just isn't possible. Help the process by putting pen to paper; your reflections may become clearer between the lines.
Also, don't forget to keep your notebook handy throughout the day. If you're a yoga teacher, you may enjoy looking back at a unique transition that was taught during a dynamic flow; beginner meditators may be thankful for tips to find bliss; a well-timed Speakeasy lecture may fuel contemplation for months to come.
Embrace the Community
For us wallflowers, introverts, and back-of-the-class practitioners, this may be the hardest tip to embrace… but neglecting it would be the ultimate miss. Over the weekend, welcome Wanderlust's magnificent sense of community. Beautiful, likeminded people will surround you; those equally eager to transform, grow and stretch their limits.
Attempt to be the first one to say "hi," to strike up a conversation, to move your mat over to make space for a new friend. Take that AcroYoga class. Or the Thai massage class. The first few minutes of discomfort will dissipate when you realize there is another, lovely soul, as human as you are, smiling back at you. This is the most brilliant facet of Wanderlust. Open your heart and embrace the community. We promise—it will come rushing in.
—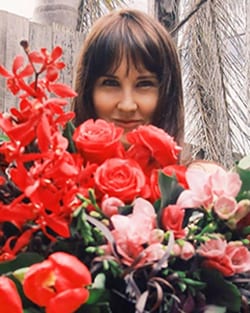 Kacey Janeen Waxler is a California-based yoga instructor and writer on the hunt for adventure and good stories. Her words can be located amongst noteworthy brands including Corona Extra, Athleta and Darling Magazine, and in the flesh she can be found reading unapologetically from the glow of a headlamp, geeking out over sequencing, or neck deep in a deliciously hot bath. Follow her adventures at @kaceyjaneen or grab her vinyasa sequences that take you on a journey at theflowfix.com.