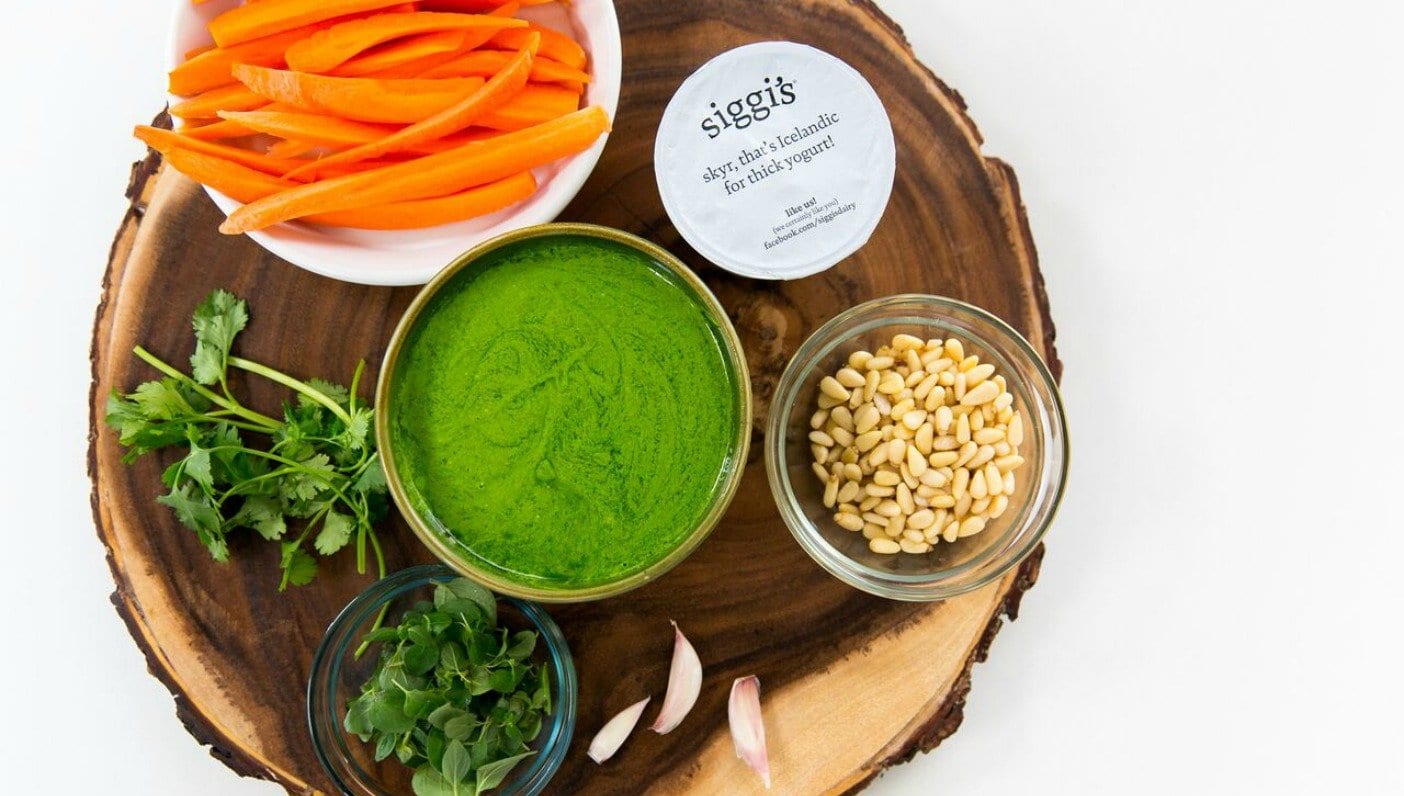 Pesto is the ultimate summertime dip. Fresh, flavorful, and filled with bright herbs, this traditional European dish is easy to make, and can come together in minutes for those last minute dinners. It's as diverse as it is delicious, working with pairings from a variety of different diets and food philosophies. Vegans can enjoy atop pasta, while gluten-free folks can serve it with chicken or veggies.
Here we put a spin on the traditional recipe by opting cilantro over basil. The spicy, earthy flavor is then highlighted with fresh lime, oregano, garlic, and pine nuts. Pesto is also a health powerhouse—garlic is a powerful antifungal and antiviral, and the pine nuts help to decrease appetite and curb sugar cravings. Instead of cheese, we use siggi's plain yogurt, lending to a smooth, creamy finish and a hefty dose of protein. Regardless of how you serve, this pesto is sure to please.
Cleansing Cilantro Oregano Pesto
INGREDIENTS
3 tbsp plain yogurt (siggi's plain yogurt recommended)
1 bunch fresh cilantro, washed and dried, ends clipped
2 tbsp fresh oregano
1 lime, juiced
3/4 cup extra virgin olive oil
1/3 cup pine nuts
2 cloves garlic, minced
Sea salt to taste
INSTRUCTIONS
Begin by adding cilantro, oregano, lime juice, and minced garlic to a blender. Blend until smooth.
Add pine nuts, olive oil, yogurt, and sea salt to taste. Blend again, and taste. Adjust seasonings if desired. Serve as a dip, salad dressing, or atop veggies and proteins.
In partnership with siggi's
At siggi's we make yogurts with simple ingredients and not a lot of sugar. Our products are based on Scandinavian dairy traditions, such as skyr, the traditional Icelandic yogurt. Our products don't contain any of those dreadful artificial sweeteners. We only use milk from family farms who do not use growth hormones like rBST.