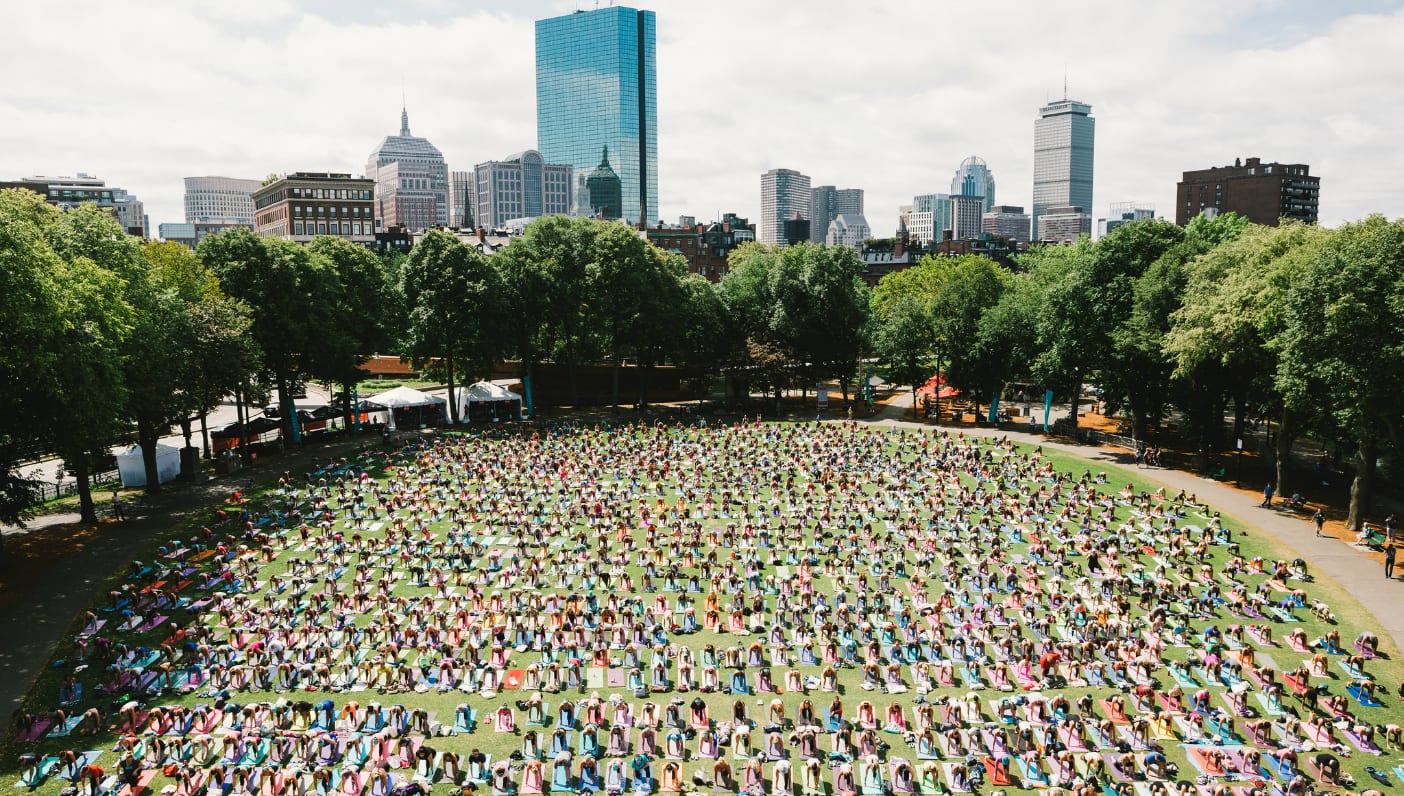 Photo by Julianne Lesinski
We can't get enough of practicing in Boston—which is why it's one of the only two cities (LA is the other, take that New York!) we double up on the #Wanderlust108 in DCR's Hatch Memorial Shell. And we're wicked obsessed with all the places there are to warm up for the event; the city boasts some of the country's best places to find your flow.  We've put together a list of our favorite studios in Boston, so you can prep for Wanderlust 108 on August 18 and 19—and keep the momentum going all year long.
Tickets for Wanderlust 108 are still available! To buy and for more information about your best day ever, click here for Saturday and here for Sunday. We have several types of tickets available this year, something for every budget. Snag a *FREE* Practice Ticket for entry to the yoga and meditation portions of the event, as well as the Kula Marketplace. Entry to other bonus activities and the 5K are included with either the 108 Ticket, the 108 Ticket Package, or the premium WAN(DER)LUST Package.
Have a studio you'd like to see on the list? Reach out to us on the Boston 108 Facebook event page (Saturday here, Sunday here)and let us know.
If you'd like to be a part of our *NEW* studio partner program and earn commission and free tix for your community, click here! We'd love to have you a part of the fam.
---
Forget what you thought you knew about indoor yoga studios—Swet breaks the mold. Feel what it's like to fly with their robust aerial programming (even a teacher training!), or try something brand new. To stretch your comfort zones is part of the practice.
It can be intimidating to walk into a new studio for the first time—not so at Banyan Tree. This inclusive space offers classes for all levels, body types, and ages, and sticks true to their motto: Learn to find balance in extraordinary simplicity. Now that's what yoga is all about.
Ready to really rock your yoga to new heights? How about to the top of a mountain? Backcountry Yoga is more than a studio—it's an outdoor adventure company offering outdoor experiences for all levels, including hiking, camping, and yoga. Grab a friend, a mat, and take your practice to the next level.
Located an hour outside Boston in Scituate, Studio143 boasts pilates and Zumba offerings alongside traditional yoga. Find your groove—or try something new and make it your groove! With kids' classes as well as Mommy+Me classes as well, Studio143 is a great place to explore when you're ready to go beyond asana.
More than just a studio to take class, Down Under is a place to explore and deepen your relationship to practice—both as it relates to your daily life, and to tradition. Boasting a roster of some of America's finest teachers, Ayurveda practitioners, and bodyworkers, Down Under is our fave place to be schooled, mindfully.
The folks at Coolidge practice what they preach about practice. We can't get enough of their free Sunday morning yoga during the summer at Winthrop Park, and we love bringing our babies to their regular weekly baby + me class. Offering specialized TT programs—like in Yin—there's truly yoga for every body at Coolidge.
Tired of plain old plain old? Did you fall in love with a blacklight class or a sound-off class at a Wanderlust Festival this year? Get your fix at Acorn. With candlelight classes, bumpin' music bodysculpt jams, and semiweekly "glow flows" to a blacklight, you can expand what practice means—and maybe discover your new fave flow.
Located right in the heart of downtown, Studio 52 claims that it's "part Namaste, part psycho." They're not wrong. With sincere traditional classes alongside hip-hop vinyasa on the schedule, you can indulge the many personalities of your practice—and maybe even give cupping a try after class.
Join us at Wanderlust 108 Boston on Saturday or Sunday!