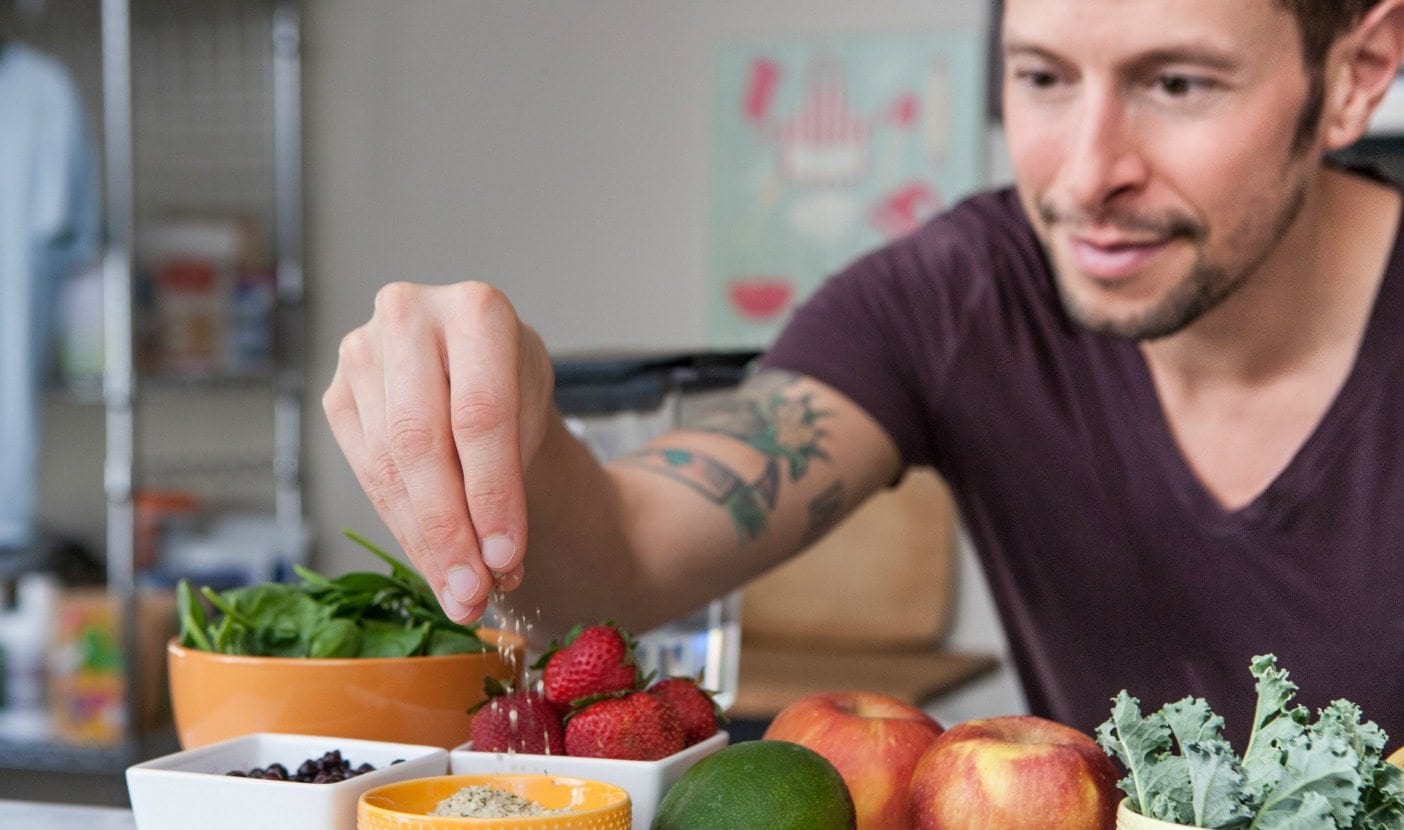 Photo by Jake Laub
Jason Wrobel is part of the Wanderlust Find Your True Fork dinner series, six evenings of fabulous food dedicated to celebrating various eating philosophies. Click here for more information and to reserve a seat.
---
Whether or not you're vegan, there's often some mystery associated with the food philosophy. What can I eat? What are the benefits? Where did veganism begin? There's more to being vegan than the label—the diet comes with a rich, cultural background and some pretty snazzy recipes.
Twenty years ago, veganism in America was considered part of the counter-culture, reserved for dedicated yogis and animal rights activists. Finding vegetarian options when dining out was complicated enough, let alone a vegan-friendly menu. Even though it remained on the fringe of western culture for some time, the concept of veganism can be traced back over 2,000 years ago when followers of Buddhism, Hinduism, and Jainism also advocated an animal-free diet.
The term "vegan" came about in 1944, when a group of non-dairy vegetarians came together to form an advocacy group for those who wished to live a life free of animal products. They coined themselves vegans, taking the first three and last two letters of vegetarian.
In contrast to most of its history, veganism has stepped into the spotlight in recent years. Over one million Americans declare themselves to be vegan, and the number is on the rise. What was once a seemingly harsh and restrictive way of eating and living has become a mainstream trend, and more importantly, an accessible lifestyle that helps people to live more mindfully.
The Modern Vegan
Veganism in its essence is the rejection of any animal product as it pertains to one's consumption, including clothing choices. The obvious foods are off of the list—meat, dairy, eggs—as well as less obvious products such as honey, and clothes or goods made out of leather. Some yogis believe that veganism is living out ahimsa, the Yoga Sutra's principle of non-harming. (This could be one reason why the majority of your vinyasa flow class wants to opt for vegetables over venison.)
One common criticism of veganism is that it's too limiting, and that there aren't enough tasty options in the diet. Luckily culinary experts such as Jason Wrobel are out to change that misconception. Praised for his palate-tickling raw vegan cuisine, chef Jason sees raw organic food as possessing powerful medicinal qualities. He says, "My goal as a culinary artist is to use organic raw and living foods as a catalyst to heal our bodies and increase our longevity."
As a man who has spent a majority of his life perfecting his craft, Jason uses food as a tool to empower the body and the mind, and sees a plant-based diet as one of the most accessible and natural ways to take care of ourselves. And his background and experience allows him to make this food totally tasty.
Jason graduated from the Living Light Culinary Arts Institute and is a nationally certified Raw Food Chef and Instructor. To him, the seemingly restrictive practice of veganism is actually a positive boundary within which he can use his artistry to create dishes that are as beautiful as they are delicious. His recipes include everything from cream of broccoli soup to superfood fudge brownies.
Wanderlust Hollywood is delighted to welcome Jason Wrobel as one of the featured chefs of the Find Your True Fork series. Jason will be offering guests of the evening a taste of his award winning superfood infused vegan creations on Sunday June 4th.
You don't need to wait for summer to explore healthy and delicious eating. The Cafe at Wanderlust Hollywood has been a place for healthful dining since its doors opened in January 2016. Now Los Angelinos can order from the Wanderlust Cafe via

postmates

.
—
Erin Ward is a freelance writer, yoga teacher, and navigator at Wanderlust Hollywood.