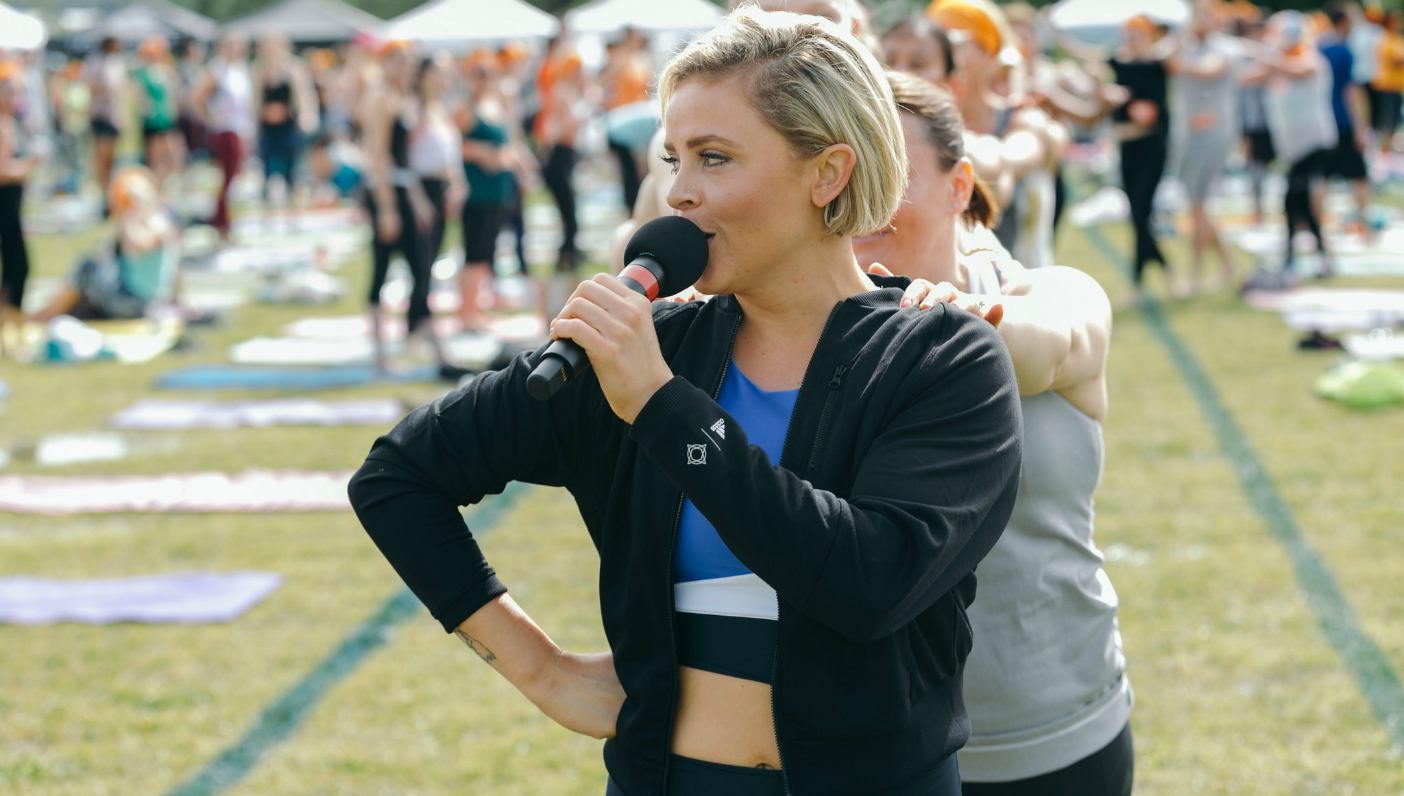 Alli Forsythe is a run leader and emcee on the 2018 Wanderlust 108 tour. For tickets + to find an event near you, click here. 
If you'll be joining us in a city where Alli is leading (Scottsdale, Chicago, Kansas City, Twin Cities, Denver, Brooklyn, Philadelphia, Cincinnati, and Tampa), don't miss her pre-108 The Practice event at a local studio. Check the Facebook event pages for more information!
Not sure what a #Wanderlust108 is all about? Watch on below!
---
Alli Forsythe is a fitness instructor, triathlon competitor, filmmaker, writer and actress; and a true embodiment of spunk and soul. You may recognize her from CBS's The Amazing Race, where she competed as an Urban Bike Racer with her friend and fellow fitness instructor, Kym Perfetto. Regardless of whether you've witnessed her on TV or at SoulCycle, you know this girl has a spirit that can't be compared.
A self-proclaimed adventurer, Alli believes in facing every challenge head-on, while also maintaining balance with periods of rest and reflection. She is at her home in Los Angeles when we connect, and has just returned from a short off-the-grid reprieve from the fast-paced lifestyle she leads everyday.
"It feels so good to step back and check in with myself," she says. Her energy and positivity is infectious, and her voice is equal parts sweet and strong.
Growing up, Alli was fiercely creative and passionate about music. She played seven different instruments and was always filming her own videos. In college she studied musical theater, and in 2011 she moved to New York to pursue a career in the entertainment industry. It was around this time that she discovered running, with no inkling that fitness would become such an integral part of her life. Her grandmother had just passed away from Alzheimer's, and running became a way for Alli to calm her mind. As an artist in the big city, finding the cash to join a gym wasn't in the cards, so she began running around the city streets.
"I don't consider myself a pro-runner," she tells me. "I do it because I love it and it makes me feel good." While building up her running practice in New York, she met a lot of people who were training for the New York City Marathon, Alli joined in, raising money for the Alzheimer's Association in honor of her grandmother. 
"I'm a very goal-oriented person," says Forsythe. "So to have the marathon to train for was a great way to focus myself." 
Adapting to New Opportunities 
Balancing auditions, running, and trying to pay the bills with her income from multiple odd jobs became exhausting, so she decided to create something on her own. Forsythe says, "I'm always open to new opportunities when they present themselves. If something isn't working I've learned to not be afraid to let it go."
She sorted through her priorities and found that fitness was something she held onto. She began studying and training to get a sports medicine degree and teaching spin classes at small studios in New York.  In the summer of 2013 she decided to pursue a job at SoulCycle, where she teaches today in Los Angeles, and to create her own fitness content.
"Fitness is a lifestyle, and completely changes your life once you get into it" she says. 
I decided I wasn't going to wait for someone to tell me I was good enough.
With her background in film and performance, the possibilities for sharing her own experiences of the transformative practices of maintaining an active lifestyle and traveling were endless. The opportunity to fuse her passion for fitness and entertainment came with she was offered the chance to be on The Amazing Race, and Alli greeted the opportunity with openness and fearlessness.
"After meeting Kym [her Amazing Race partner], everything was a whirlwind" says Alli. "A month after we met, she asked me if I'd be interested in being on the Amazing Race. They were looking for two female cyclists from New York City. I said yes and we began making videos at her apartment in Brooklyn." Before filming the show, Forsythe had never been outside of the United States.
"Suddenly we were in Marrakesh, Morocco," She reports with nostalgic enthusiasm.  The experiences of traveling whilst on The Amazing Race ignited an intense desire within Forsythe to travel the world and learn about different cultures. Stepping outside of her daily life and talking to people who lived completely different lives gave her invaluable perspective on her own experience.
It's easy to get caught up in our own lives, but when we travel, we are able to see and experience things with clarity, as clear as glass.
Forsythe's fearless attitude and willingness to go with the flow has led her to experience things she never imagined. She's a firm believer in pushing oneself past their own limitations and keeping a positive attitude. When she returned from filming, she decided to build her career in the fitness industry. She started competing in triathlons and documented her lifestyle, encouraging others to push themselves to new realms of experience.
Currently, Alli is working on writing her own reality show that will serve to inspire people and filming her own video content, which you can catch on her website. She consistently emphasizes that you don't have to be a pro to experience the benefits of exercising. "It's surprising what we are able to do when we just say yes" she says. "Things have a way of falling into place."
Using Passion as Fuel
The most important thing, says Forsythe, is to recognize what makes you excited and to always have a goal in place that correlates with what excites you. Having a goal in place leads to action.
"Sometimes the goal is small, like getting to the gym on a day when you don't feel your best, and sometimes other days it's a larger scale goal, " Alli says. To her, this fluctuation is a natural part of growth.
"Often people get stuck going through the motions. Continuing to do something simply because it excites you and makes you feel good is challenging and rewarding." She is interested in learning about what excites other people around the globe and wants to continue to explore what keeps people motivated.
And she'll be putting this interest in motivation to good use—Alli will be emceeing the upcoming Wanderlust 108 in Brooklyn on September 10, and will be leading a run with Adidas.
"I love Wanderlust because it is immersive and experiential. It is magical being on stage in front of people who want to do good for themselves and for others, and who want to make a positive change in the world. I am grateful to be able to use my voice to help people continue to open their hearts and minds." The Wanderlust 108 gives people the chance to push past their physical and mental limitations, and to realize that our mental and physical limitations are intrinsically linked. "
"By pushing yourself, you learn how capable you are," Alli says. Something to consider. Alli is, after all, the perfect example.
Check her out on Instagram at @alliforsythe.
—

 Jillian Billard is a poet, yoga teacher, cellist and avid wanderer. A native New Yorker, she is often caught daydreaming of sprawling green fields and mountains. She trained and received her ashtanga yoga teacher's certification in Goa, India and works at Laughing Lotus Yoga Center in Brooklyn. You can often find her with her head buried in a book, doused in lavender. Follow her on her (very newly developed) Instagram page for class schedules and updates at @jillboyoga.