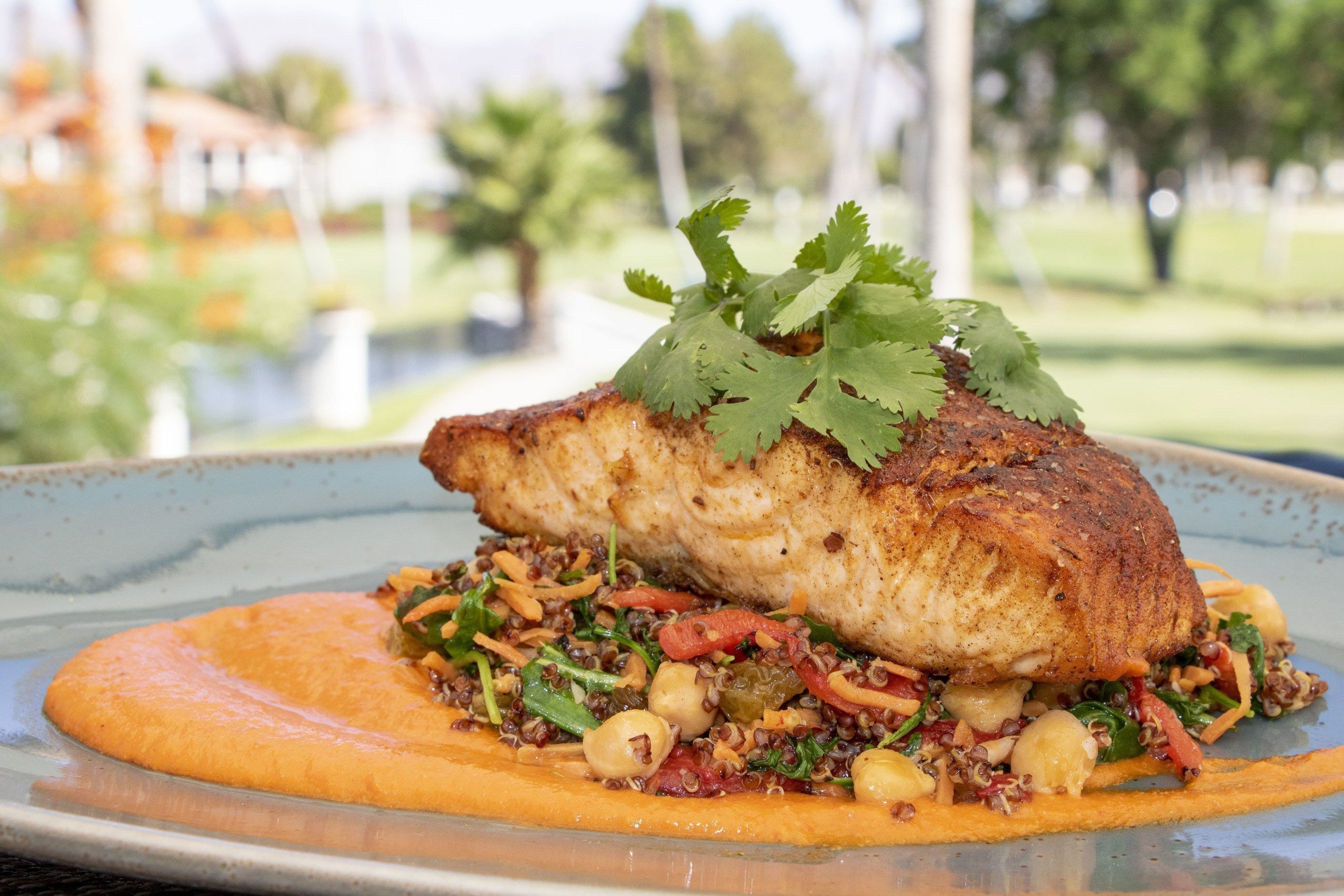 From the stunning bluEmber Restaurant at Omni Rancho Las Palmas in Greater Palm Springs.
Ingredients
4 6 oz pieces of salmon
1 oz ras al hanout spice
2 oz harissa romesco quinoa and vegetable saute
To assemble: 
Prepare the harissa romesco. (Recipe below!)
Season salmon with salt, pepper and ras al hanout. Heat a large saute pan and sear salmon. Bake in 400° oven until medium.
During that time, make the quinoa and vegetable saute. (Recipe below!)
Artfully lay harissa pesto on a plate.
Place quinoa and vegetable saute in the middle.
Place salmon on top and garnish as you wish.
Harissa Romesco
1/2 jar Mina brand harissa, hot or mild by preference
1/2 cup almonds
1.2 oz garlic
2 roma tomatoes
1 oz white balsamic vinegar
2 oz olive oil
Blend all ingredients together in a blender, add oil slowly to emulsify.
Quinoa and Veggie Saute
1⁄2 lb cooked quinoa
4 oz arugula
1 small can garbanzo beans
4 oz shredded carrots
4 oz golden raisins
1⁄2 oz chopped garlic
2 oz diced onion
2 oz roasted red pepper strips
2 oz olive oil
To assemble: 
Sweat garlic and onions together until translucent.
Add garbanzo beans, bell pepper strips and shredded carrots.
Add arugula and cook until wilted.
Add raisins and quinoa.
Season to taste.
It's time to live your "wellest." That's what we've always done in this magical, sun-kissed oasis. Since the days of the earliest Native American settlers, we've created a destination for wellness. Besides our legendary hot springs, there are more than 1,000 miles of breathtaking trails for epic hikes, ancient waterfalls and light-filled spas surrounded by whispering palms. Whatever brings you joy, you'll find it here. Greater Palm Springs: nine resort cities, one "wellest" oasis.