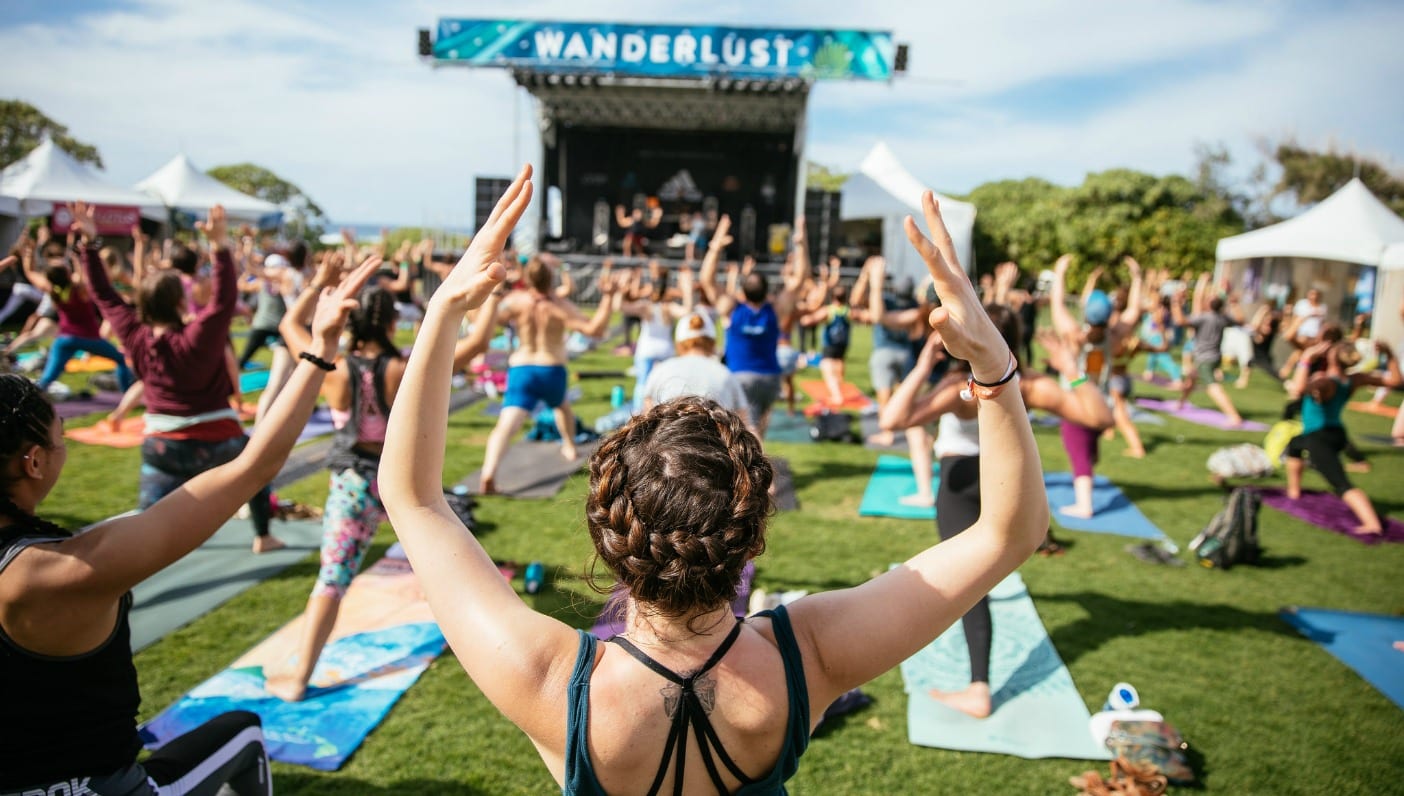 ---
Let's face it. Festivals are awesome. Whether you're heading to Coachella, Bonnaroo, Burning Man, or Wanderlust, festivals (including 108s!) are where it's at. Unless you're your hair. Outdoor yoga classes, dusty bike rides, sweaty dance fields: Your hair may have a harder time at a festival than an agoraphobic germaphobe—not that agoraphobic germaphobes can't also enjoy festivals from time to time!
That's not written in stone, though. We've got you covered. Here are 8 hairstyles for any festival to keep you clean and lookin' fine.
Prevent Sweat
Is your hair oily or super-fine? Be sure to pack some dry shampoo. You can find it in any alternative beauty, health food store, or co-op. For those on a budget or wanting to keep it natural (both for your scalp and Mama Earth), try kitchen cornstarch. If it's a clean scent you're after, pepper in essential oils to your cornstarch before brushing it through to trail your scent around the dancefloor. Your fellow partiers will thank you for smelling so nice!
Leave-in Conditioner
Does your hair get too dry with too little care? Did you use a little too much bleach to bring out that amazing pink that looks so nice? Drinking water isn't the only way to hydrate. Bring a leave-in conditioner that doesn't leave a residue. We love this one from Ole Henriksen.
Rays Don't Just Damage Skin!
Protect your locks—especially if they're colored—from the sun's rays at mainstage all day. Wear a fun hat or a wrap/scarf.Also be aware of fresh skin exposed by a new do. Freshly exposed scalp (resulting from box braids or braided in extensions of any kind, even just a part down the middle you are used to wearing on the side) are extra sensitive to burning.
Protect the Rainbow
All the shades of the rainbow my friends! The festival is a celebration of life, every day! Pre-bleached hair can get super dry when you're not working on moisture retention, so have that leave-in conditioner handy. Some even have UV protectant! Yes, the sun drains the color from your hair too.
Braids are Everything
Braids are a powerful and versatile hairstyle—there are many styles of braids that will last anywhere from a long weekend to eight to ten weeks! And the options are pretty limitless as well. Experiment with french braids, cornrows, box braids, and fishtails. You'll look great and stay flyaway-free.
Hair Adornments
Feathers are always a great option. They're made of organic material if they break off and get lost, they can be dyed any color, printed on, worn alone or in an enormous bunch. They never cease to catch the eye and impress. Wigs are also a wonderful option that save you on prep time. It's more important than you know to not miss half the set because you were still getting ready. Chances are, you're friends are waiting. Throw on a wig and call it a party! And, of course, we're a big fan of flower crowns.
Extensions
The Pandora's Box of hairstyles: There is a myriad of extensions that you'll love to sport at a festival, from synthetic to natural and everything in between. Human hair is great to use for dreadlock extensions, but it's best to leave your weave at home or be prepared to care for it. If this is too out there, wool or polyester extensions work too.
Essential Oils
Trying to list the reasons to bring essential oils with you would be too long. The list to say why not to bring them wouldn't be worth it because it's empty. Bring them! They smell awesome. They're medicinal for minor ailments. They can clean you—and you can always just spritz a bit on your scalp and your hair to keep you feeling fresh. I recommend one of the following for hair care:
Witch hazel
Tea tree oil
Lavender
Rosemary
You're ready. Now just grab your mat, your costume, and your ticket, and we'll see you out there.
—
Dana Divine has been doing hairstyles for festival-goers for more than 15 years. She specializes in dreadlocks and human hair extensions, but is a wealth of knowledge of all things happy and healthy for your hair while you're on the road. Visit her studio in New York, or contact her for a private consultation. You can find her via her website, on Facebook, or on Instagram.