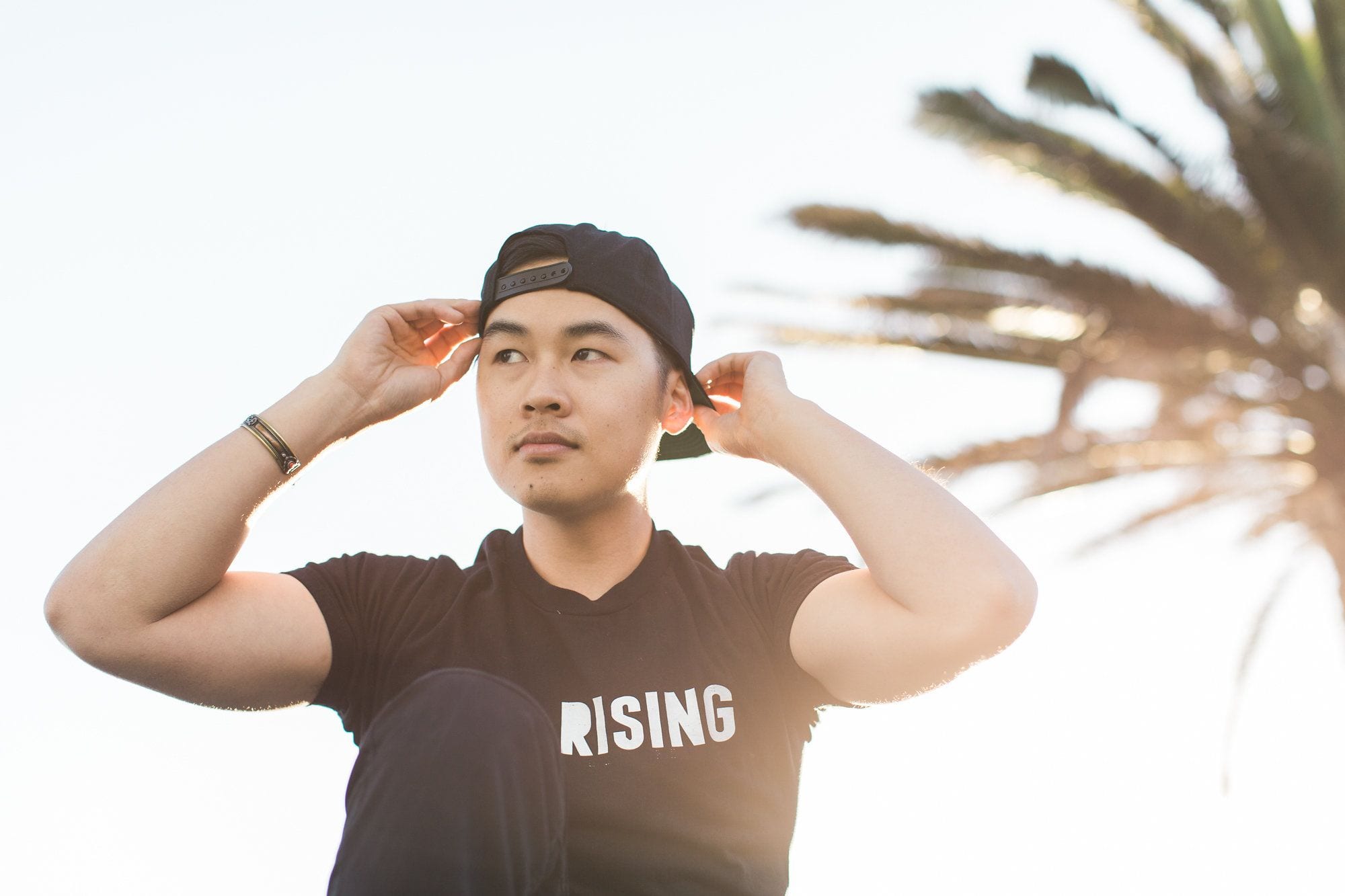 Photo by Nico Nelson.
DJ Sol Rising is a Wanderlust musician. Catch him during the fall 108 tour. Tickets available here! 
---
If you've ever had the desire to travel uncharted waters, then dim the lights and tune into DJ Sol Rising's newest album "Electronic Flow." Immediately you're drawn into a world that exists simultaneously in your head and within the ether—rain drops fall alongside a heartbeat, poetic hums tremble amidst a gentle buzz. A solo string melody provides calm transportation, as though slowly meandering through the forest in the early morning. The entire album provides a journey that is as astral as it is aural, one of a quiet complexity that leaves the listener tranquil and yet hungry for their own expression.
Sol Rising (Brandon Au)'s music does more than provide a listening experience. It invites you to enter into a "soundscape," as he calls it. The tracks feel like a slow waking up, building up energy and then softening towards the end. As the titles suggest, the album invites one to wake up and wade through the "Misty Morning," "Shine Bright," "Open Your Eyes," "Fly High," "Slow Down," "Let Go," and finally "Rest."  
"Electronic Flow" is inspired by movement and is written to accompany a 75-minute vinyasa class. Au often DJs live for yoga classes, and teachers commonly ask him for advice when making a playlist. Then an idea came to him—he would make a record for yoga teachers, one in which they could simply press play. That being said, he didn't want to make traditional "yoga music" that would be specific only to the practice, but rather something that could also reach the electronic music community.
"I wanted to create something that you could flow to, but that you could also listen to in your car," he says. His goal was to bridge the world of yoga with mainstream electronic music. The symbiosis of the two led to the creation of "Electronic Flow." For any listener, it's evident that he's taking significant strides across the bridge between the two genres. 
The Origins Behind the Art
Au fostered an interest in DJing at a young age. When he was 12, he discovered a mixtape from DJ Vinroc which featured golden age hip hop artists including A Tribe Called Quest, De La Soul, and more.
"My love for hip hop made me want to be more involved in the culture rather than a spectator" Au tells me. "My first gig was DJing in my parent's living room on my birthday using two CD players and my friend's old mixer."
He began working in his school cafeteria to save money for equipment. Growing up in the quiet town of Fairfield, Iowa, he had no one to teach him the ropes. Instead he nourished his passion by purchasing a few DMC DJ competition VHS videos and learned to scratch by copying all the DJ's moves. His passion continued to drive him forward, and he went on to win national hip-hop competitions as a teenager. Au now allows his tracks come to him in natural waves of inspiration, and later goes back and pieces them together into a flowing sequence.

Also of assistance is Au's background in Transcendental Meditation, which he began at the age of four. The practice has helped to shape his sound and the way he views his DJ practice.
"Children under ten were taught to meditate using an open eye mantra walking meditation" he tells me. At age ten, he began a sitting meditation practice. He finds that there is a strong link between meditation practice and creating music and art. "Mindfulness practice allows us to become connected to our true nature and inspiration," says Au.
Au's album titled "The Chillout Sessions" came together in less than two weeks, an accomplishment that Au credits because it came from an innate urge to create. He reveals, "I didn't think too much during the creative process and just followed inspiration and allowed it to happen."
"Electronic Flow" is inspired by ambient and "chill-out" music. Au calls it "spacious" and much of his tempo is informed by breath. The music works seamlessly for a yoga class, which is Au's intention. DJing at festivals has made Au adept at interpreting an audience's energy and creating a sound based on that inspiration.
"It's important to play to your audience," says Au. "Do your research and trust your instincts. If something feels off, go with that feeling and don't be afraid to change your plan."
Much of Au's performance is informed by the crowd's energy, and thus cannot be premeditated.
"I might come to a venue planning to play a lot of house music and then realize that they are into a slower, earthy trap vibe and I can't be afraid to switch it up. Many times you won't know until you start playing. That's what makes a good DJ. The key is to not overthink it."

And with a soundtrack as soothing as "Electronic Flow," you won't have to.
Listen to DJ Sol Rising's new album through iTunes or Spotify. Visit him on Instagram @solrising.
Catch DJ Sol Rising this year at one of the many Wanderlust Festivals. For a complete lineup, click here.
—
Jillian Billard is a poet, yoga teacher, cellist and avid wanderer. A native New Yorker, she is often caught daydreaming of sprawling green fields and mountains. She trained and received her ashtanga yoga teacher's certification in Goa, India and works at Laughing Lotus Yoga Center in Brooklyn. You can often find her with her head buried in a book, doused in lavender. Follow her on her (very newly developed) Instagram page for class schedules and updates at @jillboyoga.