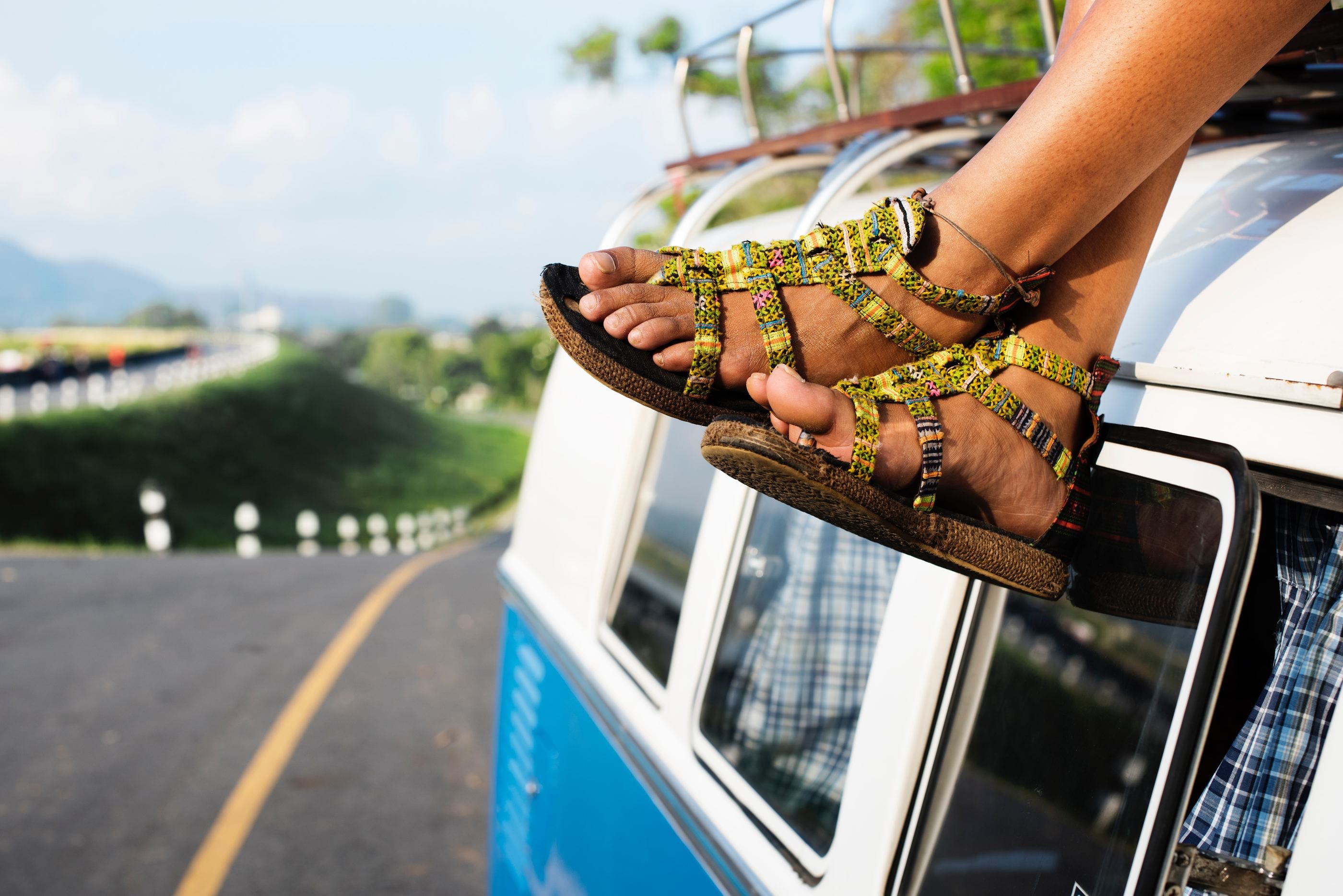 Love to travel and eat clean? Welcome to the ever-challenging crossroads of a health-food-loving wanderluster! While life on the road and clean-eating can be difficult, we have a few hacks to help you conquer both. 
Whether you're schlepping across the country for work or jet-setting to the next Wanderlust Festival, these tips and tricks will help keep you full and fueled while you see the world. From homemade healthy snacks to whole food restaurants (we see you, Chipotle), there are myriad ways to stay satiated while you explore.
Pack healthy snacks.
When you're living life on the go, having an abundance of healthy snacks at your fingertips is crucial. Most bars and pre-packaged snacks have (far) more than 10g of sugar, possible food dyes, and an array of other less than desirable ingredients.

Pre-planning and packing your own snacks will mean you don't have to compromise your food goals when the inevitable hangry pangs strike. Some of our fave snacks are lightly salted macadamia nuts, dried mangoes, as well as fresh fruits and veggies. Keep your water bottle handy as well—proper hydration helps stave off fierce sugar cravings.
Keep a cooler in the car.
When packing snacks for life on the road, your options are pretty limited—most things are going to be knocked around in your car, purse or suitcase. Packing a cooler with a few ice packs will let you expand your food options tenfold. A few things we recommend are cold-pressed juices, Kombucha, raw energy balls, coconut yogurt, hummus, a few slices of Ezekiel bread, sauerkraut, salads, deli meats and more.
This is especially a good idea for long road trips where you'll have a refrigerator upon arrival. Obviously the size of the cooler is up to you, but in our experience, a small lunchbox-sized container stored in the front seat is perfect. Pro-tip: pack some utensils and napkins to go with it, so you can enjoy your healthy pit stop without any mess or stress!
Make a mini grocery store run when you get there.
Whether you're traveling by plane, camping, or living it up in a hotel, finding a grocery store is key. Things like bananas and avocados are some of our go-tos; they're filling, full of good-for-you nutrients, and you don't need a refrigerator to keep them safe. A quick grocery run also saves you the stress of having to pack every single thing before leaving.
Pack travel-friendly appliances.
If you're staying in an AirBnB, you're likely already set up with all of the appliances and tools you need to cook a lot of your own meals quite easily. But if you're in a hotel or glamping it up in an Airstream trailer, it's always nice to bring along a couple travel appliances to make life and eating much easier.
We suggest a mini electric hot plate, a french press, and travel tea kettle.  Having these amenities makes such a difference, especially if you're traveling for work and find yourself tight on time and high on stress.
Do some research ahead of time to identify affordable, clean restaurants.
Let's be real: you won't always have time to meal prep when you're on the go! And oftentimes, you just want something that's hearty, nutritious, and good. While we definitely recommend scoping out some of the local food joints, not all places have access to trendy and healthy mom n' pops.
Chipotle is our go-to option for times like this. The restaurant is super popular and it's likely you'll find one on your vacation, road trip, or even in an airport. Picking up a bowl (especially one of their awesome new Lifestyle Bowls!) or salad saves you time and mental power—so that you can focus on all the fun that comes along with vacation.
In partnership with Chipotle
Chipotle serves delicious burritos, bowls, tacos, and salads made from real, whole ingredients. They make it easy to build an on-the-go meal that's right for you, whether you're eating Keto, Paleo, or Whole30®, or just hungry for something fresh and delicious—but their commitment to mindful eating doesn't stop there. By preparing everything without artificial colors, flavors, or preservatives and sourcing only the best responsibly-raised ingredients, they're striving to cultivate a better world, too.